Bolognese Lasagna:
Layering flavors is a term that is straight forward and equally mind boggling. Much like an author writing a compelling and emotional scene that excites, terrifies, and makes you feel content at the same time, there are similar layer effects in cooking. From the added heat of jalapeno combined with sweetness of honey, to the subtle addition of citrus to complement the aromatic nature of fresh herbs, there's a complex chemistry to it. But balance is the key concept. This dish was like diving into a bathtub of your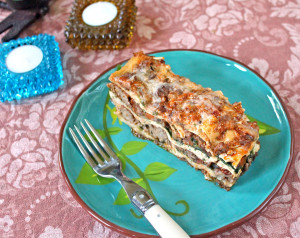 favorite dessert – the kind of dish where after a second serving, you just want more. I continue to push the envelope with Bolognese, making it completely different every time, which was the essential basis for this lasagna. The layers in this recipe were each subtle in their own regard, with a little heat from the added cayenne, creaminess of the ricotta, to the hint of cinnamon tucked delicately in the background. But the aromatic nutmeg was the secret ingredient here that brought it all together.
SECRET INGREDIENT:  Nutmeg
TIP: Adding rinds from quality parmigiano delivers an additional layer of silkiness to the Bolognese
Bolognese Lasagna
For Bolognese
Olive oil (2 Tbsp)
Pancetta (1/2 cup, chopped)
Onion (1, chopped
Carrot (1/2 cup, chopped)
Celery (1/2 cup, chopped)
Garlic (3 cloves, chopped)
Chicken Sausage (1 lb, casings removed and crumbled by hand)
Ground Turkey (1 lb)
Salt and fresh ground pepper
Cayenne (1/2 tsp)
Nutmeg (1 tsp)
Fresh Thyme leaves (1 Tbsp, chopped)
Butter (2 Tbsp)
Tomato paste (6 oz)
Red wine (2 cups)
Roma Tomatoes (2 cups, chopped)
Chicken Stock (1 cup)
Parmigiano-Reggiano rind (2 large piece)
Cinnamon stick (1)
Fresh parsley (1/2 cup, chopped)
In a large pot over medium high heat, add oil, pancetta, onion, carrot, celery, and garlic and cook for 6 minutes stirring occasionally.
Add ground turkey and sausage, breaking up with the back of a spoon, and cook for 10 minutes until browned. Season with salt, fresh pepper, cayenne, and nutmeg.
Add butter and tomato pasta and cook for 1 minute stirring to combine.
Add wine and cook for 1 minute, stirring often and scraping up browned bits. Then add tomatoes, stock, parmigiano rind, and cinnamon stick.
Reduce heat to very low and gently simmer uncovered for 1 ½ hours, stirring occasionally, until flavors meld. Season with salt and pepper.
Remove from heat and discard parmigiano rinds and cinnamon stick. Let rest 15 minutes.
For Lasagna
Ricotta (2 cups)
Garlic (1 clove, chopped)
Coriander (2 tsp)
Nutmeg (1/2 tsp)
Parmigiano-Reggiano (1 cup, divided)
Parsley (1/3 cup, chopped)
Egg (1)
Fontina cheese (1 1/2 cup, grated)
Lasagna sheets (no boil)
Preheat oven to 375°F.
In a bowl, combine the ricotta, garlic, coriander, nutmeg, ½ cup of parmesan, and parsley. Season to taste with salt and pepper. Then mix in egg and set aside.
In a lightly buttered large baking dish, add a layer of lasagna sheets, overlapping on edges.
Using a flexible rubber spatula, spread a layer of the ricotta mixture. Top with layer of Bolognese, and then sprinkle layer of fontina cheese. Then add another layer of lasagna sheets, and repeat process to fill dish.
Top with final layer of fontina and parmigiano-reggiano.
Bake for 40 min
Let rest 15 minutes before serving.
-- Weather When Posted --
Temperature: 10°F;
Humidity: 55%;
Heat Index: 10°F;
Wind Chill: 2°F;
Pressure: 30.55 in.;