Braised Chicken with Spring Fettuccine:
It's funny, even when you have a clearly defined plan the final results can often be positive surprises in the end. The seasons have this way of steering my subconscious, especially in cooking. Last week it snowed here, and today it's 60°F, and tonight 25°F. New England's slow transition from winter to spring is undoubtedly disjointing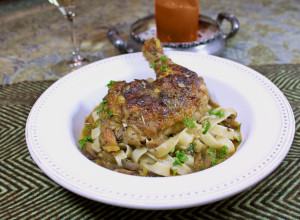 sometimes, and entertaining to say the least. It has been gratifying to write these recipes from scratch with a sense of purpose, much like a scientist in search of a new genome sequence. However, there was something tugging me away subliminally from the original blueprint as I forged my way to the final result. Clearly I am a big fan of braising, and this was a winner on a cold evening, and the final result amazed us as it encompassed the longing essence of spring. The wine braised chicken with spicy red pepper roared with luscious tenderness, but the combination of the leeks with the Sauvignon Blanc, and a hint of balsamic vinegar, layered a lemony flavor and brought the light airiness of spring to the whole compilation. In the end, surprises come in all shapes. And on this chilly evening, it was the foundation to an exceptional sit down dinner.
SECRET INGREDIENT:  Hint of Balsamic vinegar
TIP: Add more wine and stock than mentioned below, because you will definitely want leftovers.
Braised Chicken with Spring Fettuccine
Whole Chicken (split, and quartered)
Salt & fresh pepper
Paprika (2 tsp)
Thyme (2 tsp)
Flour (for dusting chicken)
Olive oil
Leek (2 large, chopped white part only)
Garlic (2, chopped)
Rosemary (1 Tbsp)
Red pepper flakes (1/4 tsp)
Crimini mushrooms (3 cups, thick sliced)
Butter (2 Tbsp)
Wine (1 1/2 cup Sauvignon Blanc)
Chicken stock (1 1/2 cup)
Parmesan rind
Bay leaf
Balsamic vinegar (2 Tbsp)
Parsley (1/4 cup, chopped and divided)
Fettuccine
Parmesan (1/2 cup, grated)
Instructions:
Preheat oven to 400°F with rack in middle.
Season chicken with salt, pepper, thyme and paprika, then dust lightly in seasoned flour.
In Dutch oven, heat oil over medium-high heat, and sauté chicken, skin side first until both sides crisp. Remove from pan and set aside.
In same pan, add olive oil and sauté leek and garlic for 1 minutes. Then add mushrooms, rosemary, red pepper flakes, butter, season with salt and pepper, and sauté for 5 minutes. Then add wine and deglaze pan.
Add stock, parmesan rind, bay leaf and return chicken to pan. Bring to a simmer, and then place in oven, uncovered.
Braise for 1 hour, then carefully remove chicken and set aside. Then place pan on medium-low heat, stir in vinegar and half of parsley into sauce, and season to taste.
Cook fettuccine in salted boiling water until al dente, then drain and return to pot.
Add remaining parsley and grated parmesan to fettuccine. Then add a ladle of sauce to pasta and toss to combine.
Plate with sauté first, then spiral of the pasta, and top with chicken. Garnish with some parsley.
-- Weather When Posted --
Temperature: 74°F;
Humidity: 67%;
Heat Index: 74°F;
Wind Chill: 74°F;
Pressure: 30.02 in.;