Coconut Cottontail Cookies (Gluten-free):
Easter desserts tend to gravitate toward all things sugary, so we wanted to make a cookie that did not compete with the overabundance of those qualities generally consumed during this particular holiday. I was motivated to make a light floral cookie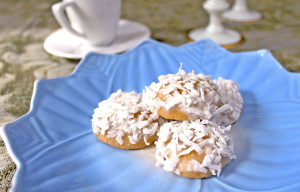 that represented the bridge between Winter thaw and the start of Spring. Perhaps due to the fact that snow was still very much apparent on the ground, as well as a thin sheet of ice covering the neighborhood ponds during this Easter weekend. This inspired the decorative use of a white glaze undercoating white coconut flakes. Once these cookies

were all assembled, they quickly resembled bunny cottontails. In this recipe, the use of anise seeds, balanced with the extract, brought a natural and subtle floral flavor, versus baking solely with extracts. Sometimes cookies made with anise extract become so overpowering that many people end up shying away from the often misunderstood spice. However, unlike the great Aunt that brought the overwhelming aura of pungent perfume that enveloped the day, the anise seeds offered just the right hint of appropriate essence.
SECRET INGREDIENT:  Anise Seeds
TIP:  Ensure the dough is not too wet by adding more almond flour if necessary, in order to roll into small balls
Coconut Cottontail Cookies (Gluten-free)
Gluten-free all-purpose flour – Bob's Red Mill (2 cups)
Almond flour – Bob's Red Mill (1/4 cup)
Brown sugar (3/4 cup)
White sugar (1 Tbsp)
Baking soda (1/4 tsp)
Canola oil (1/2 cup)
Eggs (2 medium, lightly beaten)
Anise extract (2 tsp)
Anise seeds crushed (3 tsp)
Floral Salt (pinch)
For Icing
Confectioners' sugar  (1 ½ cups)
Almond milk  (3 Tbsp)
Anise or coconut extract (1/2 tsp)
Flaked coconut (1 ½ cups)
Instructions:
Sift the dry ingredients together (minus seeds and salt) in a large bowl. Make a well in the center and pour in oil, eggs, extract, seeds, salt.
Combine the dough (by hand works well) until its firm and the flour has been absorbed. Put dough in the refrigerator to chill 20-40 minutes. Note that if mixture is too wet, add a smidge more almond flour so the cookies don't flatten when baked.
Preheat oven to 350°F and line baking sheet with parchment paper.
Roll dough into 3/4-inch balls lining them up on baking sheet with enough room to slightly  spread. You should be able to fit the entire recipe on 2 baking sheets. (Makes 50 cookies)
Bake for 10-12 minutes, until cookies turn slightly brown and the center is almost set. Remove from oven and place cookies on cooling rack.
Mix confectioner's sugar, milk and extract until very thick. Add more sugar if necessary to thicken.
Dip top and sides of the cookie into the icing mixture (do not dip bottom or the cookie will not hold well), then immediately dip into bowl of coconut flakes to cover. Place back on the parchment to set. Once cookies are set (1 hour) you can put into storage container, although be careful if stacking. Best to store in cool area so icing stays set.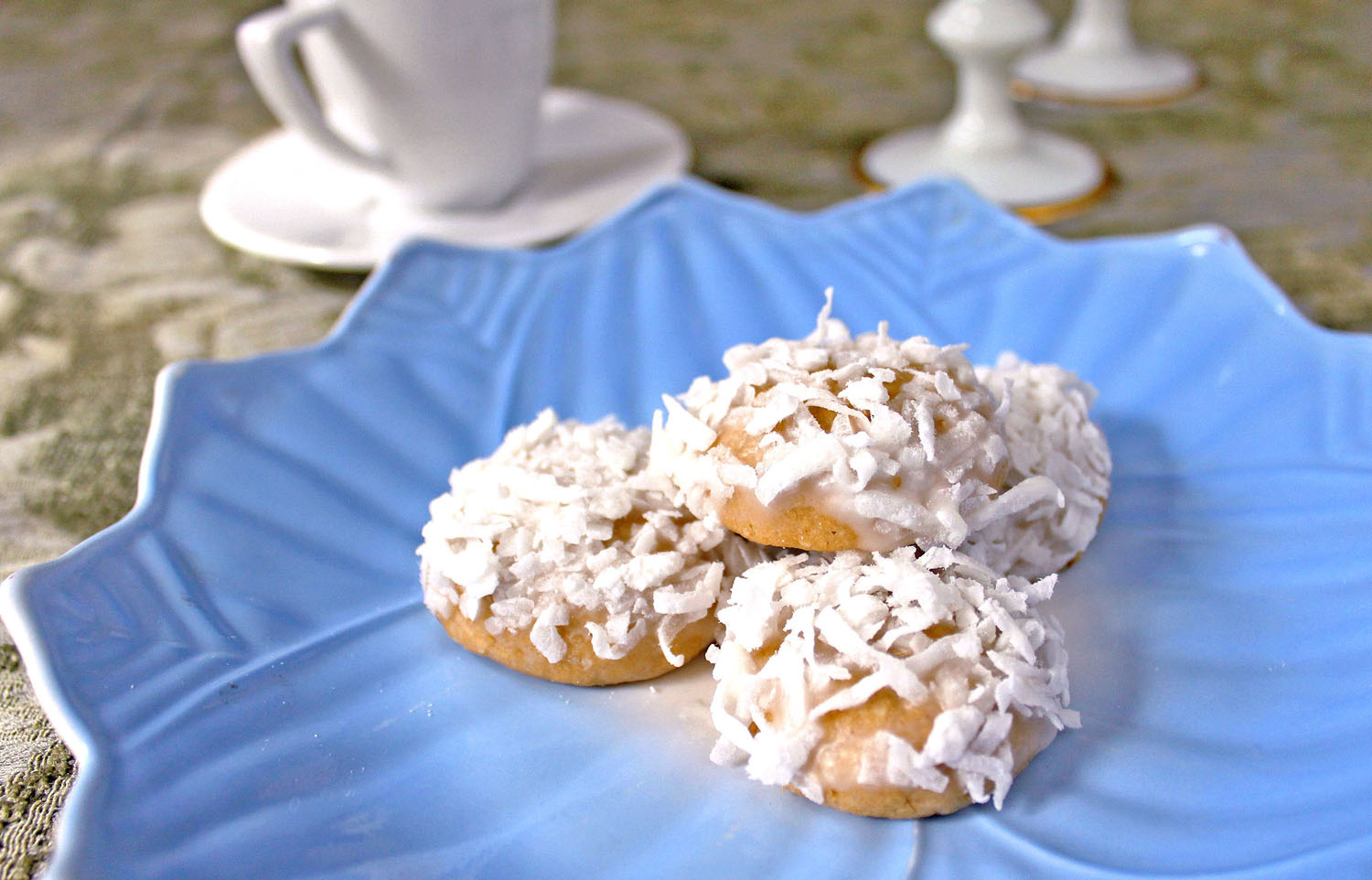 -- Weather When Posted --
Temperature: 76°F;
Humidity: 67%;
Heat Index: 76°F;
Wind Chill: 76°F;
Pressure: 30.01 in.;