Slow Roasted Garlic Chicken with Tarragon Butter:
Our inability to recognize let alone accept change haunts most people every day, but change will always be an inevitability. Change in the eyes of acceptance can yield a warm enlightening moment of clarity. In cooking, with the ever constant tweaking to improve on any dish, the lighter form of change can yield also gratifying results. There is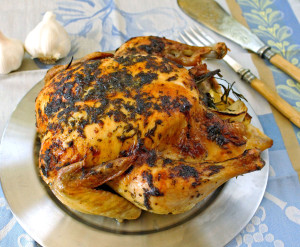 nothing like roasting something in the oven on a weekend afternoon that fills the house with aroma and warmth. For this roasted chicken, the sweet scent of tarragon was the defining factor in both smell and taste. Accented with both the tarragon butter making for a golden outside, as well as fresh sprigs inside the cavity, tarragon brings a Spring feeling to most dishes. Adding onion and garlic to the cavity also adds flavor and helps maintain a plump shape to the roasting bird. This is a simple classic recipe, with an added twist of fresh lemon to the cavity to further actuate the entrance of the Spring weather outside. If in a hurry, you can roast a 4 lb bird at 350°F for 1 ½ hours. However, nothing beats roasting low and slow to deliver that more succulent result.
SECRET INGREDIENT:  Tarragon
TIP:  Makes for a great ingredient in a chicken pot pie.
Slow Roasted Garlic Chicken with Tarragon Butter
Butter (4 Tbl, softened to room temperature)
Tarragon (4 Tbl, chopped, plus 3-4 sprigs)
Chicken (whole roaster)
Onion (1, quartered)
Garlic (6 cloves, smashed)
Lemon (1, cut into wedges)
Salt & fresh black pepper
Pre-heat oven to 425°F
In a small bowl, combine the butter and tarragon, and then set aside.
Rinse chicken inside and out, pat dry, and place into a roasting pan. Add half of quartered onion into cavity of chicken along with garlic and the lemon. Then add tarragon sprigs into cavity. Place remaining onion around the outside of chicken.
Spread tarragon butter over entire chicken, and then season with salt and pepper. (if necessary, melt butter slightly to more easily spread). Add one cup of water to bottom of pan.
Place pan in oven and cook for 30 minutes. Reduce heat to 325°F and cook for 2 hours until chicken is cooked through (165 internal temperature), and basting ever 30 minutes. Remove from oven and let rest 15 minutes before carving or shredding.
-- Weather When Posted --
Temperature: 43°F;
Humidity: 80%;
Heat Index: 43°F;
Wind Chill: 43°F;
Pressure: 30.23 in.;