Homemade Oven-Baked Naan:
This week's grocery checklist included "Naan" bread and after searching through several aisles, finally found a small display at the back of the store with only two packages left. Needless to say, the presentation, and their back of house position was terribly uninspiring, so to forgo buying and on a whim, declared making Naan from
scratch. In all of my years of baking bread, I had wanted to try making Naan, but it had always been too easy to simply buy at the store. Today though, an urgent focus to knock this off my checklist both on my bread-making abilities and for tonight's dinner led the inspiration. Part of me thought, "how hard could it be, as Naan is flat." In my mind, I suddenly felt the usual (bread) rising pressure completely gone. I'm happy to admit that the bread was a great success, and have a vast renewed respect for flat bread making as there is an abundance of nuances which can be incorporated to alter the flavor and shape. It is nonsense to think that flatbread is simple bread just because it doesn't rise taller than others. For me, this bread rose above the rest.
SECRET INGREDIENT:  Vanilla coconut yogurt provided a hint of sweetness.
TIP: More moisture is ok since this bread is not expected to rise very high.
Homemade Oven-Baked Naan
2 tsp active dry yeast
1 cup milk
3 ½ cups unbleached flour
1 ½ tsp salt
1 tsp sugar
3 T yogurt (plain or vanilla as preferred)
3 T unsalted butter melted
optional toppings  – 1 T unsalted butter melted with 1 T poppy seeds and 1 T sesame seeds / 1T olive oil / 1 T unsalted butter with 1 T zatar
Sprinkle yeast into ½ cup of the milk (room temp) in a glass or ceramic container – not metal. Let sit for 5 mins, then stir (not using metal) to dissolve.
In another glass or ceramic large bowl mix the flour, salt and make a well in the center.
Then add the dissolved yeast, sugar, yogurt and butter (cooled)
Mix to form a stiff sticky dough and add the remaining ½ cup milk (room temp) as needed
Turn dough out onto lightly floured surface and knead until stiff and elastic, about 5-7 mins but don't over knead.
Place the dough in a buttered glass or ceramic bowl and cover with dish towel to rise, until doubled in size. 3-4 hrs. Keep bowl in a temperate warm place.
Punch down then let rest 10 mins.
Preheat oven to 425 and place baking sheet in to warm
Divide dough into four equal pieces and roll each out on lightly floured surface (if needed) so each piece is about 8 inches across and ¼ inch thick.
(Optional) For flavor variations take the melted 1 T of butter with seeds and spread on two of the rounds and on the other two drizzle the olive oil.
Then take two of the dough rounds and place on parchment and transfer to warm baking sheet. (Only two will fit on one baking sheet at a time)
Bake approx. 15-20 mins until edges just start to turn brown.
Immediately out of the oven stack the bread and cover with towel to keep warm and prevent drying out.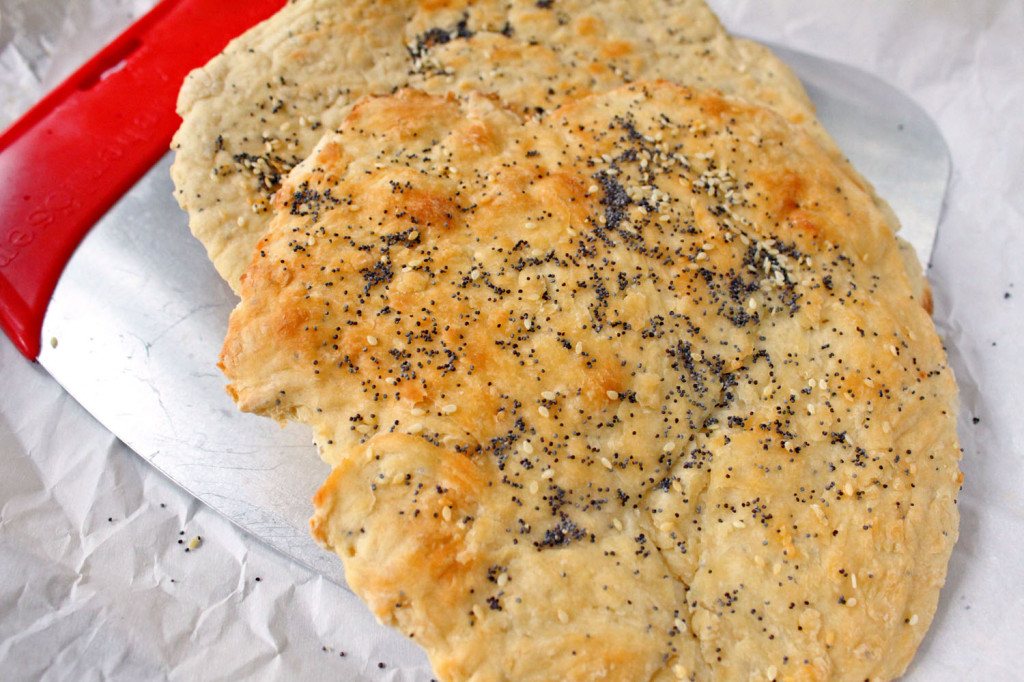 -- Weather When Posted --
Temperature: 41°F;
Humidity: 30%;
Heat Index: 41°F;
Wind Chill: 33°F;
Pressure: 29.93 in.;