Harissa Chicken with Ginger Rice & Fresh Peas:
As I sit writing this on a crisp and damp morning, there's a 1950's movie playing in the background. No matter what old movie from that era or before it, there's a cadence in the dialog that makes you feel warm and relaxed. An old habit too, as I often write with an odd movie blathering in the distance, which offers both company and occasional inspiration. As the winter continues to meander on here in New England, the need for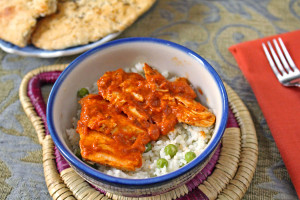 heat remains paramount, and beckons for a flickering fireplace and bowl of something fiery. What better means than a fresh batch of spicy Harissa and some fresh ingredients. There are many variations of Harissa, and for this recipe we kept it simple with fresh red bell peppers and the added heat from chili garlic sauce. For both the chicken marinade and the rice, fresh ginger played a key role subtlety layering additional spice. The fresh peas, which are often difficult to find let alone in the middle of winter, added additional sweetness and freshness to the rice. Once again, cooking for two makes me forget life's important culinary lesson – if it's that good, always make that much more.
SECRET INGREDIENT: Ginger
TIP: Double or even triple the Harissa recipe. You will be thankful you did.
Harissa Chicken with Ginger Rice & Fresh Peas
Chicken breasts (1 lb)
Salt & fresh black pepper
Plain Yogurt (2 cup)
Ginger (3 tsp, grated)
Cumin (3 tsp)
Lemon (2 Tbl)
Use a fork to poke chicken all over, and season on both sides with salt and pepper.
In a large bowl, combine all ingredients and then add chicken. Marinade for at least 1 hour.
Preheat oven to 350°F
In a large skillet over high heat, add olive oil. Remove chicken from marinade and add to skillet. Sear until just crisp, then flip each piece and place pan into oven.
Cook for 30 minutes until chicken is cooked through (internal temperature 160 degrees). Remove from oven and let rest for 10 minutes.
Cut chicken into large slices and place into a large bowl. Toss chicken with 1 cup of Harissa and set aside.
For Harissa
Red bell peppers (3 large)
Garlic (3 cloves, chopped)
Salt & fresh black pepper
Tomato paste (1 Tbsp)
Rice vinegar (2 Tbl)
Coriander seeds (2 tsp)
Paprika (2 tsp)
Cumin (2 tsp)
Red pepper flakes (1 tsp)
Chili pepper paste (2 Tbl)
Olive oil (2 Tbl)
Preheat broiler.
Place peppers on top rack and char under broiler until blackened on all sides. Wrap in paper bag and let stand 10 minutes. Peel and seed peppers.
In a food processor, combine roasted peppers and remaining ingredients. Puree until smooth.
For Rice
Jasmine Rice (1 cup)
Salt (pinch)
Onion (1 thick slice)
Ginger (1 inch piece, peeled)
Fresh peas (1/2 cup)
Bring rice and one and a half cups of water to a boil. Add salt, onion ginger pieces, and peas. Reduce to low, cover and simmer for 10 minutes. Remove from heat and keep covered for 5 minutes. Then fluff with fork.
Serve rice is a bowl topped with chicken slices, and drizzle remaining Harissa on top.
-- Weather When Posted --
Temperature: 39°F;
Humidity: 36%;
Heat Index: 39°F;
Wind Chill: 31°F;
Pressure: 29.97 in.;