Ginger Pulled Pork in Lettuce Wraps:
Reinventing yourself is something that many people struggle with, or at least are unconscious of, when it comes to careers, love, or life in general. Having a very specific source of inspiration or someone to help pull you through it, is often the catalyst to forge forward. Reinventing dishes remains an ongoing and endless source of education and entertainment for me, with Victoria as my constant muse. Over the past year, I have probably made pulled pork a dozen times, and each culinary venture yielding completely deferent results from the previous. Pork shoulder demands to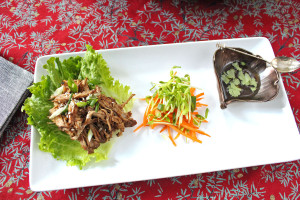 be cooked slow and with low heat, and for this recipe, a heavy helping of fresh ginger and other Asian flavors delivered a unique finish. Add more ginger or chili sauce if you fancy the extra heat and spice. It's often a purposeful comment like – "hey, Chinese New year is coming up soon." – that pulls me in new epicurean directions. Reinvention here was making something as simple as lettuce wraps with the combination of flavors and fresh carrots and pea shoots.
SECRET INGREDIENT:  Fresh Ginger
TIP: A cut with bone-in adds extra flavor and with a layer of fat that also helps keep the meat moist
Ginger Pulled Pork in Lettuce Wraps
Pork shoulder (3-4 lbs, preferably bone-in)
Salt & fresh ground pepper
Hoisin sauce (1/4 cup)
Soy sauce (1/4 cup)
Rice wine vinegar (1/4 cup)
Sesame oil (2 Tbsp)
Vietnamese chili sauce (2 tsp)
Honey (1 Tbsp)
Chinese Five spice (1 tsp)
Garlic (2 gloves, crushed)
Ginger (1 Tbsp, grated)
Canola oil (2 Tbsp)
Chicken stock (1 ½ cups)
Season pork lightly with salt and pepper on all sides. If boneless pork shoulder, tie into a tight bundle with cooking string.
In a large bowl, combine remaining ingredients, except canola oil and stock. Place pork in bowl and turn to coat all sides. Marinate overnight if possible, and at least an hour.
Pre-heat oven to 250°F.
In a Dutch oven on high, heat oil then add pork. Sear on all sides until just crisp.
Add stock and deglaze pan. Pour remaining marinade over pork, cover and place pan in oven.
Cook for 4 hours until tender and pork pulls apart easily.
Transfer pork to bowl and, using tongs and a fork, pull the meat apart into chunks.
Return Dutch oven to stove on medium heat and reduce braising liquid by half.
Pour ladle of sauce over pork. Season with additional Chinese Five spice and grated ginger and stir to combine.
For Wraps
Lettuce leafs
Scallion (chopped)
Carrot (julienned)
Pea sprouts
Sesame seeds (for garnish)
For Dipping Sauce
Soy sauce (2 Tbsp)
Sesame oil (1 tsp)
Cilantro (a few leaves, torn)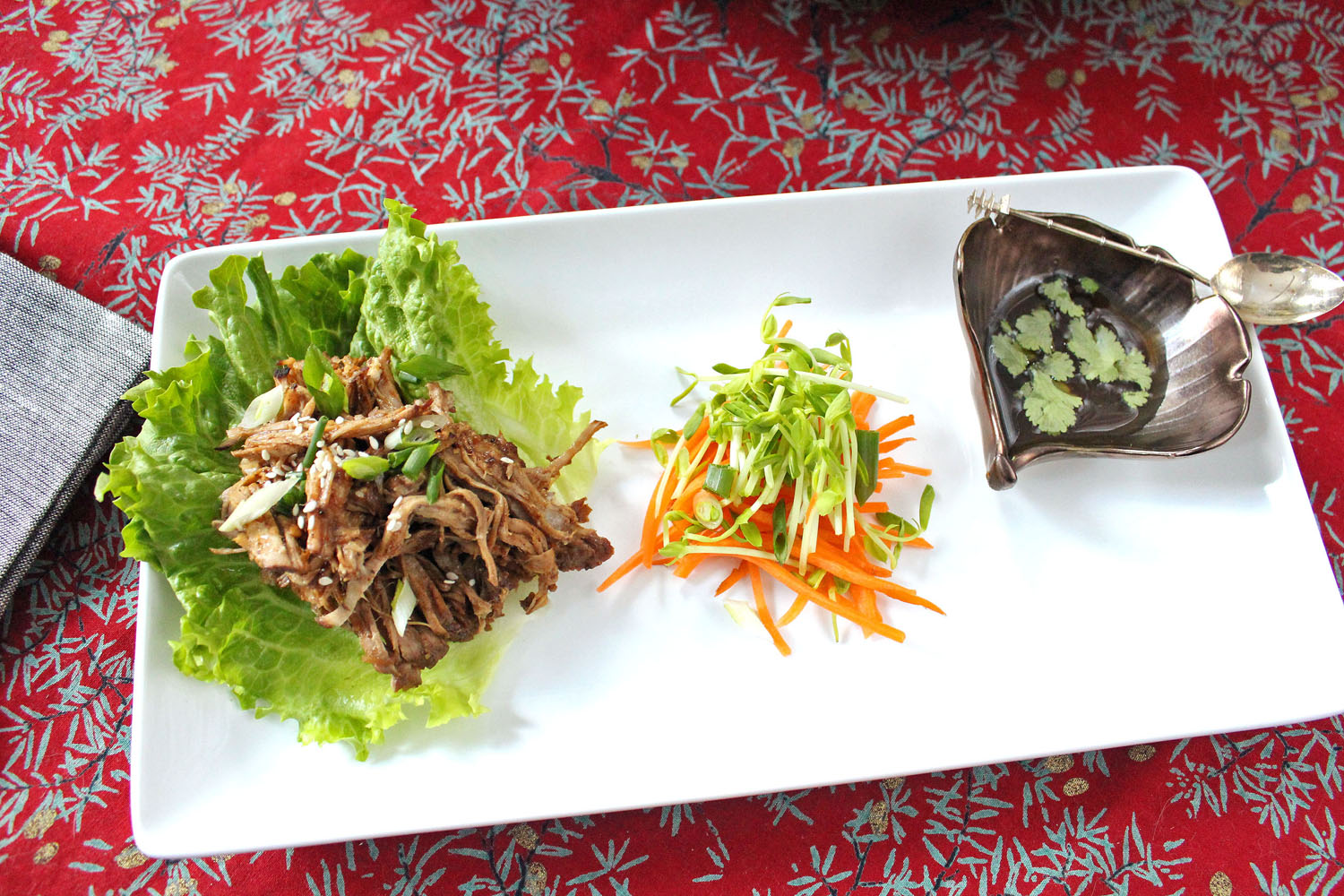 -- Weather When Posted --
Temperature: 27°F;
Humidity: 49%;
Heat Index: 27°F;
Wind Chill: 27°F;
Pressure: 30.06 in.;