Coconut Sweet Potato Soup with Smoky Lentils:
After skiing in negative degree temperatures this past Christmas, the idea of 40 degree January days would seem welcoming. However, 40 degrees on a damp day with thirty mile an hour winds just makes me want to crawl into a box and hide. Don't get me wrong, we love the winter and all that it brings. From cross-country and alpine skiing, to root vegetables and game meats, New England is truly our home. But with bone chilling conditions this past month persistent like a nagging cough, it was time to enjoy a warm
exotic soup nestled closely by a roaring fire. Coconut milk brings a feeling of spring into the dead of winter for this recipe, and was the secret ingredient and original source of inspiration. The addition of lentils and bacon for garnish brought a fine twist and offered a hint of smoky flavor. Serve with Croque Monsieur or simple Ham and Swiss Panini for a full meal.
SECRET INGREDIENT:  Coconut milk
TIP: Undercook the lentils for a crispier finish
Coconut Sweet Potato Soup with Smoky Lentils
Bacon (6 strips, chopped)
Onion (1, chopped)
Garlic (2 cloves, minced)
Ginger (3 tsp, grated)
Carrot (1, finely chopped)
Red pepper flakes (pinch)
Sweet potatoes (2, peeled and cubed)
Salt & fresh pepper
Turmeric (2 tsp)
Chicken stock (2 cups)
Coconut milk (1 ¼ cup)
Lime juice (1 Tbsp)
Parsley, chopped
In a large pot over medium heat, add bacon pieces and cook until just crisp. Use a slotted spoon to remove bacon and set aside.
In same pot over medium high heat, add onion, garlic, ginger, carrot and red pepper flakes to bacon fat and cook for 5 minutes.
Add potatoes and turmeric and cook for 1 minute.
Add stock and coconut milk, and bring to a slow boil. Reduce heat to low and simmer uncovered until potatoes are tender, about 25 minutes.
Remove from heat and using a hand-held immersion blender, puree soup until smooth.
Add lime juice and season to taste. (If soup is too thick, add more stock)
Serve topped with lentils and parsley.
For Lentils
Green lentils (1 cup)
Salt & fresh pepper
In sauce pan, bring lentils and 4 cups of water to a boil. Reduce heat to low, cover with lid tilted and simmer 25 minutes.
Remove from heat and season with salt and pepper, then stir in bacon pieces.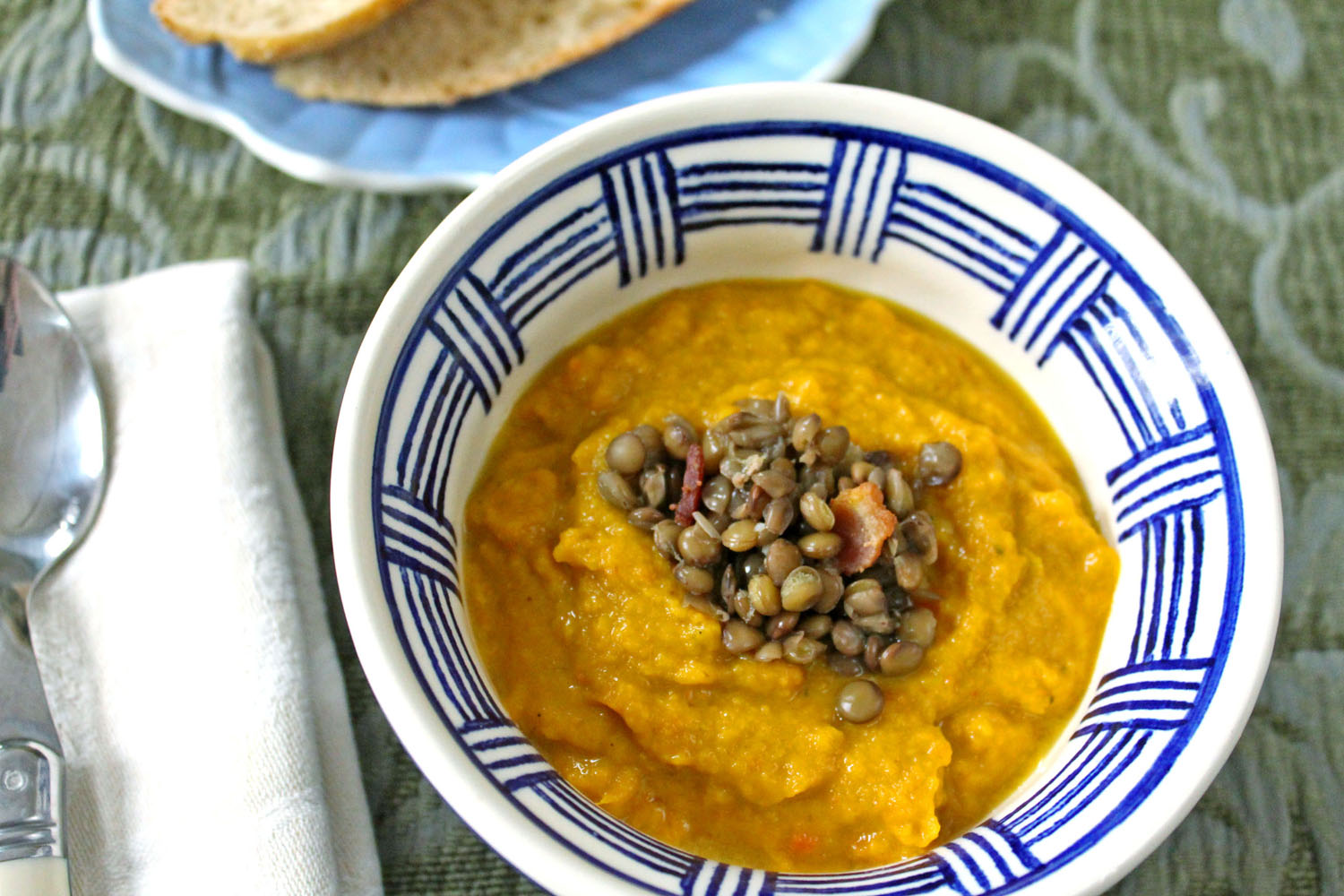 -- Weather When Posted --
Temperature: 49°F;
Humidity: 55%;
Heat Index: 49°F;
Wind Chill: 46°F;
Pressure: 29.89 in.;