Rabbit Rillettes:
I was wandering aimlessly through the market recently like a bored child. Actually went in with no plan or otherwise list of anything to purchase, just seemed apropos at the time as it was a nice market. Much to my surprise I stumbled across a fresh rabbit, the only one left by chance. It is a moral imperative of mine to always buy something when it is the only one left. A plethora of ideas raced through my mind on the journey home. As usual, inspiration for me comes in various forms, sizes, and sources. Aside from the random act of finding the rabbit, which in itself was inspiring, I often find myself "doing the Google" and gazing through a multitude of photos, both good ones and bad, in search of an inspiring muse to formulate a new recipe. Scrupulously crafting this recipe, I envisioned a high-brow presentation worthy of a white napkin and bottle of fine Bordeaux. The slow braising in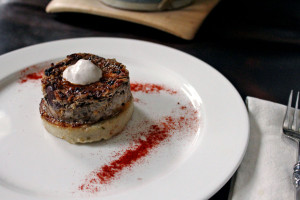 wine brought out the tenderness of the rabbit, while finishing it afterward on a hickory smoldering grill added a hint of a rich smoky flavor. In reducing the braising liquid I was inspired to whip a helping of this earthy elixir with some crème fraiche for a final garnish. The end result, any individual component of it, is simply sublime. With plenty more rabbit remaining, will have to simply toss some with a hearty dish of pasta and a haphazard splash of the sauce, and serve with pint of ale. Any way you plate it, you will be pleased.
SECRET INGREDIENT:  Rabbit
TIP: At the very least, make just the braised rabbit. It's just that tasty.
Rabbit Rillettes
For Braised Rabbit
Rabbit (2 ½-3 lbs, trimmed into 6 pieces)
Salt & freshly ground pepper
Olive oil
Garlic (3 cloves, chopped)
Onion (1/2 cup, chopped)
Carrot (2, chopped)
Celery (2 ribs, chopped)
Tomato paste (1/4 cup)
Red Wine (2 cups)
Beef Stock (2 cups)
Rosemary sprigs (2)
Thyme sprigs (2)
Parsley sprigs (2)
Hickory chips (2 cups)
Season rabbit on all sides with salt and pepper.
In a Dutch Oven or other large pot over medium-high heat, warm the oil and then add the rabbit pieces in single layer (work on batches if necessary). Cook until well browned, about 3 minutes per side. Transfer rabbit to platter.
In same pot over medium-high heat, add chopped leeks, carrots, celery, and garlic. Cook for 3 minutes stirring occasionally.
Add tomato paste and cook for 2 minutes, stirring to combine. Then add wine and stock and bring to a boil. Tie sprigs with twine to make a bouquet garni and add to pot.
Return rabbit to pot along with any accumulated juices.
Reduce heat to low, cover, and simmer for 1 ½ hours. Then transfer rabbit to platter and let cool.
Strain cooking liquid through a fine sieve into a medium sauce pan, and discard solids.
Place saucepan over high heat, bring liquid to a boil, then reduce and simmer over medium heat for 30 minutes.  Season to taste with salt and pepper.
Soak hickory chips in water for thirty minutes.
Preheat a grill and add hickory chips to smoke box or sheet of foil.
Season rabbit with salt and pepper. Once hickory chips are smoldering, place rabbit pieces on grill over low heat. Cover, and cook 4 minutes per side. Remove from heat and let cool. Carefully shred and discard bones (be conscious of small bones in legs and ribs).
Add rabbit meat to sealable container, then pour cooled reduced braising liquid over rabbit meat to just cover and refrigerate overnight. Place remaining braising liquid in separate container and refrigerate.
Seared Rabbit Rillettes with Rosemary Polenta & Wine Crème Sauce
For Polenta
Chicken stock (4 cups)
White corn meal (1 cup)
Fresh Rosemary sprigs (2)
Butter (2 Tbsp)
Parmesan Reggiano (1/4 cup grated)
Salt & fresh ground pepper
In a large saucepan, bring stock to a boil. Slowly whisk in corn meal, then reduce heat to low. Continue whisking until polenta begins to thicken.
Cover and cook for 30 minutes. Check every 10 minutes, and stir to remove any potential lumps.
Remove from heat. Add butter, parmesan, and season to taste. Stir to combine and let cool for 10 minutes.
On a flat surface, lay out a sheet of plastic wrap, about two and half feet. Spoon polenta onto center of plastic wrap and form into an even cylinder shape.
Carefully roll plastic wrap from side facing you over the polenta, then pull over the other side. Gently roll to shape evenly. Then carefully twist both ends in same direction, and spin roll a few times to tighten. Wrap roll in foil and refrigerate.
For Sauce
Crème fraiche (1 cup)
Cream cheese (1/4 cup)
Braising liquid from rabbit above (2-3 Tbsp)
In bowl, mix crème fraiche and crème cheese to a thick creamy consistency.
Whisk in braising liquid, 1 tablespoon at a time, using less if necessary to keep a relatively think consistency. Scrape sauce into sealable container and refrigerate.
To Assemble
Press pulled rabbit meat into 3 inch cooking molds. Continue pressing to remove any extra liquid. Chill for 10 minutes.
Remove polenta roll from refrigerator and remove wrapping. With a sharp and wet knife, carefully slice 1 inch slices of the polenta.
In a large skillet, add 2 tablespoons of butter over medium-high heat. Add the polenta slices and crisp on each side until golden. About 2 minutes each side. Then remove from heat.
In same skillet over medium-high heat, add 2 tablespoons of butter. Add rillettes and cook on both sides until just crisp. You can leave rillettes in the mold to cook if they are still fragile, and simply press down so at least a half inch is exposed on the cooking side.
Place with a seared slice of polenta, then rillettes, and top with sauce. Garnish with a dusting of smokey paprika on the plate.
-- Weather When Posted --
Temperature: 34°F;
Humidity: 89%;
Heat Index: 34°F;
Wind Chill: 34°F;
Pressure: 29.94 in.;