Mongolian Pork with Lemongrass Rice:
Last weekend we hiked for miles. The kind of mind-clearing walk, through quiet and heavily wooded areas, that even Henry David would be inspired by. It's always rejuvenating when spring finally springs and long hikes on warm days can trigger a host of life changing ideas, or at the very least, inspiration on what's for dinner. As I continued to be impressed with Victoria's journey into raising honey bees, I recognize that it has also helped change my view of the seasons, as well as educated my pallet with the multitude of sweet variations and other natural ingredients.
Agave nectar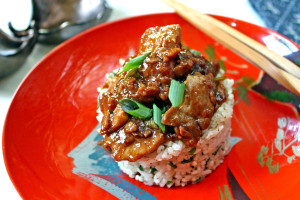 caught my eye awhile back as a unique alternative to honey. It is sweet but with a distinctive nutty flavor, and served as the anchor that balanced the spicy chili peppers in this dish. Using pork versus beef was also a conscious choice and equally rewarding with its firm texture. We continue to take classic dishes, with simple ingredients, and turn them upside down in a trending reinvention process. Whether during a quite stroll on a sunny morning or on the first bite of something delicious, those eye-opening moments can be surprising, and tasty too.
SECRET INGREDIENT:  Agave nectar
TIP: Add as much garlic and ginger to the sauce that you can handle for that added punch
Mongolian Pork with Lemongrass Rice
Pork loin (1 lb, thinly sliced)
Egg white (1)
Ginger (1 tsp, chopped, divided)
Garlic (3, chopped)
Soy sauce (5 Tbsp divided)
Sesame oil (4 tsp divided)
Cornstarch (2 Tbsp)
Sake (1/4 cup)
Rice wine vinegar (3 Tbsp)
Hoisin sauce (2 Tbsp)
Chili pepper paste (1 Tbsp)
Red pepper flakes (1 tsp)
Agave nectar (1 Tbsp)
Olive oil
Scallions (3, chopped +garnish)
Jasmine Rice (1 cup)
Salt and fresh pepper
Lemongrass (2 tsp ground)
Coriander (1 tsp ground)
Parsley (1/2 cup chopped)
Shallots (2 Tbsp, thinly sliced)
For Marinade
In medium bowl, whisk egg white, half of the chopped garlic, half of the chopped ginger, 2 tablespoon soy sauce, and 2 teaspoons sesame oil.
Dredge pork slices lightly in cornstarch shacking of access. Add pork to marinade stirring to coat completely. Allow pork to rest for 10 minutes.
For Sauce
In separate bowl, mix sake, 3 tablespoons soy sauce, 2 teaspoon sesame oil, rice wine vinegar, hoisin, chili pepper paste, red pepper flakes, agave nectar, and remaining garlic and ginger.
To Assemble
In a sauce pan, add rice with a thick slice of onion, lemongrass, coriander, and 1 ½ cups of water and bring to boil. Reduce heat, cover and simmer 15 minutes. Remove from heat and stir in parsley.
In small sauté pan, sauté shallots in olive oil to crispy and golden, then remove and set aside.
In a large skillet with olive oil on high heat, add pork and sauté until both sides are just crisp. Remove pork from skillet and wipe pan of any excess oil.
In same pan, add sauce and bring to a boil. Return pork to pan and heat through. Then remove from heat, and stir in scallions.
Plate and garnish with crispy shallots and remaining scallions.
-- Weather When Posted --
Temperature: 74°F;
Humidity: 67%;
Heat Index: 74°F;
Wind Chill: 74°F;
Pressure: 30.02 in.;