Sous Vide Pork Belly with Soy Ginger Glaze:
My grandmother would often dare me. Dare me to try different foods, different spices, different flavors. She would dare me to do what basically, most people were afraid of, and without fail I would leap to those challenges. She taught me to view life with open eyes, a sense of will, and the courage to do the other things. As I wrote this recipe, before actually purchasing my first sous vide immersion circulator, I was listening to Johnny Cash's "I Won't Back Down" in the background and with thoughts of my grandmother and her wisdom, love, and teachings. Cooking can be simple with just five
fresh ingredients, and sometimes can also be overly complicated, challenging, but equally satisfying. I love both approaches, and both can deliver amazing results. In delving into the world of sous vide cooking however, I have found further meaning in the science of cooking. Sous vide, to me, is like saying baking or braising. It is simply another approach to cooking, with wildly different results, but it boils down to fresh ingredients, time, and temperature. This pork belly was like cutting into butter. The fresh ginger, garlic, and star anise offered the aromatics and the soy, sake, and mirin providing the base for an elegant glaze. But the fact that it took 24 hours, well, anything that takes 24 hours, is bound to be good. I remain forever grateful to my grandmother for teaching me the simple things, as well as the wherewithal to do the other thing. In this case, embracing the science behind precision temperature cooking and patience to bring out the unequivocal essence of an ingredient.
SECRET INGREDIENT:  Pork Belly
TIP: Add to split pea soup, or cube and serve as hors
d'oeuvre.
Sous Vide Pork Belly with Soy Ginger Glaze
Pork Belly (1 lb)
Salt & fresh cracked pepper
Fresh Ginger (3 in, peeled and thick sliced)
Garlic (3 cloves, peeled and smashed)
Star Anise (4)
Soy Sauce (1 cup)
Sake (1/4 cup)
Mirin (3 Tbl cup)
Heat cooking water with immersion circulator to 154°F.
Season pork lightly with salt and pepper
Add pork belly and all ingredients to the sous vide bag spreading aromatics evenly across meat (not skin) side of pork. Add a metal spoon or other heavy weight to prevent bag from floating. Partially seal bag and then gently squeeze to release air from bag and then seal completely.
Make sure pork is fully submerged in water for pork to cook correctly.
Cook for 24 hours for a steak-y texture (for fall-off-the-bone, braise-like texture, heat cooking water to 176°F and cook 7 hours.)
Gently remove bag from water and set pork aside. Removing solids and pour juices from bag into a sauce pan.
Heat sauce pan on high and bring to a boil. Simmer aggressively until liquid is reduced by half, about 15 minutes.
Brush glaze over belly, slice and serve.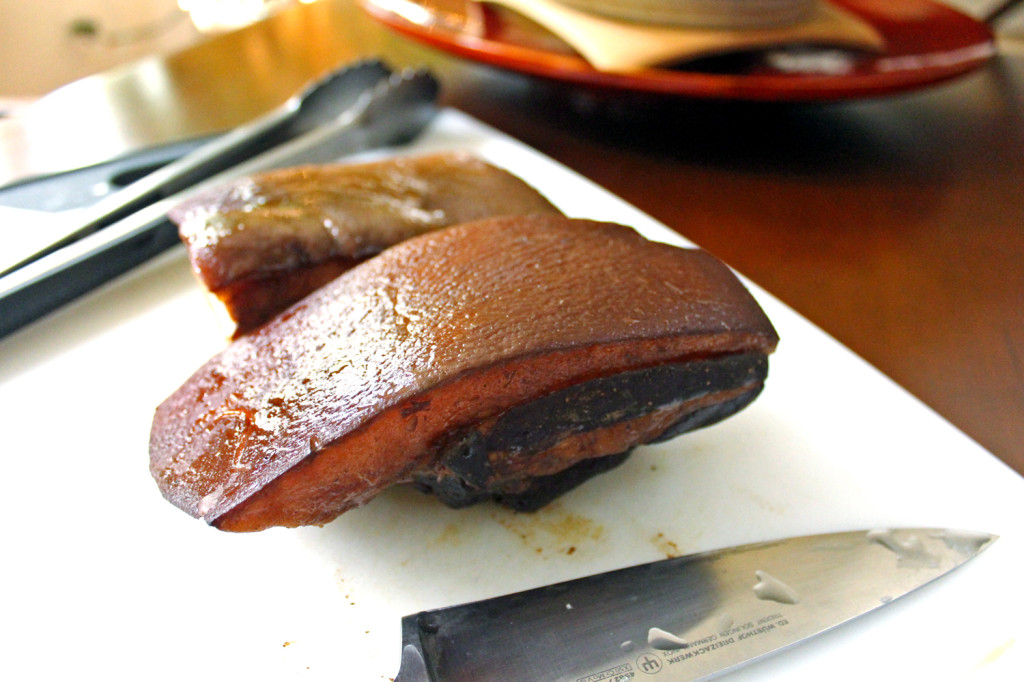 -- Weather When Posted --
Temperature: 34°F;
Humidity: 40%;
Heat Index: 34°F;
Wind Chill: 25°F;
Pressure: 30.06 in.;