Crispy Chicken Tenders with Spicy Romesco:
I dreamt I returned to the Paleolithic era and was amazingly fit and trim from burning so many calories because I had to chase my food with a spear before I could eat it. Apropos I suppose given the Paleo Diet craze that seems to be dominating the news lately. However, I'm not really a big believer in the concept that if you only eat what Cavemen ate, we will somehow be healthier. Like wearing a cape will enable you to fly more easily. There are undoubtedly plenty of foods today that could be eliminated from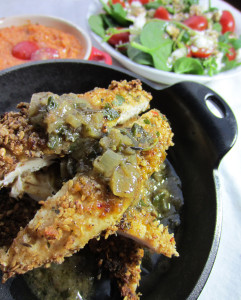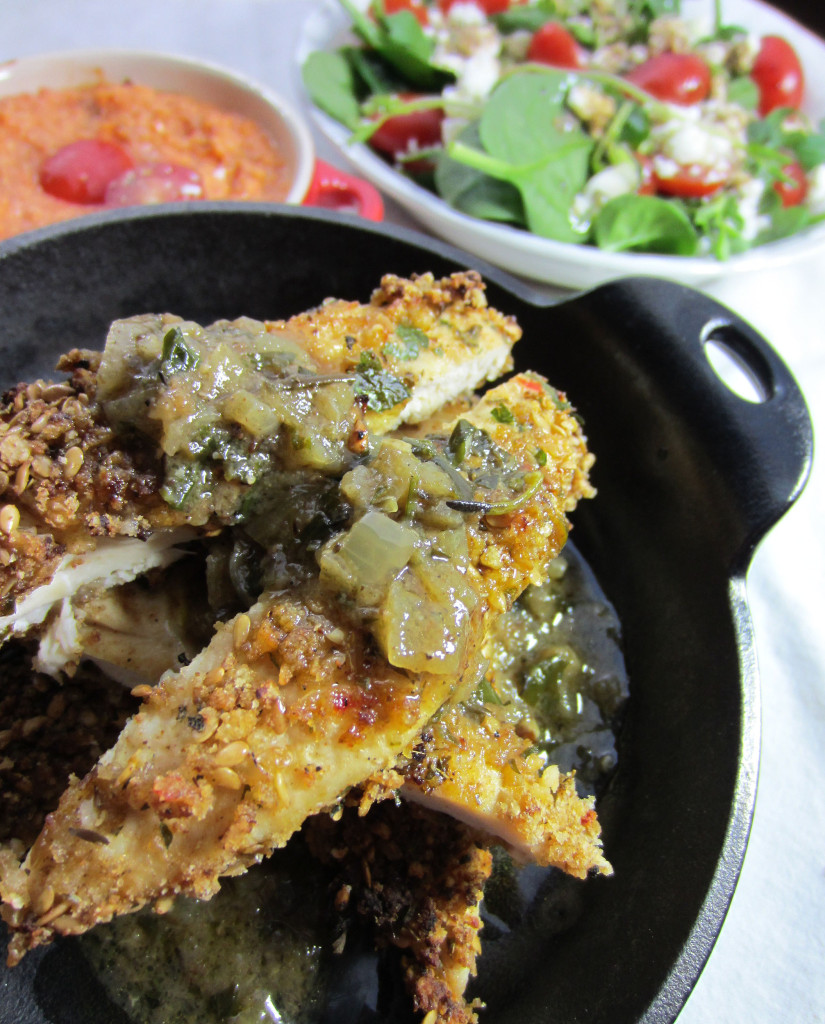 our daily routines, or at the very least reduced, which could help restructure our evolutionary advantage. A close friend of ours deals with celiac and can't eat anything containing wheat. As a foodie, this makes me weep; while at the same time provides an always invigorating challenge. In an effort to further experiment with 100% gluten-free ingredients and kick wheat-based products out the door, while supporting close friends of course, we decided on a gluten-free panko for this simple appetizer dish. The large amount of onion, as well as spicy chili paste, added the kick of heat to the Romesco, and the flax seeds added additional texture and crunch to the chicken tenders. Our cavemen ancestors would have been proud.
SECRET INGREDIENT:  Gluten-free Panko
TIP: Scale up or down how many chopped onions dependent on who you will be talking to, or kissing, the next day.
Crispy Chicken Tenders with Spicy Romesco
Chicken tenders
Salt & fresh pepper
Honey (1 Tbsp)
Chili paste (2 Tbsp)
Lime juice (1 tsp)
Almond milk (1/2 cup)
Garlic powder
Smoked paprika
Gluten-free Rice Chex Cereal (crushed)
Gluten-free Panko
Cayenne
Oregano
Parsley (chopped)
Parmesan
Flax seed
Olive oil
Romesco Sauce
Almonds (1/2 cup)
Hazelnuts (1/4 cup)
Onion (1/4 cup, chopped)
Garlic (chopped)
Roma Tomato (2, chopped)
Roasted red bell peppers (7 oz, drained)
Chili paste (1 Tbsp)
White wine vinegar (1 Tbsp)
Lime juice (1 tsp)
Salt & fresh pepper
Olive oil
Gluten-free panko (1/4 cup)
Curry Sweet Potato Fries
Sweet potato (cut into fries)
Olive oil
Salt & fresh pepper
Curry powder
In medium bowl, whisk honey, chili paste, lime juice, almond milk, garlic, and smoked paprika. Season chicken and marinade for 20 minutes. In separate bowl, mix rice chex, panko, cayenne, oregano, parsley, parmesan, and flax seeds. Line baking sheet with foil and lightly oil. Take chicken from marinade and press firmly on all sides with panko mixture and place on backing sheet. Drizzle lightly with olive oil and back at 400°F for 30 minutes turning each after first 15 minutes.
For romesco, use food processor and mix all ingredients except panko and pulse until smooth. Add panko and pulse few times to combine. Serve chicken and romesco with curry sweet potato fries (baked at 375°F for 30-40 minutes or until crisp.)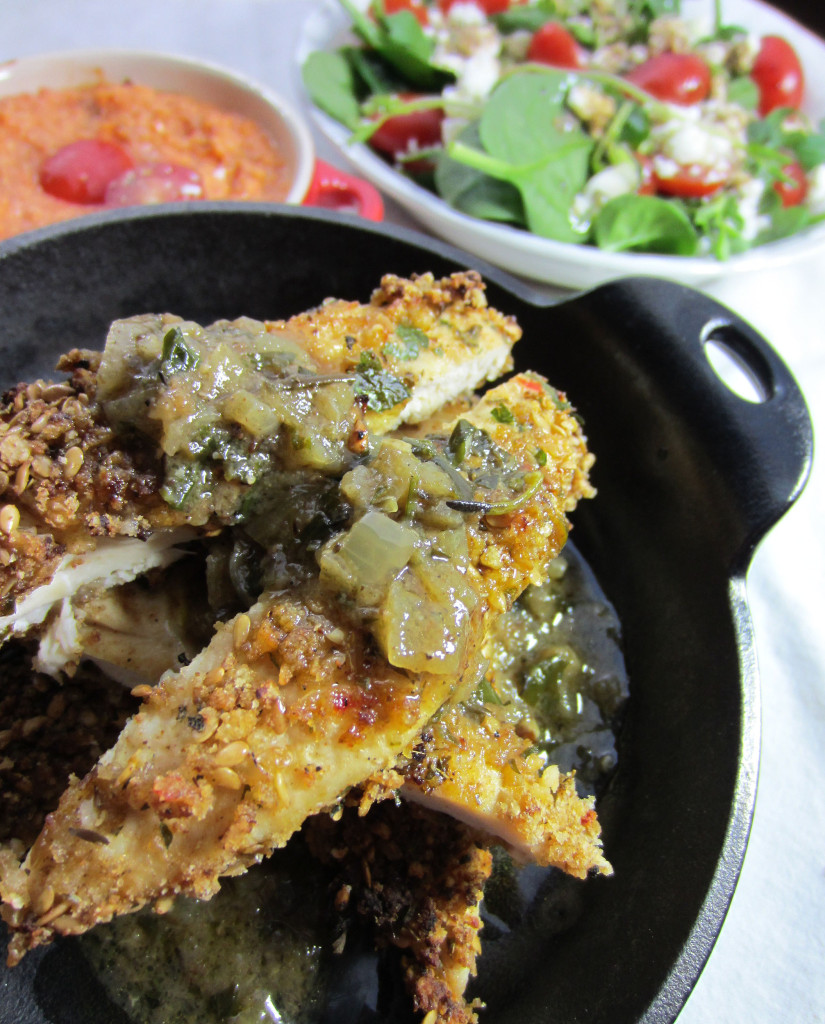 -- Weather When Posted --
Temperature: 81°F;
Humidity: 58%;
Heat Index: 83°F;
Wind Chill: 81°F;
Pressure: 29.99 in.;