Asian Chicken Noodle Soup:
Why is it that each January always brings a wrath of increasingly resilient viral infections that spread across the globe like a broken bag of popcorn kernels falling across a kitchen floor. It is without fail that we will shake hands with, or touch a door knob of, or will be in close proximity to someone, unwittingly or otherwise copiously ignorant, who is infected with the latest seasonal virus. On the heels of several weeks with both Victoria and I stricken with an insidious strain of what can only be called a flu-cold-sinus-crud-bug, we needed our healthy dose of an old faithful chicken noodle soup. However, as it is January in New England, which somehow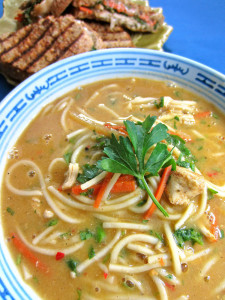 screams healthy Asian cuisine to combat the post-holiday food guilt, we went off the beaten path with an unconventional take to this classic favorite dish.
In Korea, noodles symbolically represent "long life", and seemed most appropriate after what felt like my death-bed recovery from recent illness. This particular dish has several Asian influences, and delivered real richness with the Japanese miso and equal parts comfort from the slippery Chinese noodles. Of course, it wouldn't be complete without a dash of evil which came in the form of a very unique Panini with sesame chicken, rice vinegar tossed julienned carrots, kale, and sharp cheddar that delivered that slow deep smile that lingered well beyond the last bite.
SECRET INGREDIENT: Miso
TIP: Make sure to get all the crunchy bits when deglazing pot
Asian Chicken Noodle Soup
Chicken breasts
Salt & fresh pepper
Sesame oil
Onion (1/4 cup, sliced)
Carrot (julienne)
Garlic(chopped)
Ginger (chopped)
Sake (1/4 cup)
Chili paste (1 Tbl)
Miso (2 Tbl)
Soy sauce (1 Tbl)
Chicken stock (6-8 cups)
Chinese noodles
Scallions
Parsley
Asian Panini
Bread
cooked Chicken breasts (shred extra from soup recipe above)
Carrot (julienne peeler into thin strips) Try a Kinpira Julienne Peeler
Parsley
Rice wine vinegar
Sesame oil
Kale leaves
Cheese (any favorite, sliced thin)
Butter
Season chicken and sauté in large pot with sesame oil until crisp, then place on foiled and lightly oiled baking sheet and back at 350°F for 10 minutes. In same pot, sauté onions, carrots, celery, garlic, and ginger for 2 minute, then deglaze with sake. Stir in chili paste, stock, miso, and soy and bring to a boil. Add noodles and let simmer for 10 minutes. Shred chicken into strips and add to simmering soup. Serve topped with scallions and parley. For Panini, toss cooked chicken lightly with sesame oil. Toss carrot strips in rice wine vinegar and parsley. Butter outside of bread lightly. Place on hot Panini pan buttered side down, then top with cheese, chicken, kale leave, carrots, and then cheese again. Place other slice of bread on top with butter side up. Serve hot.
-- Weather When Posted --
Temperature: 76°F;
Humidity: 67%;
Heat Index: 76°F;
Wind Chill: 76°F;
Pressure: 30.01 in.;