Pastrami-Cured Salmon with Yellow Pepper Sabayon & Poached Beet
More than not, I go against the grain – professionally, personally, and especially in cooking. Often misunderstood, but rightfully so, it is rooted in my inherent need to push myself, others, and the generalized norm. It's about constantly mixing it up to reinvent, and if others can't keep up, it's ok – they won't make it to the top of the stream. You run your race, not others. I made this recipe a year ago, and with the wherewithal to swim upstream, wanted to make again with a plating more worthy and elegant. Curing is a simply process, and with equal parts patience, can yield wondrous results. Two days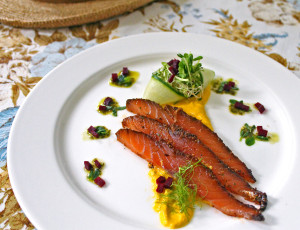 curing, and a third day for the pastrami-like glaze elevates this dish, and the final finish and crust gives the salmon its exceptional flavor, and with a little kick. Sliced thin is one experience (and definitely try), but sliced thick is a completely different encounter with a heartier and boisterous punch of the coriander and caraway seeds, cayenne, and molasses. Finishing the plate with a yellow pepper sabayon, simple herb dressing, and poached beets raised the whole experience. Even without the plating, serve this salmon as large cut cubes for a unique appetizer – Guaranteed to please.
SECRET INGREDIENT: Molasses (and Norwegian Salmon, which does not have "pin bones")
TIP: Rinse salmon after initial cure (it will have a smoother, less salty finish)
Pastrami-Cured Salmon with Yellow Pepper Sabayon & Poached Beet
For Cure
Norwegian Salmon (2 lb)
Lemon juice (1 whole lemon)
Salt (1/2 cup)
Sugar (1/2 cup)
Fresh ground pepper (1 Tbl)
Cilantro (1 cup, chopped)
Parsley (1 cup, chopped)
Shallot (2, minced)
Line a sheet pan with large piece of foil, then place a large piece of plastic wrap on top of foil.
Rub the salmon fillet all over with the lemon juice. Place the fillet skin side down on plastic wrap.
In a small bowl, combine the salt, sugar, pepper, cilantro, parsley and shallots and rub the seasonings all over the salmon. Cover the salmon loosely with plastic wrap and refrigerate for 2 days, then gently scrape off the cure.
For Glaze & Crust
Molasses (1/4 cup)
Bay leaves (5 crushed in coffee grinder)
Cayenne (to taste)
Coriander seeds (2 Tbl)
Caraway seeds (2 tsp)
Paprika (2 tsp)
Fresh ground pepper (1 Tbl)
Bring the molasses, cayenne, and bay leaves to a simmer. Remove from heat and cool slightly. Brush evenly over the salmon. (if mixture is too sticky to adhere to salmon, warm slightly and rub onto surface)
In a coffee grinder, blend the coriander, caraway, paprika, and black pepper. Press mixture firmly and evenly over the salmon.
Rest uncovered under refrigeration for at least 12 hours before serving. The salmon may be wrapped and stored for up to 1 week.
For Pepper Sabayon Sauce
Yellow bell peppers (2, cored, deseeded, diced)
Shrimp stock (1 ½ cups)
Thyme sprig (3)
Salt & fresh ground pepper
Egg yolks (5)
Butter (4 Tbsp, chilled, cubed)
In a small saucepan, add peppers with stock and thyme sprig and simmer for 15 minutes. Pour mixture into a blender and process for 1 minute.
Pass purée through a wire-mesh conical sieve into the top pan of a bain marie and let cool.
In a bain marie or bowl over simmering water, add egg yolks to liquid and whisk to a ribbon consistency. Whisk in butter, a little at a time, season to taste with salt and pepper and serve.
For Beet
Beet root (1, peeled, steamed until tender, cut into tiny cubes)
For Herb Dressing
Fresh Italian Parsley leaves (1 cup, packed)
Fresh Cilantro leaves (1 cup, packed)
Fennel Fronds (1/2 cup, packed)
Red wine vinegar (1/3 cup)
Crushed Red Pepper (1/2 tsp)
Salt (pinch)
Extra-virgin Olive oil (1/4 cup)
In a food processor, add all ingredients except oil. With processor running, drizzle in oil slowly and process until smooth.
-- Weather When Posted --
Temperature: 70°F;
Humidity: 61%;
Heat Index: 70°F;
Wind Chill: 70°F;
Pressure: 30.05 in.;