Chicken Molé with Saffron Rice:
As the rain slowly subsides, and the last remnants of cold air depart for the season, I'm left craving spicy warmth on this chilly New England weekend. Meals like these instantly bring me back to my grandmother, with both its origin and simple ingredients. For this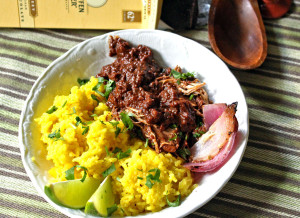 recipe, the "low-and-slow" approach, which I do love, is fitting on a rainy day. Braising for hours on lazy afternoons like these beckons
for a furry blanket nested in your favorite chair as you patiently wait the ding of the cooking timer. Roasting slowly is truly comforting, which also reminds me of my grandmother, more in terms of the comforting part. The heat in this dish comes firmly from the chipotle peppers, and balances nicely with the Mexican chocolate and hints of almonds and cinnamon. The final result is succulent and tender chicken and a thick and rich flavored sauce. With bowl in hand and fur blanket around our shoulders, the keen sense of contentment wells inside me.
SECRET INGREDIENT:  Chipotle peppers
TIP: In the oven at 250°F for several hours may seem too slow for some, but the results are extra luscious. Can also serve this up in soft tortillas with added avocado and scallions.
Chicken Molé with Saffron Rice
Chicken breasts (2 lb, boneless skinless)
Cumin (2 Tbsp)
Coriander seeds (2 tsp)
Chili powder (1 Tbsp)
Cinnamon (1/2 tsp)
Salt (1 tsp)
Chipotle peppers in adobo sauce (3 large with seeds)
Almond slices (1/4 cup)
Raisins (1/4 cup)
Mexican chocolate (3 oz, chopped)
Cocoa powder (1 Tbsp)
Diced tomatoes (28 oz)
Olive oil (2 Tbsp)
Onion (chopped)
Garlic cloves (3, minced)
Chicken stock (1/2 cup)
For Chicken
In small bowl, combine cumin, coriander seeds, chili powder, cinnamon, and salt.
In a food processor, blend chipotle peppers, almonds, raisins, chocolate, cocoa powder, and can of dices tomatoes with juices.
Preheat oven to 250°F
Season chicken on all sides with half of spice mixture.
In Dutch oven over high heat, brown chicken on both sides in tablespoon of oil. Remove chicken and set aside.
Reduce heat to medium, and sauté onion and garlic with tablespoon of oil for 5 minutes.
Add tomato mixture and chicken stock to pot and bring to a simmer over medium-high heat.
Return chicken to pot, coating completely with the sauce, cover and bake at 250°F for 2 hours or until internal temperature of chicken reaches 165°F
Remove chicken from pot. Using two forks, shred chicken.
Return pot to stove and simmer for 10 minutes to reduce sauce.
For Rice
Jasmine rice (1 cup)
Onion (1 thick slice)
Vegetable stock (1 cups)
Water (2 cups)
Salt and fresh pepper
Turmeric (1/2 tsp)
Saffron (1 tsp)
Fresh cilantro (chopped for garnish)
Rinse rice under cold water for 2 minutes.
Bring rice, onion slice, stock and water to boil and then cook for 7 minutes on medium heat.
Remove onion and drain and rinse rice.
Return rice to pot and season with salt, pepper, turmeric, and saffron.
Serve with lime wedges and grilled red onions.
-- Weather When Posted --
Temperature: 71°F;
Humidity: 73%;
Heat Index: 71°F;
Wind Chill: 71°F;
Pressure: 30.02 in.;