Vietnamese Egg Rolls with Sesame Pork:
Mid-week meals on busy schedules are always challenging, let alone when you're aiming for something gourmet. This of course is thoroughly compounded when you have it in your head a desire for Asian cuisine, with a horde of small ingredients and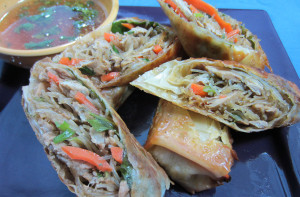 mass of delicate chopping. However, there is something calming about the process of Asian dishes. Taking your time to julienne vegetables, concoct marinades and sauces, and assemble little packages of epicurean delights, can make the weight of any hectic day instantly dissipate. With the frigid crisp winter air swaying the trees outside, I had originally planned to make spicy red chili spring rolls with rice paper and fresh herbs that deliver a healthy burst of flavors. Of course, "evil is what evil does," and a sharp left-turn later made my way to pan-fried Vietnamese egg rolls with a sesame dipping sauce. The pork marinade here offers subtle flavors, and the rice vermicelli delivered the texture inside. In the end, dishes like this are most gratifying when the plate is completely emptied before that first refill on your favorite libation.
SECRET INGREDIENT: Toasted sesame oil
Vietnamese Egg Rolls with Sesame Pork
Pork tenderloin (cut thin discs at angle, then into thick strips)
Fish sauce (2 Tbl)
Sake (2 Tbl)
Soy sauce (1 Tbl)
Lime juice (1 tsp)
Paprika (1/4 tsp)
Garlic (chopped)
Fresh Pepper
Toasted Sesame oil (1 tsp)
Shallot (minced)
Shiitake (thinly sliced)
Scallions (julienne)
Carrot (julienne)
Spinach leaves
Rice vermicelli
Cilantro leaves
Sprouts
Wonton wrappers
Olive oil
Dipping Sauce
Honey (1 Tbl)
Hot Water (1 Tbl)
Sake (2 Tbl)
Rice wine vinegar (1 Tbl)
Fish sauce (1 Tbl)
Garlic (chopped)
Red pepper flakes
Cilantro
Sesame oil
Mix fish sauce, sake, lime juice, soy sauce, ginger, paprika, and pepper in bowl and then add pork. Marinate pork no more than 20 minutes.  Soak rice vermicelli in hot water for 20 minutes, then drain and chop roughly. Sauté in hot pan with sesame oil (slightly undercooked), then set aside. Sauté shallot and mushrooms lightly in same pan. In large bowl, combine all ingredients, and toss lightly with sesame oil and soy sauce. Place two spinach leaves on wrapper at angle at bottom corners, then add filling. Fold corner facing you over filling, then the sides into center. Wet edges with water and roll wrapper up tightly. Heat oil in pan over medium heat, add spring rolls in batches and cook for 3-5 minutes until golden, rolling each to cover all sides. Finish in oven at 375°F for 10 minutes. For sauce, whisk all ingredients together.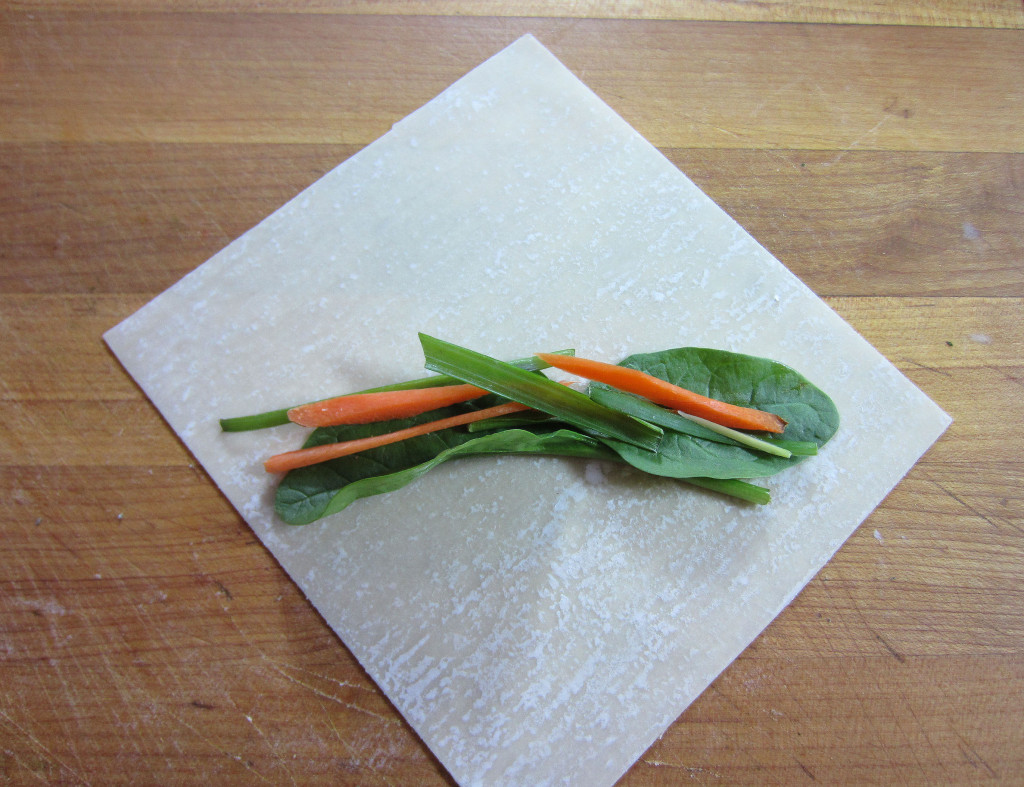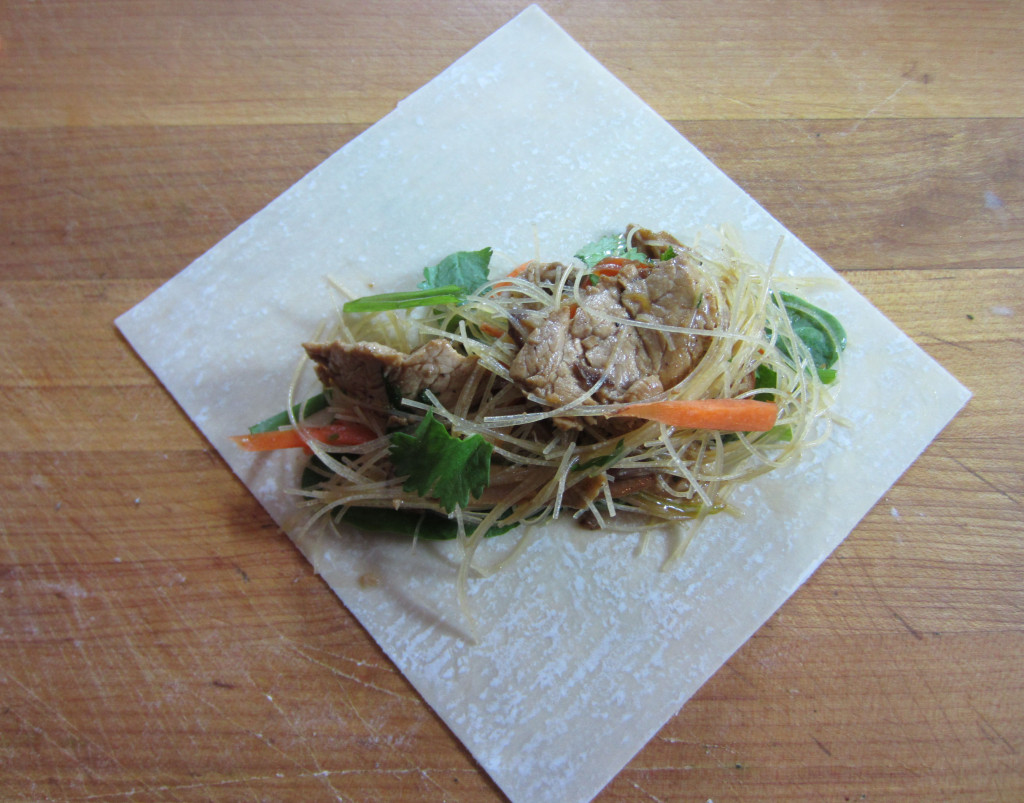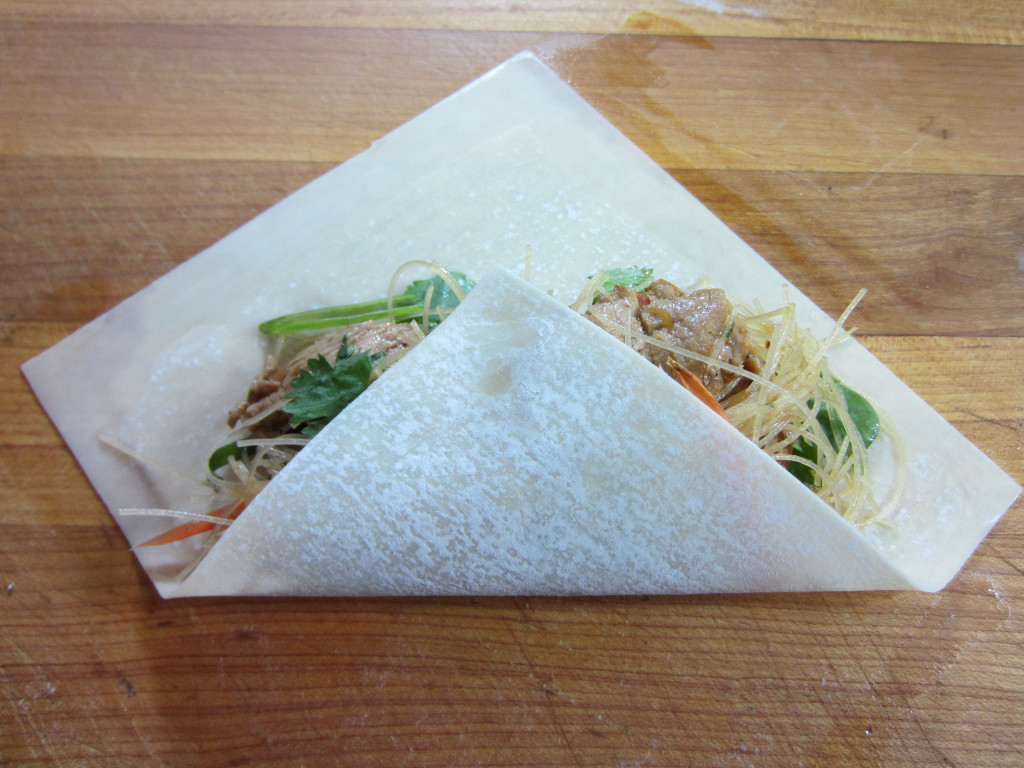 -- Weather When Posted --
Temperature: 81°F;
Humidity: 58%;
Heat Index: 83°F;
Wind Chill: 81°F;
Pressure: 29.99 in.;