Homemade Gyro with Tzatziki Sauce:
Emotional stability is hard earned, and we have to work for it. It's much like an ingredient made from scratch that takes time and patience, but the end result is worth it. Having grown up in Tarpon Springs Florida, the Greek capital of the US, I know well the unmistakable uniqueness of authentic gyro meat (don't call it 'jyro'; it's 'yero"). If you've never had a gyro sandwich it should be a moral imperative to try. In my case, now living in New England, a really good gyro is truly a difficult find. This is one of those recipes that I will make over and over again, tweaking bits along the way to continuously perfect
it. Some say it's about the spices, others the texture, and even the rotisserie process to crisp the edges. The recipe below used an onion paste mixed with both lamb and beef. Either all lamb or even cut in some pork or other meats, it comes down to spice, texture, and technique for me. One trick to keep in mind is to salt the meat and let rest for at least an hour before processing. This both contributes to the mixture maintaining a firm texture, as well as the meat retaining more of its natural juices and flavor. All in all, this turned out very well. As usual, a really good sauce can steal the show, and this tzatziki sauce hit the spot.  
SECRET INGREDIENT: The sauce – it's always about the sauce, and in this case, fresh dill.
TIP: Make the sauce day ahead and let flavors meld.
Homemade Gyro with Tzatziki Sauce
Ground Lamb (1 lb)
Ground Beef (1 lb)
Salt (2 tsp)
Onion (1 medium, coarsely chopped)
Garlic (2 cloves, finely minced)
Dried Marjoram (1 tsp)
Dried Ground Rosemary (1 tsp)
Dried Thyme (2 tsp)
Dried Oregano (2 tsp)
Onion Powder (1 tsp)
Cumin (1 tsp)
Paprika (1/2 tsp)
Freshly ground black pepper (1/2 tsp)
In a large bowl, season both lamb and beef with salt and mix to combine. Let rest in refrigerator for 1 hour (this step helps meat mixture to retain more moisture).
Preheat oven to 325°F
In bowl of a food processor, add onion and process for 15 seconds into a fine pulp. Transfer onion to fine mesh sieve. Using a rubber spatula, firmly press all liquid from onion.
Return onion paste to food processor and add lamb, beef, and remaining spice ingredients. Process mixture for one minute, stopping as necessary to scrape down sides of bowl to ensure even mixture. (Depending on size of processor, may need to work evenly in batches)
Place mixture into loaf pan in one third portions at a time. Make sure to press into the sides of the pan, and once all added press firmly and evenly.
Place loaf pan into a water bath inside a baking pan. Bake in oven for 1 ½ hours or until temperature reaches 165°F.
Remove from oven and drain off any fat. Move pan to cooling rack and place a brick wrapped in aluminum foil directly on surface of meat (use two bricks for firmer texture). Let rest for at least 30 minutes.
Remove from loaf pan. Slice 1/8 inch pieces and layer, overlapping edges, on a sheet and broil until edges are just crisp. (Overlapping pieces will deliver portions that are both crisp and soft for added texture).
Serve on pita bread with chopped onion, lettuce, tomatoes, feta cheese, and yogurt sauce.
Tzatziki Sauce:
Greek Yogurt (1 cup)
Sour Cream (1/2 cup)
Garlic (2 cloves, finely minced)
Fresh Lemon juice (2 Tbl)
Pinch of salt
Olive oil (1 Tbl)
Red Wine Vinegar (2 tsp)
Fresh Dill frons (2 Tbl, finely minced)
Dried Dill (1/2 tsp)
Cucumber (1/2 medium, peeled, seeded, and finely chopped)
In a medium bowl, mix yogurt, sour cream, garlic, and lemon.
Add salt, olive oil, vinegar, and both dill. Mix until smooth.
Mix in cucumber and season to taste.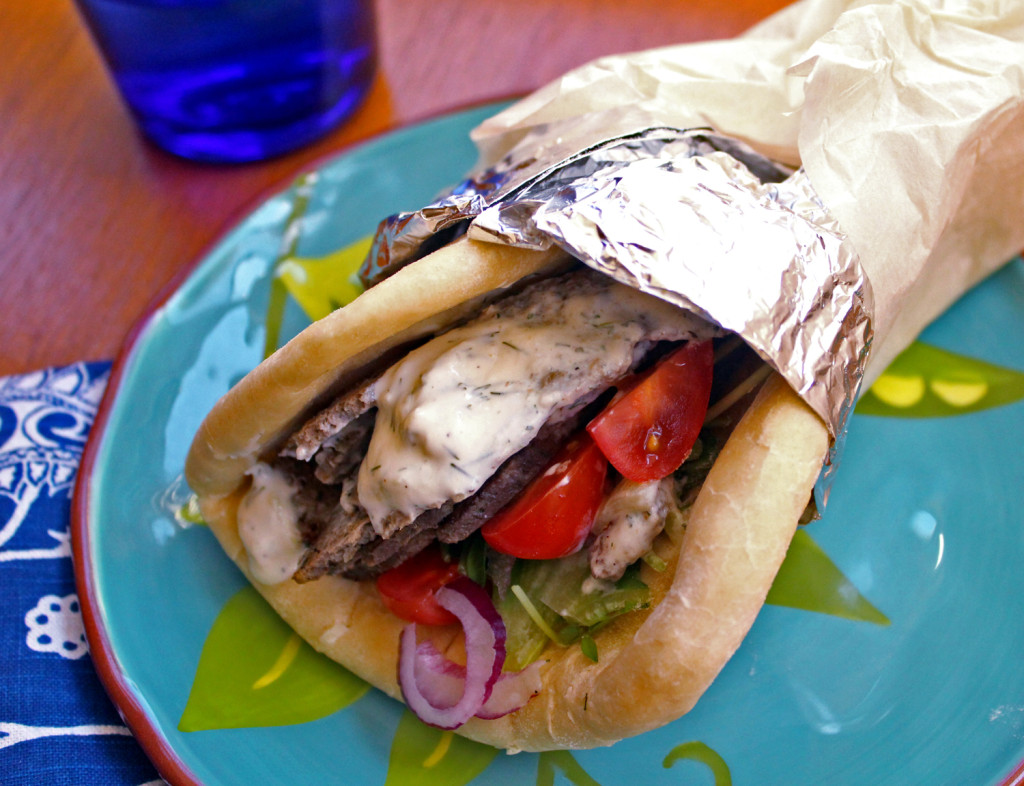 -- Weather When Posted --
Temperature: 82°F;
Humidity: 31%;
Heat Index: 81°F;
Wind Chill: 82°F;
Pressure: 30.04 in.;