Shiitake Fried Rice with Crispy Ginger Chicken:
Long work weeks can get the best of us, but at the same time can be the very fuel of inspiration. I've long felt that cooking was not just preparing quality food for one or many, but the dichotomy between relaxation and intensification in endeavoring to perfect something. Perhaps it was my grandmother who told me, no doubt during some adolescent instructional moment, as I sat inquisitively on the kitchen counter.
Either way, cooking for me is about seeking new ways to serve up something that makes people beam with delight. Inspired by sheer exhaustion, after not only a busy week but the self-inflicting fatigue of weekend chores, a simple stir-fry was in order.
Fried rice
can exude comfort with the right delicate balance of ingredients, and as fate would have it, we just happened to have some fresh seasonal ingredients lingering in the refrigerator worthy of a compilation. In this dish the shiitake mushrooms offer an earthy hearty flavor, balanced with hints of ginger, sherry, and fresh cilantro. But there is nothing mistaking the richness of toasted sesame oil to bring out a full robust flavor.
We used pulled meat from a slow roasted chicken and crisped in a hot pan with sesame oil, ginger, and coriander, but could have easily substituted with other protein options. Looking back, it was my grandmother who taught me – "never be afraid to make people smile, it's the act of giving that inspires." For me, this is cooking.
SECRET INGREDIENT:  Toasted sesame oil
TIP: Substitute the crispy chicken with any other desired protein (shrimp, pork, or perhaps tofu)
Shiitake Fried Rice with Crispy Ginger Chicken
Jasmine Rice (1 cup, rinsed)
Onion (1 think slice)
Salt (pinch)
Eggs (2, lightly beaten)
Toasted Sesame oil (3 Tbsp, divided)
Shallot (1, sliced)
Shiitake mushrooms (12 oz, steams removed, sliced)
Garlic (1 clove, minced)
Celery (1 stalk, sliced)
Sherry (2 Tbsp)
Soy sauce (2 Tbsp)
Scallions (4, chopped)
Cilantro (1/4 cup, chopped)
Pulled Chicken meat (1 ½ cups)
Ginger powder (1 tsp)
Coriander (2 tsp)
Lime wedges
In a small sauce pan, bring 1 ½ cups of water to a boil. Add rice, onion slice and pinch of salt. Reduce heat to low, cover and simmer for 10 minutes. Remove from heat and let rest for 5 minutes. Discard onion slice and rinse rice briefly in sieve and set aside.
In a large skillet over medium heat, add 1 tablespoon of sesame oil and beaten eggs. Cook eggs until just done, then use spatula and gently fold in 1 inch segments to make a flat roll. Transfer egg to a plate and cut into thin ribbons.
In same pan over high heat, add 1 tablespoon of sesame oil and pulled chicken. Season with ground ginger and coriander. Sauté until crisp, remove from pan and set aside.
In same pan over medium-high heat, add 1 tablespoon of sesame oil, shallot, garlic, mushrooms, and celery. Cook for 5 minutes, stirring occasionally. Add sherry to pan and cook for 1 minute.
Add cooked rice to pan and stir to combine. Cook for 3 minutes to heat through. Add soy sauce, then add chicken, cut egg ribbons, scallions, and cilantro. Stir to combine, cook for 1 minute to heat through. Remove from heat, and serve warm with lime wedges.
For Pulled Chicken
Whole Chicken (3-4 lbs)
Onion (1, peeled and quartered)
Garlic (4 cloves, peeled and crushed)
Tarragon (2 sprigs)
Olive oil (2 Tbps)
Salt & fresh black pepper
Pre-heat oven to 400°F
Rinse chicken and place in roasting. Add cup of water to cavity, and stuff with onion, garlic, and tarragon sprigs.
Drizzle olive oil over chicken and season with salt and pepper.
Place in oven and reduce heat to 325°F.
Cook chicken for 2.5-3 hrs, basting with pan drippings every 30 minutes, until internal temperature reaches 165°F.
Remove from oven and let rest for 20 minutes. Pull chicken meat from bones and set aside. (optionally reserve bones for making a fresh stock)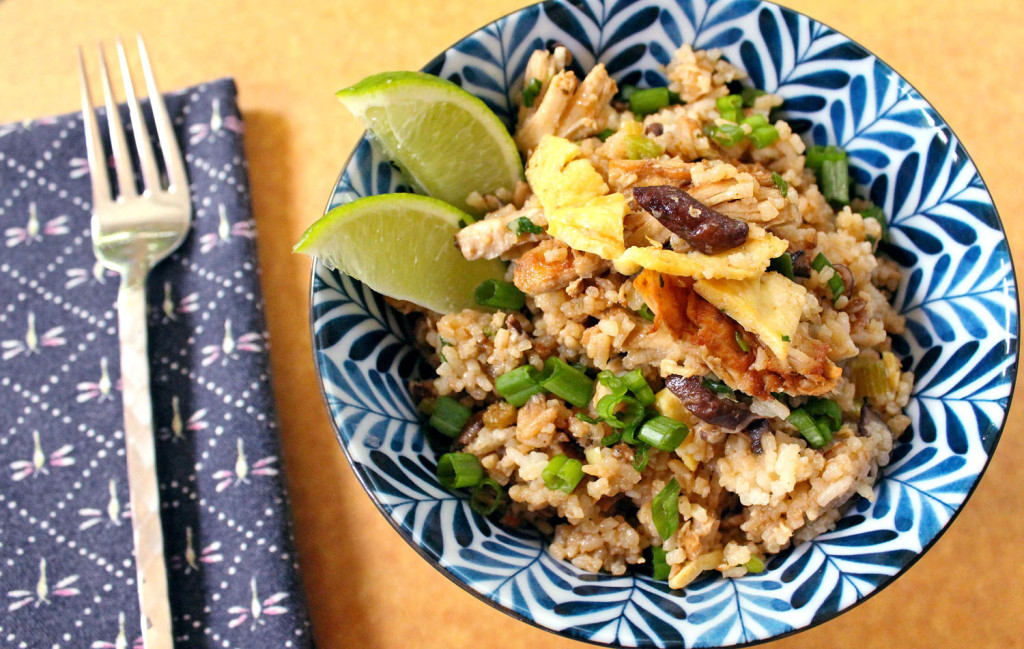 -- Weather When Posted --
Temperature: 66°F;
Humidity: 75%;
Heat Index: 66°F;
Wind Chill: 66°F;
Pressure: 29.99 in.;