Roasted Salmon with Cauliflower Puree & Sunflower Greens:
Having grown up in the 1970's being served frozen and canned vegetables, it's no wonder I used to despise the very thought of green beans, spinach, or the worst, vegetable medley. Later as a young adult, I even cringed at the ever distinctive smell of overcooked Brussels sprouts. But it was when I finely plunged into my culinary journey, and understood the essence of fresh, just harvested vegetables where my epiphany came to light. Today, fresh vegetables are in our every meal, and some the very culmination of the secret ingredient. This dish was a team effort with Victoria owning the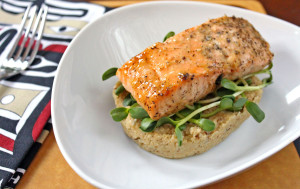 roasted cauliflower puree, and I was on fish duty. Roasted cauliflower, with crispy bits, blended until smooth can be a compliment to any dish, and the added zing from the rutabaga also complimented this puree. However it was the distinguishing aroma and flavor of crushed cumin seeds that added real uniqueness. The salmon seasoned simply and just undercooked added additional creamy and delicate texture.  People often laugh when I still say the word "groovy", but whether a product of my adolescence or the very paradoxical effect of making important things trivial, this dish was fashionably exciting and worthy of a do-over.
SECRET INGREDIENT: Cumin seeds
TIP: Undercook the salmon (you will appreciate it more)
Roasted Salmon with Cauliflower Puree & Sunflower Greens
Salmon (1 lb, cut into single servings)
Lemon (2 wedges)
Miso paste (1 Tbsp)
Salt & fresh black pepper
Cumin seeds (1 tsp)
Sunflower Greens
Pre-heat oven to 400°F
Place salmon on parchment lined baking sheet, and season with lemon, miso paste, salt and pepper, and cumin seeds.
Bake salmon for 10 minutes, remove from oven and let rest.
Plate with a serving of cauliflower puree topped with sunflower greens, then salmon. Drizzle remaining juices from baking pan over salmon.
For Cauliflower Puree
Cauliflower (cored, cut into large pieces)
Rutabaga (2, quartered)
Olive oil (2 Tbsp)
Cumin seeds (2 tsp)
Salt & fresh black pepper
Onion (1/2 cup, chopped)
Garlic (1 clove, chopped)
Butter (2 Tbsp)
Wine (1/4 cup)
Parmesan Reggiano (1/4 cup, grated)
Pre-heat oven to 375°F
Place cauliflower and rutabaga on foil lined baking sheet. Season with half the oil, half and cumin seeds, and salt and pepper.
Roast in oven for 25 minutes, turning occasionally until golden. Remove from oven and set aside.
In a large sauté pan over medium, heat remaining oil, and then add onion and garlic. Cook for 5 minutes until tender.
Increase heat to medium-high, add butter, cauliflower and rutabaga. Add wine and deglaze pan. Remove from heat.
In a food processor, add cauliflower mixture and parmesan. Pulse until smooth. Add a tablespoon of water to thin if necessary (creamy, but with firm texture)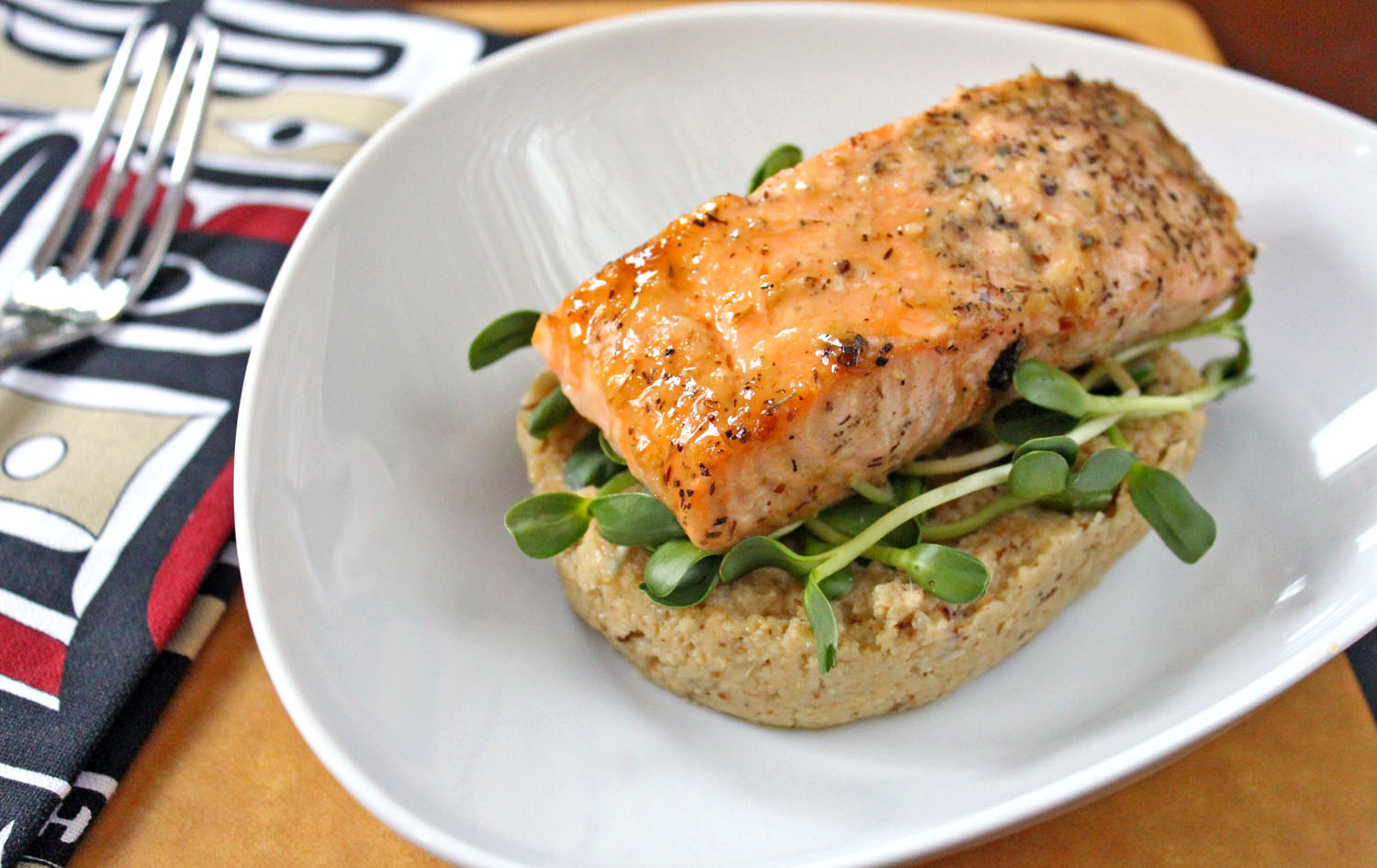 -- Weather When Posted --
Temperature: 3°F;
Humidity: 66%;
Heat Index: 3°F;
Wind Chill: 3°F;
Pressure: 30.41 in.;