Pastrami-cured Salmon:
I have many vices, one of which is freshly cured pastrami. It's the kind of weakness that always satisfies in that deep spiritual way, but with equal parts evil. Nothing quite like it – whether eating it on its own fresh after curing, or slapped between two pieces of rye with cheese and some hearty dressing. But the idea of flipping it upside down and using salmon as the protein is an entirely different experience. Curing is rather straight
forward – salt, sugar, herbs, and patience. A layer of molasses, with hints of spicy cayenne, offered a unique sweet richness, and the crushed coriander, caraway, and cracked pepper delivered the unmistakable pastrami-like crust. Truth be told, kinda wish I'd taken a photo of the finished result, but as soon as it was plated, the cured salmon was instantaneously devoured in its entirety by my culinary-astute coworkers who, in their words, had a religious experience. For me, I will endeavor to cure myself from the many vices I have, but will without doubt, make this particular recipe again – more than once.
SECRET INGREDIENT: Molasses (and Norwegian Salmon, which does not have "pin bones")
TIP: Try serving both thinly shaved as well as thick cuts – two very different experiences.
Pastrami-cured Salmon
For Cure
Norwegian Salmon (2 lb)
Lemon juice (1 whole lemon)
Salt (1/2 cup)
Sugar (1/2 cup)
Fresh ground pepper (1 Tbl)
Cilantro (1 cup, chopped)
Parsley (1 cup, chopped)
Shallot (2, minced)
Molasses (1/4 cup)
Bay leaves (5 crushed in coffee grinder)
Cayenne (to taste)
Coriander seeds (2 Tbl, crushed in a mortar and pestal)
Caraway seeds (2 tsp)
Paprika (2 tsp)
Fresh ground pepper (1 Tbl)
Line a sheet pan with large piece of foil, then place a large piece of plastic wrap on top of foil.
Rub the salmon fillet all over with the lemon juice. Place the fillet skin side down on plastic wrap.
In a small bowl, combine the salt, sugar, pepper, cilantro, parsley and shallots and rub the seasonings all over the salmon. Cover the salmon loosely with plastic wrap and refrigerate for 2 days, then gently scrape off the cure.
For Glaze & Crust
Bring the molasses, cayenne, and bay leaves to a simmer. Remove from heat and cool slightly. Brush evenly over the salmon. (if mixture is too sticky to adhere to salmon, warm slightly and rub onto surface)
In a coffee grinder, blend the coriander, caraway, paprika, and black pepper. Press mixture firmly and evenly over the salmon.
Rest uncovered under refrigeration for at least 12 hours before serving. The salmon may be wrapped and stored for up to 1 week.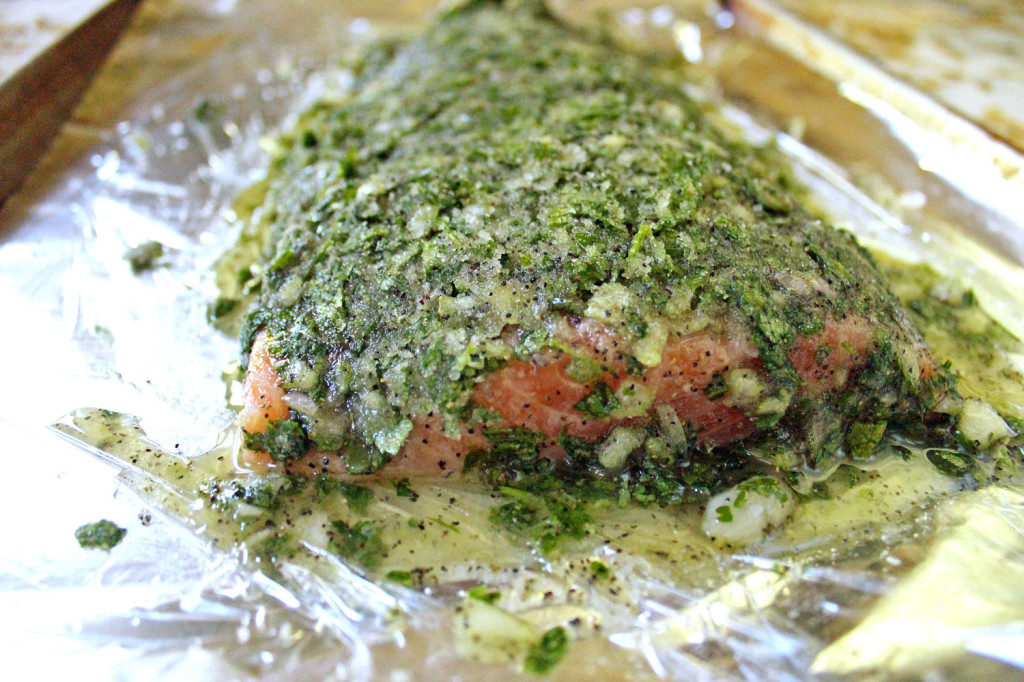 -- Weather When Posted --
Temperature: 55°F;
Humidity: 90%;
Heat Index: 55°F;
Wind Chill: 55°F;
Pressure: 30 in.;