Maine Lobster Sausage with Fish Velouté Sauce:
While traveling recently over a long weekend, I stumbled upon a Swedish restaurant off-the-beaten-path of Maine's beautiful coastline. As always with any new restaurant, I like sitting at the bar for dinner and sampling a bit of everything. Not just because seeing how the bartender prepares a martini is a slight precursor to just how good the food will be, but also from the fly-on-wall people watching perspective, staff and patrons. On the menu was something wonderfully creative and apropos – "Maine Lobster Sausage with Pickled Habanero & Purple Daikon". Having made fresh
sausages from scratch before, the thought of seafood as the main character and the multitude of serving options inspired the need to reinvent this dish. As fate would have it, upon returning from Maine and in the local market, two beautiful and fresh Maine lobster tails beckoned. This was a fun recipe to write and make, let along eat. The sausage had little air pockets, giving a light spongy texture. Fresh tarragon in the sausage as well as in the sauce added a lemony and summer flare. The sausage on its own was wondrous, but the sauce almost stole the show. Obis One Cracked Black Garlic added an earthy sweetness to the sauce. Like everything in life, serendipity plays an important role. If not for that trip north; the left turn versus that right; that one little restaurant; that moment of inspiration; and those two Maine lobster tails. All in all, a tale worth telling.
SECRET INGREDIENT:  Lobster (and the Cracked Black Garlic in the Sauce)
TIP: Sausage can be lightly poached a few days ahead before browning in a skillet.
Maine Lobster Sausage with Fish Velouté Sauce
Shrimp (1/2 lb, peeled and deveined)
Lobster tails (2, raw and removed from shell)
Lobster claw meat, cooked (6 oz)
Garlic (2 cloves)
Fresh Parsley (1/4, chopped)
Fresh Tarragon (2 Tbl, chopped)
Old Bay Seasoning (1 tsp)
Salt (1/2 tsp)
Pinch ground white pepper
Coriander ground (1/2 tsp)
Lemon juice (1/2 lemon)
Egg white (1)
In a food processor, combine all ingredients except egg white and process to combine. Transfer mixture to a large bowl and fold in the egg white.
On a flat surface, lay out 12 inch sheet of clear plastic wrap. Drizzle small amount of olive oil in center of plastic wrap and spread evenly leaving 2 inches untouched around edges.
Place 1/2 cup of mixture in center of plastic wrap and form into sausage shape cylinder. Slowly roll up edges over the mixture and gently squeeze to form cylinder, ensuring that the mixture is completely enclosed. Pinch the outer edge of the sausage link, and gently spin the sausage to fully tighten the sausage. Still pinching the outer edge, push in to release air pockets, and spin to tighten. Fold plastic wrap ends inward and wrap in foil. Refrigerate for 30 minutes.
In a large sauce pan filled half way with water, bring to a boil and then reduce to medium heat. Remove foil and place plastic wrapped sausages into water and simmer for 10 minutes. Remove from heat and let rest 10 minutes. Then remove plastic wrap. (can be made a few days ahead)
In a skillet over medium-high heat, add tablespoon of olive oil then add sausages. Cook on all sides until lightly browned then remove from heat and let rest.
Fish Velouté Sauce
Butter (4 Tbl, divided)
Shallot (1, minced)
Flour (2 Tbl)
White Wine (1/4 cup)
Fish stock (1/2 cup)
Tarragon sprig (1 large)
Salt & freshly ground pepper
Mirin (1 Tbl)
In a skillet over medium-high heat, melt 2 tablespoons of butter, then add the shallot and sauté for 4 minutes stirring with the tarragon sprig.
Add the flour, stirring to combine, and cook for 3 minutes to make a light blonde roux. Increase heat to high, then whisk in the wine. Cook for 2 minutes while stirring.
Whisk in the fish stock and submerge tarragon. Reduce to medium heat, cook for 3 more minutes stirring occasionally. Add more stock to thin if necessary.
Remove from heat, and add remaining butter, mirin, and season to taste with salt and pepper, and the cracked black garlic.
Serve sauce under sausages and top with some micro-greens and minced cherry tomato.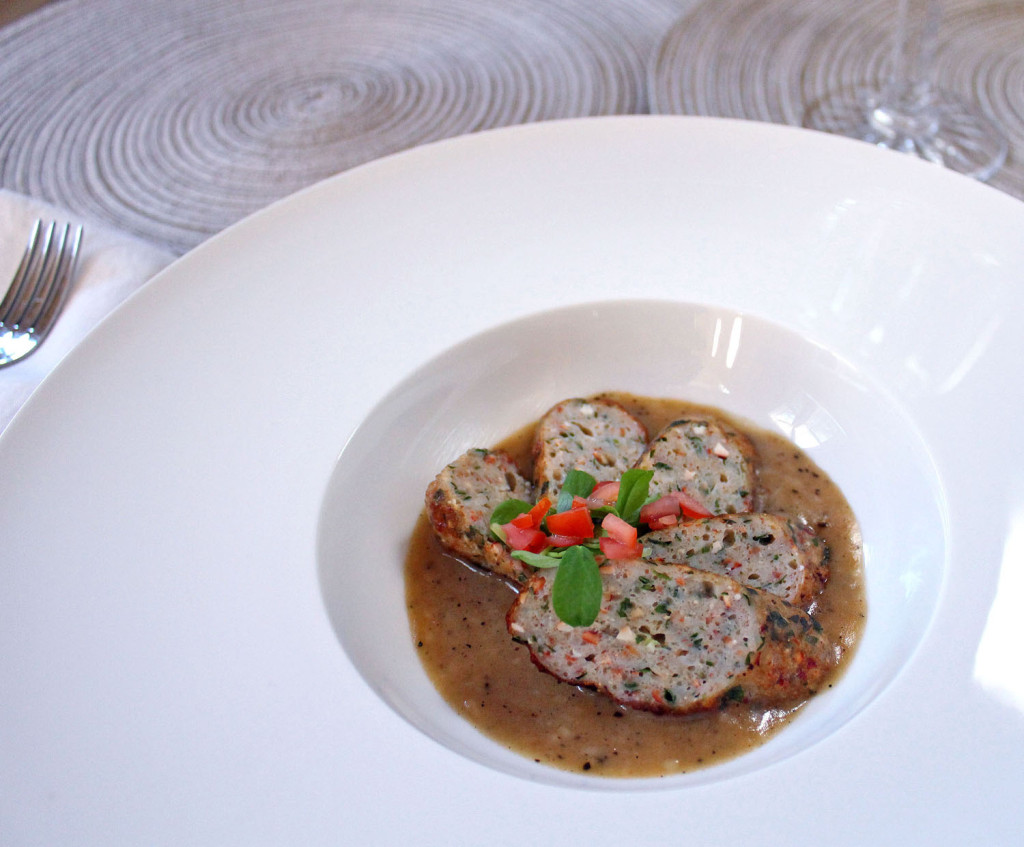 -- Weather When Posted --
Temperature: 51°F;
Humidity: 89%;
Heat Index: 51°F;
Wind Chill: 46°F;
Pressure: 29.68 in.;