Foie Gras with Strawberry Balsamic Gastrique:
Foie gras lovers face an uphill battle on a topic glazed in controversy, disdain, and even anger. A controversy that is both important, but at the same time, often misunderstood. Foie gras is not inhumane if the farms that raise the animals do not apply the ancient process of force feeding. And there are such farms. The truth about foie gras is – it depends. If you, like me, care about where your food comes from, how it was grown, and even by whom, then you can source foods that are humane and otherwise fresher, delicious, and even healthier. In a TED Talk years ago, Chef Dan Barber tells the story of a small farm in Spain that found a humane way to produce foie gras. Raising his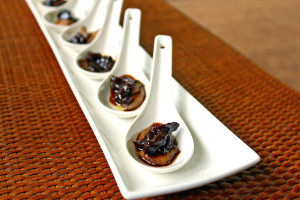 geese in a natural environment, farmer Eduardo Sousa embodies the kind of food production most of us truly want. We stopped buying poultry and meats from large grocery stores a while ago, after finding several local farms that are bringing back the simplicity, and humane, ways of raising livestock. Unlike factory farming, which produces arguably inhumanely produced product that you get at most big grocery stores, local farms can offer a better alternative. The kind of local farms that believe in quality, as well as the respect for their livestock. Good food is good food. Great food includes knowing the what, where, who of its source, which makes the end result of dishes like this just that much better.
Foie Gras with Strawberry Balsamic Gastrique
For Strawberry Balsamic Gastrique
Fresh Strawberries (1/2 cup, sliced)
White Balsamic Vinegar (1/3 cup)
Honey (1 Tbl)
Red wine (1 Tbl)
Salt & fresh ground pepper
In a saucepot, combine balsamic vinegar, honey, strawberries and season with salt and pepper.
Simmer over medium heat and reduce by half.
Gastrique's consistency should be syrupy.
For Foie Gras
Olive oil (1 Tbl)
Foie Gras (bite size ½ inch slices)
Salt & fresh ground pepper
In a skillet over high heat, heat oil and then add foie gras. Season with salt and pepper, and sear for 30 seconds on each side until crisp and golden. Remove from pan and place in serving spoons.
Serve immediately with Strawberry Balsamic Gastrique
-- Weather When Posted --
Temperature: 75°F;
Humidity: 60%;
Heat Index: 75°F;
Wind Chill: 75°F;
Pressure: 30.09 in.;