Fregola Sarda Pasta with Olives & Tomatoes:
The other night Victoria and I shared an amazing Italian dinner with some close friends. It was the kind of meal that lingered with me for days, as I craved just one more helping and maybe another every night. Italian cooking is deep-rooted in its simplicity, but rich in character from quality fresh ingredients. For some of the more unique ingredients, like good prosciutto or premium olives, you have to sometimes travel off the beaten path to specialty stores hidden in those unobvious locales. My favorites are the small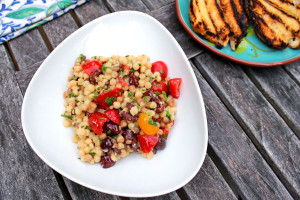 cheese shops that fill their shelves with rare jars and bundles of treasures from around the world. Taggiasca olives are mild small Italian olives, and with deep earthy flavor but not too salty. Fregola (also fragula) are divine pearls of pasta from Sardinia, both delicate and firm in texture. The combination made for a wonderful dish with the added hint of lemon and fresh herbs. Originally this simple recipe was to be the side dish to our grilled swordfish marinated with honey and lime. However, it was clear from first bite that this bowl of wonder would rule the dining table.
SECRET INGREDIENT:  Taggiasca olives
TIP: Undercook the pasta, and it will absorb more flavor while simmering in the sauté pan, much like a risotto.
Fregola Sarda Pasta with Olives & Tomatoes
Fregola Sarda pasta (1 cup)
Garlic (2 clove, chopped)
Onion (1/4 cup, chopped)
Olive oil (1 Tbsp)
Butter (1 Tbsp)
White wine (1/4 cup)
Vegetable stock (1/4 cup)
Parmesan Reggiano (1/2 cup, grated)
Cherry tomatoes (1/2 cup, chopped)
Taggiasca olives (1/2 cup, chopped)
Parsley (1/4 cup, chopped)
Lemon juice (1 Tbsp)
Salt & fresh pepper
Simmer Fregula Sarda in 2 cups of salted water for 15 minutes. Remove from heat, and drain.
In skillet on medium heat, sauté onion and garlic in olive oil for 5 minutes, then add red pepper flakes and butter.
Once butter is melted, add wine and sauté for 1 minute on medium high heat.
Add pasta to pan and stir. Add stock and simmer for 10 minutes on low heat until pasta is al dente. Remove from heat.
Season to taste, then stir in tomatoes, olives, parsley, lemon juice, and parmesan.
Grilled Swordfish with Honey Lime Marinade
Swordfish
Salt & pepper
Honey (1/4 cup)
Lime juice (1/4 cup)
Olive oil (1/4 cup)
Coriander (1 Tbsp)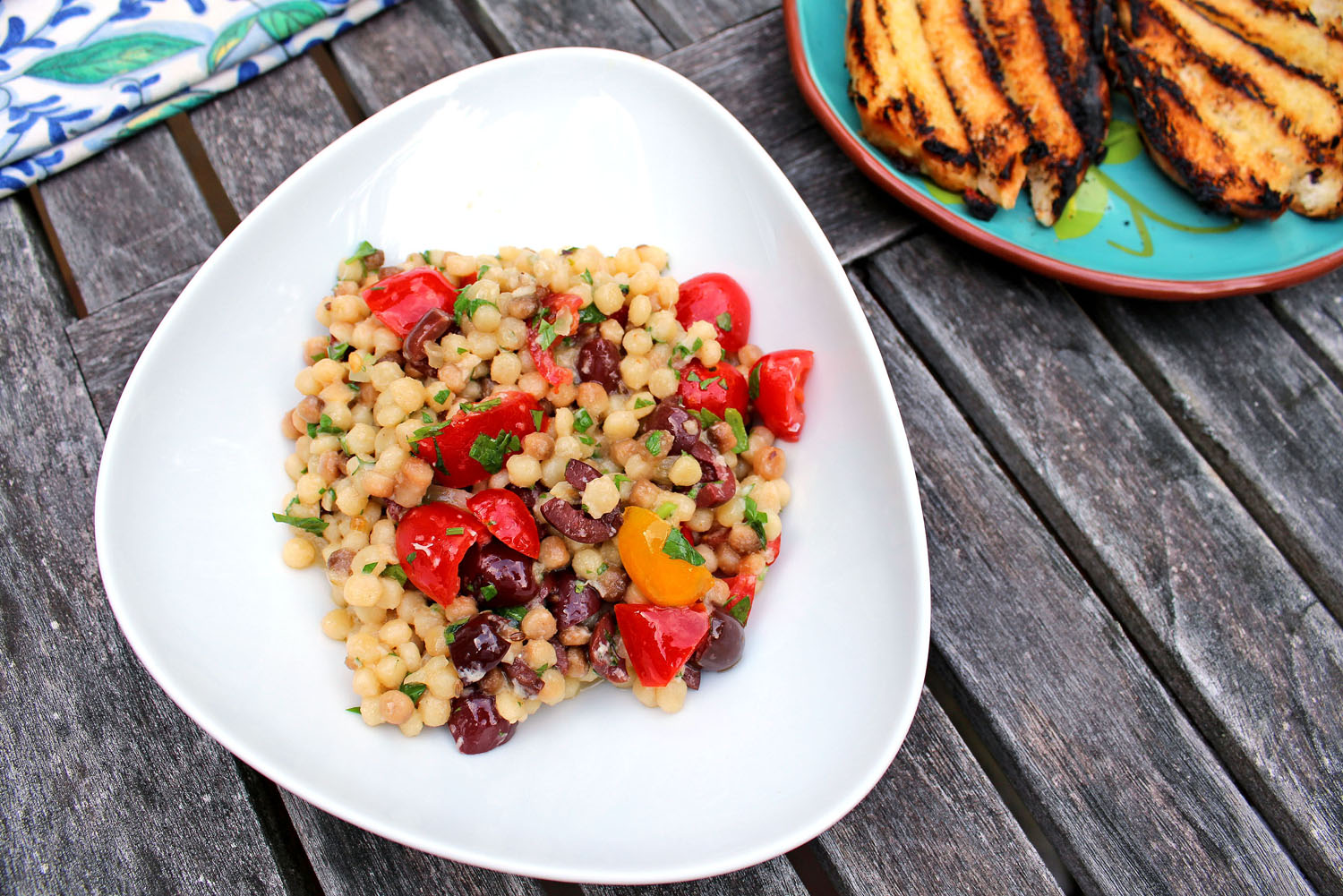 -- Weather When Posted --
Temperature: 71°F;
Humidity: 73%;
Heat Index: 71°F;
Wind Chill: 71°F;
Pressure: 30.02 in.;