Latke with Sunnyside Egg & Parsnip Puree:
I woke up the other morning with a sense of accomplishment but hadn't even done anything yet. This is a rarity, and positively influenced a variety of directions for the day. I always say to Victoria – "It's all relative," much to her annoyance. No doubt homage to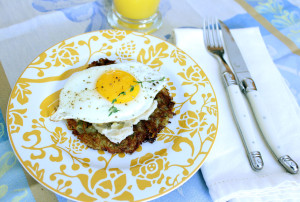 Einstein, but most appropriate in reference to the reality that there is no one definitive or conclusive answer to uncontrollable circumstances that happen most every day. There is just decisiveness and acceptance. Waking up happy with a clear craving for Sunday brunch on a sunny day is a liberating moment indeed. And on this day, latkes and a sunnyside egg hit the spot. The decisive decision of adding the parsnip puree was relative to the fact there was simply some leftover from dinner the night before, and which added a unique accoutrement to this straightforward dish. The sense of accomplishment here came both in gazing at the final result, as well as the empty plate afterwards.
SECRET INGREDIENT: Parsnip puree
TIP: For additional kick, double amount of grated onion in latke
Latke with Sunnyside Egg & Parsnip Puree
Yukon Potatoes (2, grated and drained)
Onion (2 Tbl, grated)
Fresh Thyme (1 Tbl, chopped)
Salt & pepper
Egg (1, beaten)
Olive oil
Egg (2)
Coriander
Parsnip Puree
Parsnips (4, peeled and coarsely chopped)
Turnip  (2, peeled and coarsely chopped)
Onion (1/4 cup chopped)
Garlic (chopped)
Butter (2 Tbl, melted)
Milk (1/4 cup)
Sour cream (3 Tbl)
Ground Caraway (2 tsp)
Salt & fresh pepper
Boil parsnips and turnip in salted boiling water until tender, then drain and puree in food processor with onion and garlic. Add butter, milk, sour cream, caraway, salt and pepper, and pulse until creamy.
Grate potatoes and onion, then drain in sieve squeezing out liquid. Season with salt, pepper, and freshly chopped thyme, then add beaten egg and combine. In non-stick sauté pan, heat olive oil over medium heat. Form potato mixture into thin and tight patties and add to pan. Sauté until crisp on both sides, then remove and set aside. In same pan, cook eggs sunnyside up, season lightly with salt, pepper, and coriander. Plate latke and add layer of parsnip puree on top of latke, and top with egg. Garnish with sprig of thyme.
-- Weather When Posted --
Temperature: 76°F;
Humidity: 67%;
Heat Index: 76°F;
Wind Chill: 76°F;
Pressure: 30.01 in.;