Salmon with Kale & Turnip Raita:
Swimming upstream is evidently easy for salmon, but less so for some who can't think outside the box, especially when it comes to corporations. It vexes me that in an age of knowledge surrounded by technology that can help you learn completely new things in minutes, not months, that people still remain in their pre-programed adolescence boxes.
Not to get on a rant, but maturity comes from seeing yourself for who you want to be, and then being that person. In the case of salmon, it's only when they mature, that they are ready to go upstream. My culinary journey continues to take us to new destinations with a sense of wonderment. It's a constant learning process rooted in breaking rules and having fun with it. But even in the simplest of dishes, as this salmon with sautéed kale, we can experiment with the blending flavors and ingredients to bring maturity and new meaning, or at the very least a happy giddy smile to everyone at the table. The addition of balsamic to the kale and crispy Brussels sprouts added lushness, and the spicy turnip raita provided contrast to the simple and delicate salmon.
SECRET INGREDIENT:  Balsamic vinegar
TIP: Undercook both salmon and vegetables slightly to retain their essence
Salmon with Kale & Turnip Raita
Sockeye Salmon (fillet, deboned)
Lemon wedge
Salt & fresh pepper
Olive oil
Shallot (thinly sliced)
Garlic (chopped)
Brussels sprouts (1 cup, quartered)
Kale leaves (3 cups, stems remove)
Butter (1 Tbl)
White wine (1/2 cup)
Lavender Salt
White pepper
Balsamic vinegar (1 Tbl)
Red radishes (thinly sliced)
Feta (garnish)
Turnip Raita
Turnip (1/4 cup, grated)
English Cucumber (1/4 cup grated)
Yogurt (1 cup)
Sour Cream (2 Tbl)
Lime juice (1 tsp)
Fresh Mint (1 Tbl, chopped)
Coriander (1/4 tsp)
Garlic powder (1/4 tsp)
Cayenne
Grate turnip and cucumber, and then drain in sieve squeezing out excess liquid. In a bowl, mix yogurt, sour cream, lime juice, mint, coriander, cayenne, garlic powder, then mix in turnip and cucumber. Place bowl in refrigerator to chill.
Season fish with a wedge of lemon, salt and pepper. Heat olive oil in an ovenproof skillet, and sauté fish skin side down on medium high heat for 3 minutes crisping the skin. Then transfer to oven and broil on middle rack for 5 minutes.
Sauté shallot and garlic with olive oil for 2 minutes then add Brussels sprouts and sauté for 5 minutes, turning several times. Add kale and butter, and then wine, cover pan, and sauté several minutes until just tender (do not overcook). Remove from heat and add vinegar, and season with salt and white pepper. Then plate with kale and Brussels sprouts and sprinkle feta. Place salmon on kale, and top with raita and garnish with red radish.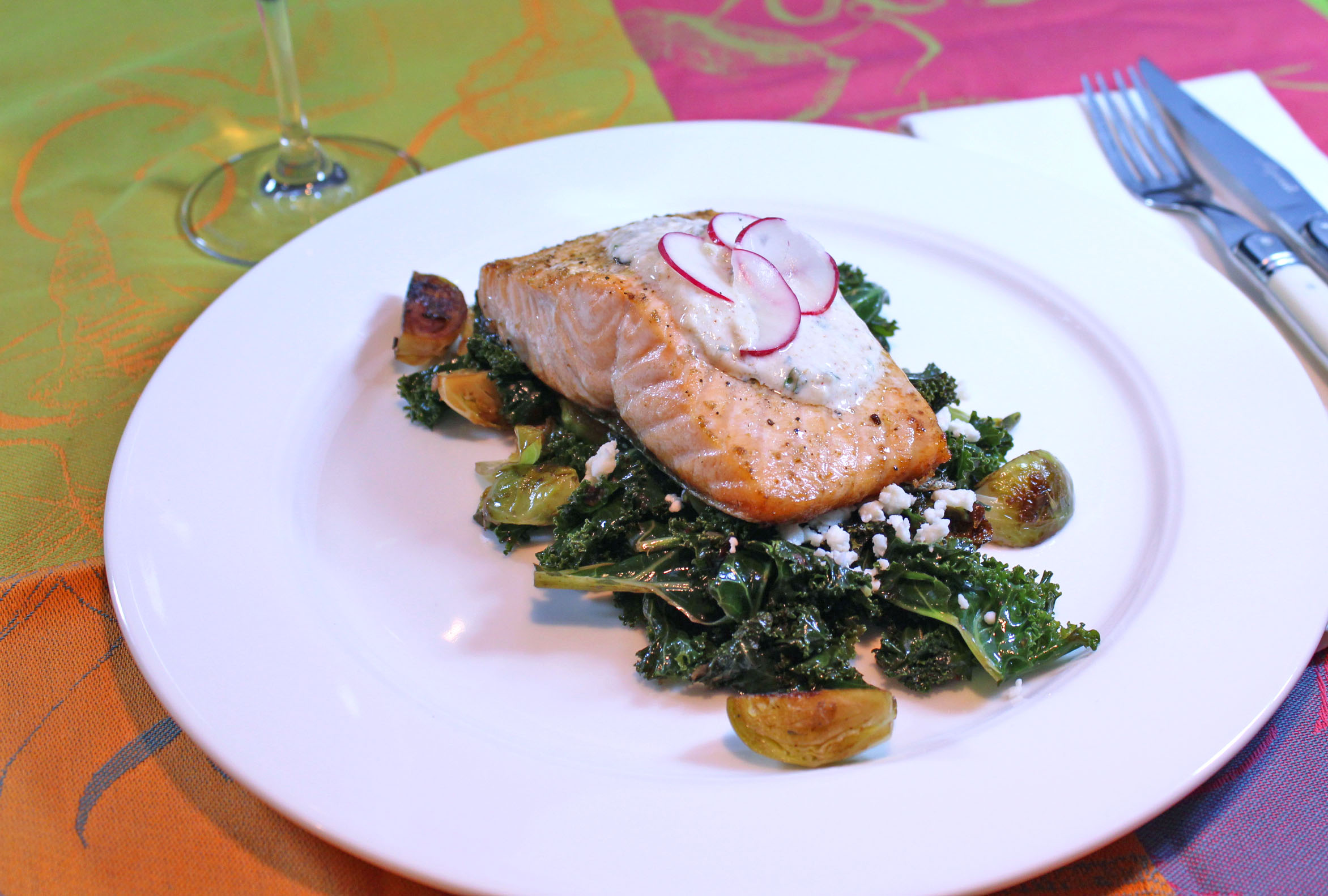 -- Weather When Posted --
Temperature: 47°F;
Humidity: 42%;
Heat Index: 47°F;
Wind Chill: 43°F;
Pressure: 30.08 in.;