Seared Sesame Tuna Potstickers:
If goes without saying, but I truly love to cook. From highbrow overly complicated, to creative childhood comfort food, it's the thematic process, purposeful actions, and the final results that make it fun. Asian dishes are some of my favorites, in part because of all the chopping involved – there's something meditative about it – but also the delicate and simple flavor combinations that come about from Asian cuisine. Had found a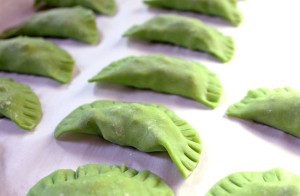 beautiful ruby-red tuna at the market, and although I lean to a purist when cooking tuna, this recipe went in a different direction. It started with a find of fresh vegetable dumpling wrappers. Then, searing the sesame seed crusted tuna in toasted sesame oil gave it the unmistakable nutty flavor. Finely minced ginger and garlic, along with scallions and cilantro offered additional earthy balance, and then the layered creaminess from a cream cheese and sour crème mixture. All together – simple and delicate. Not traditional and off the beaten path, but these little dumplings deliver.
SECRET INGREDIENT:  Sesame
TIP: Can make ahead and store on a parchment lined baking pan before cooking.
Seared Sesame Tuna Potstickers
Tuna steak (1/2 lb)
Salt & fresh ground pepper
Coriander (1 tsp)
Sesame seeds (2 Tbl)
Sesame oil (1 Tbl)
Garlic (1 clove, minced)
Ginger (2 tsp, minced)
Scallions (3, trimmed and chopped)
Cilantro (1/4 cup, chopped)
Soy sauce (1 Tbl)
Cream cheese (2 oz)
Sour cream (3 Tbl)
Vegetable dumpling wrappers (or wonton wrappers)
Season tuna on both sides with salt, pepper, and coriander. Sprinkle sesame seeds on both sides of tuna steak, pressing firmly.
In a skillet over medium-high heat, add sesame oil. Sear tuna on both sides until crisp but rare in the middle. Remove from heat and let rest.
In a medium bowl, add remaining ingredients and stir to combine.
Slice tuna into strips, then cube into small ¼ inch pieces. Fold into dumpling mixture and season to taste.
Using a small bowl of water, wet finger tips and wet half of outer edge of dumpling wrapper. Working one at a time, add tablespoon of mixture to center of wrapper. Then fold in half and pinch outer edges firmly. Using a small fork, crimp out edges, flip, and crimp again. Place on parchment lined baking pan and set aside.
To Steam
In a steamer or double boiler, add a small amount of sesame oil and steam dumplings over boiling water for 3-5 minutes.
In a skillet over medium-high heat, add sesame oil and fry dumplings until just crisp on both sides.
To Fry
In a skillet over medium-high heat, add sesame oil and fry dumplings until just crisp on both sides.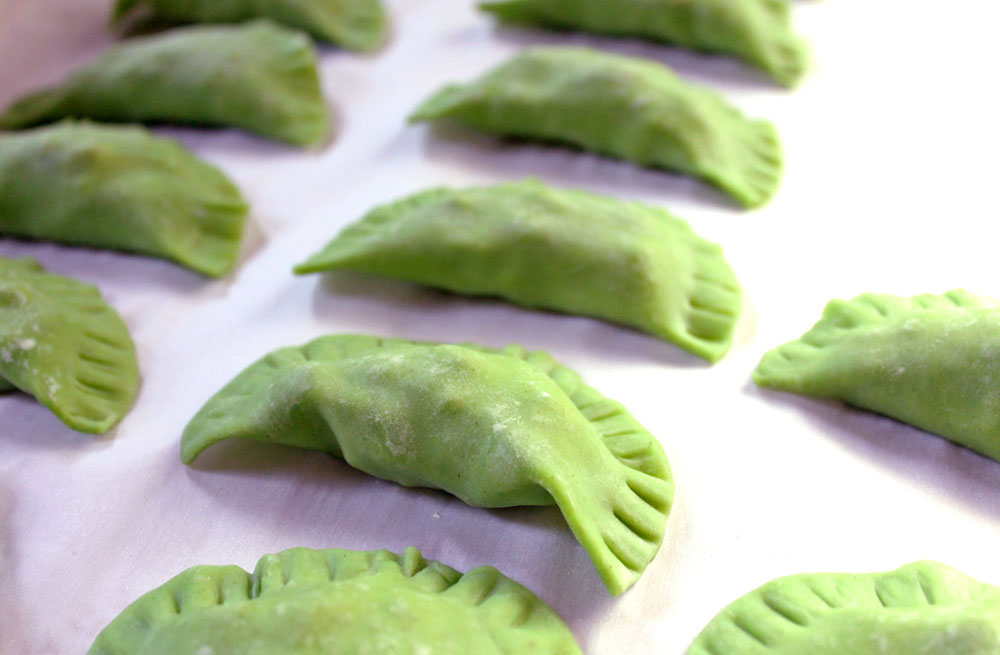 -- Weather When Posted --
Temperature: 61°F;
Humidity: 39%;
Heat Index: 61°F;
Wind Chill: 61°F;
Pressure: 30.22 in.;