Grilled Salmon Souvlaki:
It's another clear and beautiful day in New England, and we couldn't help but play 1970's music as we sit by the pool reminiscing about bad fashion and the foods we were subjected to in our adolescence. It's days like these, that strip away any residual workweek plight and fills you up to a relaxed state of calmness, allowing you to think more clearly about things that matter most, like who really invented the tator tot and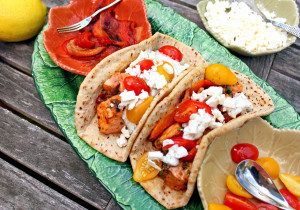 why. Grilling was the plan for this day's feast, and I wanted to make a twist on Greek Souvlaki with fresh salmon and roasted red peppers. Victoria gave me these grill comb skewers recently and were perfect for the delicate salmon. The marinade of lemon, oregano, and balsamic was superb, but it was the smoked paprika that added the real zing. The Tzatziki sauce also brought out the sweetness of the roasted pepper, along with the fresh cherry tomatoes from our very own garden. Sitting on the deck, with Deep Purple bellowing through our woodlands, I'm reminded of how far we really have come from the days of canned tuna casseroles and marshmallow filled Jell-o molds. But those will be a reinvention for another day.
SECRET INGREDIENT:  Smoked Paprika
TIP: As always, undercook salmon and let rest before serving. The end result is succulent and flavorful
Grilled Salmon Souvlaki
Fresh Salmon (1 pound, skin removed cut into large pieces)
Red bell pepper (1 whole)
Lemon juice (1/4  cup)
Lemon zest (2 tsp)
Balsamic vinegar (3 Tbsp)
Oregano (2 tsp)
Smoked paprika (1 Tbsp)
Olive oil (1/4 cup)
Parsley (1/4 cup, chopped)
Garlic (2 cloves, minced)
Salt & fresh pepper
Cherry Tomatoes (1 cup, chopped)
Feta cheese (1/2 cup, crumbled)
Pita bread
Broil bell pepper for 30 minutes, turning every 10 minutes to char all sides. Remove from oven and place in Pyrex bowl, then cover with plastic wrap for 15 minutes. Remove skin and seeds, and cut into thick strips, then set aside.
In medium bowl, combine lemon juice, balsamic vinegar, smoked paprika, oregano, garlic, olive oil, parsley, salt and pepper. Add salmon and toss.
Preheat grill to high.
Skewer salmon pieces onto skewers, and grill for 3 minutes per side. Remove from heat and let rest.
To assemble, heat pitas briefly (warmed, but not crisp). Add layer of red pepper and salmon on each pita, top with Tzatziki sauce, tomatoes and feta cheese.
For Tzatziki Sauce
Plain yogurt (1 cup)
Sour cream (1/2 cup)
Garlic (2 cloves, minced)
Rice wine vinegar (2 Tbsp)
Lemon juice (4 Tbsp)
Tahini (2 Tbsp)
Extra virgin olive oil (1 Tbsp)
Fresh Dill (1/4 cup, chopped)
Cucumber (1 half, peeled, seeded, and diced)
Whisk all ingredients, and then mix in cucumber and dill. Refrigerate for at least 30 minutes before serving.
-- Weather When Posted --
Temperature: 68°F;
Humidity: 68%;
Heat Index: 68°F;
Wind Chill: 68°F;
Pressure: 30.04 in.;