Roasted Chicken with Herb Butter & Farro Salad:
Cold rainy days always make me smile, and as silly as that sounds, it remains true for me. Perhaps from some deeply suppressed childhood memory, or simply because it inspires me to roast or braise something in the oven for hours, either way I'm filled with the inherent need to cook. A roasted bird has endless possibilities, but most times keeping it simple is best. An herb butter, with hints of tangy Dijon, layered under the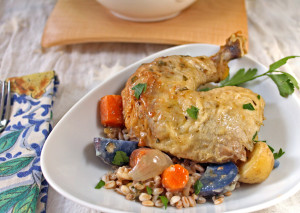 skin makes for a succulent result and is aromatic in every way. Tarragon has an anise-like aroma and taste, which can easily overshadow other flavors in a dish, however, when used delicately can also liven any meal. With roasted vegetables and a simple farro base, this was a real treat to warm us up on this crisp evening. The rain outside continues, and with a happy heart and satisfied stomach, I welcomely ponder tomorrow's culinary possibilities.
SECRET INGREDIENT:  Tarragon
TIP: Go slow and gentle when loosening the skin to add herb butter
Roasted Chicken with Herb Butter & Farro Salad
Chicken (whole)
Butter (5 Tbsp, room temperature)
Parsley (2 Tbsp, chopped plus 3 large sprigs)
Thyme (1 Tbsp chopped plus 2 small sprigs)
Tarragon (1 Tbsp chopped plus 1 sprig)
Coriander seeds (1 Tbsp, crushed in mortar and pestle)
Dijon mustard (1 Tbsp)
Salt & fresh black pepper
Garlic (6 cloves, peeled and smashed)
Fingerling Potatoes (1/2 lb, cut in half)
Onion (peeled and cut into eight wedges)
Carrots (3, peeled and cut into large pieces)
White wine (1/2 cup)
Chicken stock (1 cup)
Preheat oven to 375°F
In a bowl, combine butter, chopped herbs, crushed coriander seeds, and Dijon.
Remove giblets (reserve if making fresh stock). Starting at neck, loosen skin from breasts to drumsticks by inserting fingers to gently push skin from meat. Rub herb butter under loosened skin over breasts to drumsticks, and then rub on outside, reserving tablespoon of herb butter for sauce.
Add half the garlic cloves, and herb sprigs to cavity of chicken and season generously with salt and fresh pepper.
In a shallow roasting pan, add potatoes, onion, and carrot pieces and season with salt and fresh pepper.
Place chicken, breast side up, onto vegetables and add ½ cup water to pan, then place in oven.
Bake for 1 ½ hours, basting with pan juices every 20 minutes. Remove from oven and place chicken on cutting board and let rest for 10 minutes. Transfer vegetables to a bowl.
For Sauce
Pour roasting juices to a small sauce pan, and then add wine and stock and bring to a gently simmer over medium heat.
Knead reserved herb butter with 1 tablespoon flour to make a beurre manie.
Whisk beurre manie into sauce and simmer for 3 minutes until thickened. Remove from heat and set aside.
For Farro Salad
Farro (1 cup, cooked)
Parsley (1/4 cup, chopped)
Roasted vegetables (from roasted chicken above)
Coarsely chopped roasted vegetables.
In a bowl, combine all ingredients and season with salt and fresh black pepper.
Serve with layer of farro mixture, then carved chicken and topped with sauce.
-- Weather When Posted --
Temperature: 34°F;
Humidity: 89%;
Heat Index: 34°F;
Wind Chill: 34°F;
Pressure: 30.31 in.;