Chicken Pot Pie with Fennel & Edamame:
Conscious choices, in life, work, or play, that deliver profound results are as liberating as the primordial experience of diving naked into the ocean from a high rock. Coming up with new twists on classic recipes requires making some conscious choices, that on occasion, either work or don't. Ask ten people their favorite chicken pot pie recipe, and you will get ten different answers. As with every recipe on this site, there is always a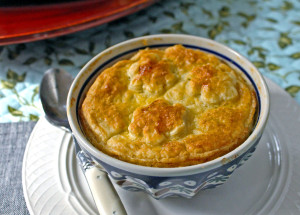 single secret ingredient in every dish that was more often than not a conscious choice. For this recipe, fresh fennel bulb was the first selection to make this dish unique and equally flavorful.  The addition of rutabaga and edamame also made for a distinctive result. The béchamel sauce added the creaminess and fresh herds provided the finishing touch. Fine cooking is both an art and a science, and regardless if your choices are pre-planned or spontaneous, never stop experimenting. In the words of Julia Child, "…nothing is too much trouble if it turns out the way it should."
SECRET INGREDIENT:  Fennel bulb
TIP: See "Slow Roasted Garlic Chicken with Tarragon Butter" recipe as ingredient for chicken
Chicken Pot Pie with Fennel & Edamame
Butter (4 Tbl)
Flour (4 Tbl)
Milk (1 ½ cups)
Parmesan (1/2 cup, grated)
Bacon (4 slabs, chopped)
Leeks (2, white parts only, rinsed thoroughly, quartered lengthwise and then sliced)
Carrots (2, peeled, diced)
Rutabaga (1/2 cup, diced)
Fennel bulb (1 ½ cups, diced)
Garlic (2 cloves, minced)
Thyme (2 Tbl, minced)
Chicken (3 cups, cooked and shredded)
Edamame (1 cup)
Salt & fresh black pepper
Chicken stock (4 cup)
Parsley (1/2 cup, chopped)
Puff pastry (1, thawed)
Egg (1, beaten)
For béchamel sauce, melt butter in a sauce pan over medium heat, and then add flour. Cook for 5 minutes to make a light roux, stirring often. Slowly whisk in milk and stir until thickened. Remove from heat and stir in parmesan cheese and season to taste with salt and pepper.
In a large pot over medium heat, cook bacon until just crisp. Using slotted spoon, transfer bacon to plate and set aside.
Increase to medium-high heat and warm bacon fat, and then add the leeks, carrots, fennel, garlic, and thyme. Cook for 5 minutes, stirring occasionally.
Add chicken, bacon, and edamame to pot, and season with salt and pepper. Stir in béchamel sauce and parsley, then add enough chicken stock to thin sauce slightly. Warm for 5 minutes, then remove from heat.
Pre-heat oven to 400°F
Butter inside of individual oven-proof bowls.
Roll pastry dough to 1/4 inch. Using one of the bowls, turn upside down onto dough and use like a cookie cutter to make rounds same size as bowl.
Ladle chicken mixture to fill bowl and top with cut pastry. Brush pasty with egg wash.
Place bowls on sheet pan and bake for 20 minutes until pasty is golden and pie is bubbling. Let rest 5 minutes, and then serve.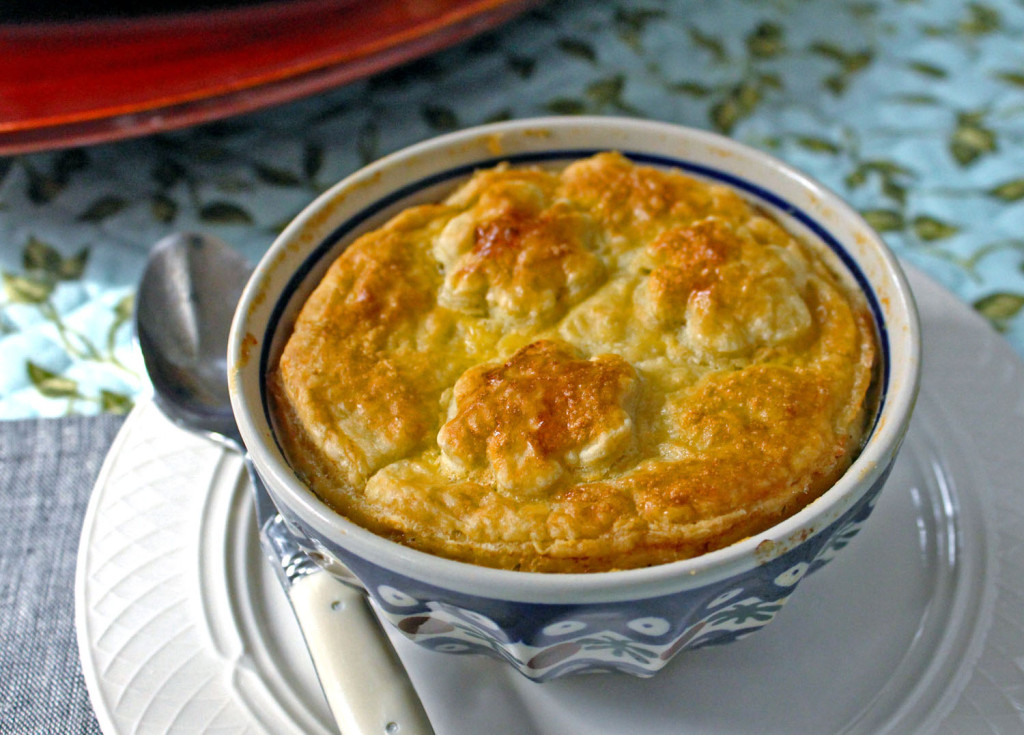 -- Weather When Posted --
Temperature: 32°F;
Humidity: 79%;
Heat Index: 32°F;
Wind Chill: 32°F;
Pressure: 30.5 in.;