Corned Beef and Cabbage Rolls:
I never really engaged in St Patrick's Day until I had moved to Boston and experienced it firsthand, along with the deep pride that comes from those who have lived it. I remember when first arriving in downtown Boston, walking Copley Plaza on a bright sunny day, and came up to a hotel porter to ask for directions. When he answered I had a moment of pause, like that of a prepubescent on a distant alien planet. I knew he was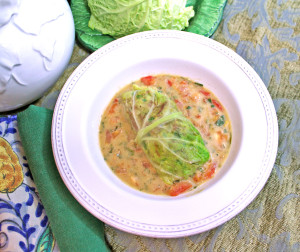 speaking English, but was far from understandable with an intensely heavy brogue. Albeit remarkably unclear, I instinctively self-translated in my brain and I slowly revived from the outer-body experience. In later years I would come to learn that there is actually deep Irish lineage in my family, and my prowess for simple foods with complex layers had a newfangled meaning. This year, I had the fancy to go old school and make homemade corned beef braised in beer for hours as the main ingredient for these cabbage rolls. The freshly ground caraway seeds, using a mortar and pestle, complimented the cabbage, and the sauce leveraged the reduced braising liquid for a deep, rich flavor.
SECRET INGREDIENT:  Caraway seeds
TIP: Undercook cabbage leaves for a deeper flavor
Corned Beef and Cabbage Rolls
Green Cabbage (outer leaves 1-2 cabbage heads)
Corned Beef (2 cups, coarsely chopped)
Olive oil
Onion (chopped)
Garlic (chopped)
Celery (1, chopped)
Fresh Thyme (1 Tbl)
Caraway seeds (3 tsp, crush in mortar & pestle)
Irish cheddar cheese (1/2 cup grated)
Parsley (1/4 cup, chopped)
Mustard (2 Tbl)
Brown rice (1 cup, cooked)
Egg (1, beaten)
Beef broth (1/4 cup)
Salt & fresh pepper
Beer Braised Corned Beef
Corned Beef Brisket (3-4 lbs)
Salt & fresh pepper
Olive oil
Onion (2, quartered)
Carrots (2, coarsely chopped)
Garlic (4 cloves, mash with side of knife)
Caraway seeds
Whisky (1/4 cup)
Beer (2 bottles)
Bay leaf
Mustard Sauce with Tomatoes & Parsley
Shallot (1 Tbl, finely chopped)
Garlic (1, finely chopped)
Olive oil
Butter (1 Tbl)
Flour (1 Tbl)
White wine (1/4 cup)
Beef stock (1/2 cup)
Braising liquid (1 cup)
Dijon (1 Tbl)
Crème fraiche (1/4 cup)
Roma tomatoes (3, chopped)
Parsley (3 Tbl, chopped)
Season brisket on all sides, being generous with the cracked pepper. In Dutch oven, heat olive oil on medium high heat and sear brisket briefly on both sides, skin side first. Add carrots, onions, garlic, caraway seeds, then add whisky, beer, and bay leaf and bring to a boil. Cover and braise in oven at 250°F for 4-5 hours or until reaches 185°F internal temperature Remove from oven and let rest. Remove corned beef from pan and let rest for 20 minutes. Discard bay leaf and simmer braising liquid over medium low to reduce by half.
NOTE: When internal temperature of braised meat is at 170°F it is "sliceable", and at 195°F it is ideal for "pullable".
In large bowl, mix together cubed corned beef, onion, garlic, celery, thyme, caraway, mustard, cheese, and parsley. In separate bowl mix rice and egg, and then blend into corned beef mixture. Mix in beef broth and season to taste.
In sauté pan, sauté shallot and garlic in olive oil for 2 minutes, then melt butter in pan and add flour. Stir until dark roux, then add wine, and then add stock. Whisk in mustard, crème fraiche, and reduced braising liquid. Remove from heat and add tomatoes and parsley.
Separate leaves from cabbage, place in large pot of simmering water, and blanch for 3 minutes or just until slightly wilted and flexible. Place blanched cabbage leaf on a flat surface, and add 1 cup of mixture at center. Fold sides in tightly, then roll front to back edges to secure filling. Place face down in baking pan with 1 cup of sauce on bottom. Bake for 20 minutes at 350°F until leaves are soft and dark green.
-- Weather When Posted --
Temperature: 76°F;
Humidity: 67%;
Heat Index: 76°F;
Wind Chill: 76°F;
Pressure: 30.01 in.;