Ramp Biscuits with Cracked Coriander:
With a wonky spring season and the onset of summer around the corner, we were scrambling to cook at least a few more of our many seasonal favorites. The winter was a long one, with hearty one pots and spicy warm dishes continuing well through the months of April and May, as spring just never seemed to arrive. Each spring there is a small window of time when ramps can be found in local farmer's markets. Ramps are an early spring vegetable with a strong garlic aroma and a very pronounced onion flavor.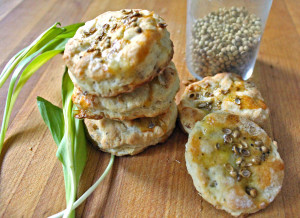 This year though proved far more difficult to locate this wild onion as a result of the harsh winter. Finally though, by the beginning of June, we were successful in finding this earthly wild one. On this particular day, it was a bit on the warm side for what we were about to embark on, but when you find ramps you simply must set out to use them in any way possible as they are a rare delicacy. With that we were adamant in making a spring favorite – ramp biscuits. Who could not love a biscuit, let alone one that exudes a tempestuous garlicky taste, with cracked coriander and a lemony crunch. As always, make more than you think you need, as they get gobbled up fast.
SECRET INGREDIENT:  Ramps
TIP: Fresh ramps will have a slight kick and rich flavor. But if hard to find, green onions or leeks are alternatives.
Ramp Biscuits with Cracked Coriander
Buttermilk (3/4 cup)
Ramps (1 cup, chopped)
Flour (1 ½ cup)
Baking powder (2 tsp)
Coriander (1 tsp)
Salt (3/4 tsp)
Fresh black pepper (1/4 tsp)
Butter (6 Tbsp, chilled and cubed)
Egg (1, lightly beaten)
Coriander seeds (1 Tbsp, cracked in a mortar and pestle)
Pre-heat oven to 425°F
In a small bowl, mix ramps and buttermilk.
In a food processor, mix flour, baking powder, ground coriander, salt, and pepper. Add butter and pulse several times to create a fine meal.
Transfer flour mixture to large bowl. Add buttermilk mixture and stir to form dough.
On lightly floured surface, roll dough to half inch thick. Using 2 inch biscuit cutter, cut out rounds and transfer to parchment lined baking sheet.
Brush biscuits with egg, and sprinkle with cracked coriander seeds.
Bake in oven for 20 minutes until golden brown, then remove and let cool on rack.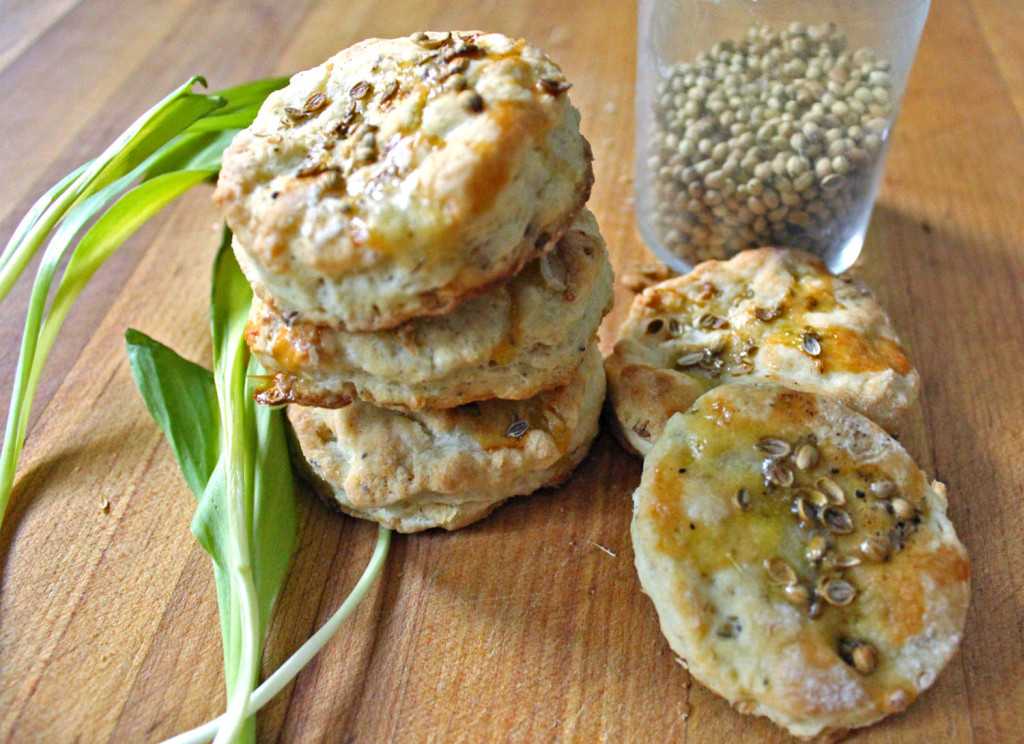 -- Weather When Posted --
Temperature: 59°F;
Humidity: 75%;
Heat Index: 59°F;
Wind Chill: 58°F;
Pressure: 29.98 in.;