Braised Partridge with Mushroom Sauce & Raspberries:
We spent the holidays at Mont Tremblant, a beautifully majestic ski resort in Quebec north of Montreal. Canada as a whole is a wonderful country with welcoming people and an array of fine dining tucked away in every province. As we stayed in a slope-side condo with a full kitchen, with views of the village and surrounding lake, it was an inevitability that we would cook for ourselves on Christmas day. But it wasn't until we provisioned up at the local market that this fact came true. As I strolled down the poultry and meat aisle, I felt like a small child being let loose in a huge candy store. Not only were there choice selection of regional veal chops, racks of lamb and bison sausage, there was a whole section that offered everything from rabbit, goose, to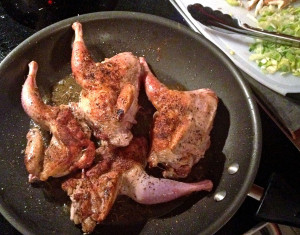 guinea fowl and pheasant – and this was at the everyday Quebec grocery store. Then, as fate would have it, the last and only partridge, fresh and plump, caught my eye and led us to this recipe. Although you do not need to treat partridge like chicken, which can be served pink and juicy, we chose to braise in the oven. In this case, we did a quick braise with a simple French wine which was the secret ingredient that made the mushroom sauce blossom with richness, and accented with rosemary, leeks and garlic. We served with a simple herb salad topped with an undercooked fried egg with its creamy yolk. All I wanted this Christmas was evidently the one
thing I've never had – partridge -let along tried to cook, which was whimsically spontaneous to boot.
SECRET INGREDIENT:  Use the braising wine to the complete sauce
TIP: Make more than needed, as the leftovers are even better as the flavors further mature.
Braised Partridge with Mushroom Sauce & Raspberries
Partridge (split lengthwise)
Salt & fresh cracked pepper
Coriander (1/2 tsp)
Bacon (4 strips)
Red Wine (1 cup)
Butter (2 Tbsp)
Leeks (1 cup, finely chopped)
Garlic (2 cloves, minced)
Shiitake Mushrooms (1 ½ cups, chopped)
Rosemary (2 tsp, chopped)
Sunflower sprouts (for garnish)
Raspberries (for garnish)
Let partridge rest at room temperature for 15 minutes. Season on all sides with salt and pepper.
Pre-heat oven to 325°F
In a large skillet over medium heat, cook bacon until for 5 minutes (do not over crisp). Remove bacon from pan and set aside, reserve all bacon fat in pan (when cooled, crumble bacon for salad).
In same pan, increase heat to high and heat bacon fat. Add partridge skin side down, and cook for 3 minutes until crisp, then turn and cook 2 more minutes.
Add wine and deglaze pan.
Place covered pan in oven and roast for 10 minutes. Remove partridge from pan and let rest, reserve braising wine.
In a medium skillet over medium-high heat, melt butter then add leeks. Sauté for 5 minutes, stirring occasionally. Then add garlic, mushrooms and rosemary. Cook for 8 minutes until mushrooms begin to crisp.
Add remaining wine from partridge roasting pan to mushroom mixture and reduce to thicken.
Plate with spoonful of mushroom mixture in bottom of bowl, then partridge and top with remaining sauce.
Garnish with sunflower sprouts and raspberries.
For Herb Salad with Fried Egg
Romaine lettuce
Parsley leafs
Basil leafs
Sunflower sprouts
Olive oil
Balsamic
Honey
Parmesan
Cracked pepper
Egg (1, fried)
Disclaimer – did not have camera with us so had to take these photos with a phone. (sigh)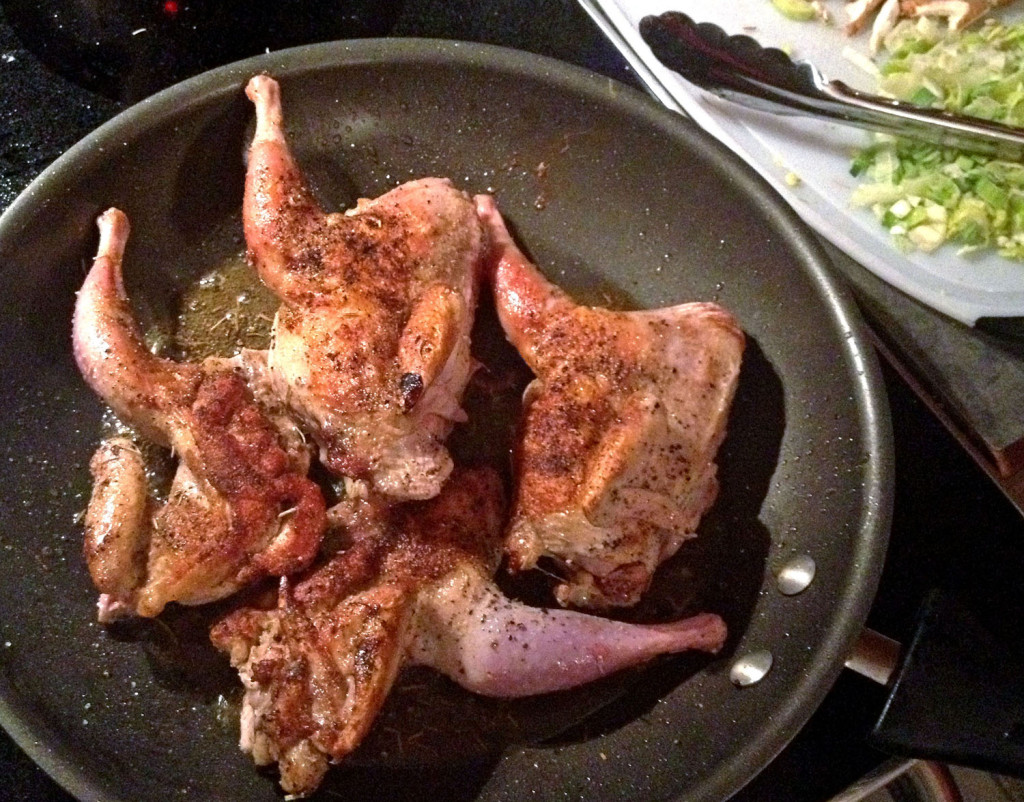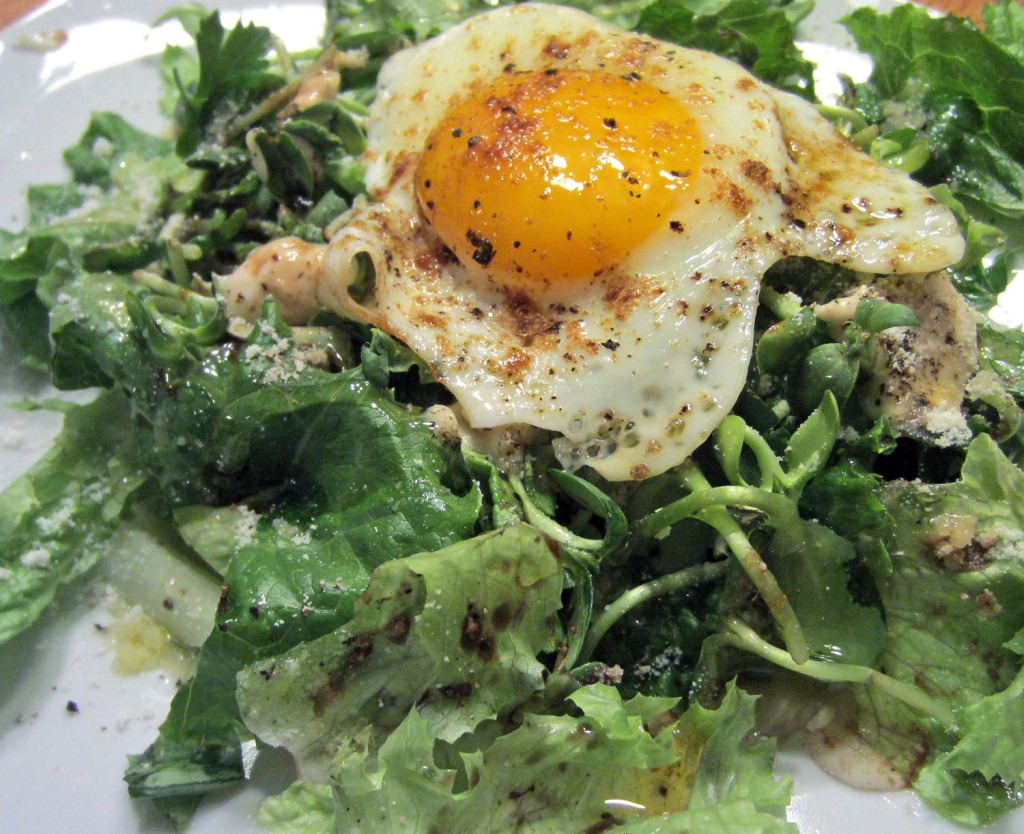 -- Weather When Posted --
Temperature: 31°F;
Humidity: 85%;
Heat Index: 31°F;
Wind Chill: 31°F;
Pressure: 30 in.;