Curry Chicken & Butternut Squash Pot Pie:
I remember growing up with my grandmother's many wise life lessons, particularly on how the choices we make in life define us at our core. Thinking you have made the right choice, and actually making the right choice can vary widely of course. That applies to everything in life, and especially so in cooking. I've made vindaloo in the past with a wide range of tantalizing results. The right choice for this recipe was blending a spicy curry dish with the warmth and comfort of a creamy pot pie. Whether you prefer hot and
spicy curry, or more mild and delicate, this dish was exceptional. From the thick sauce with hints of coconut milk, to the tender butternut squash and fresh kale, it was a symphony of comfort. But the addition of the cinnamon stick, added while the flavors simmered slowly, brought the real secret ingredient and dominate aroma. It's easy to make poor choices, and no matter how many bad ones we might make in life, let alone in a given day, there's nothing more gratifying then when we make the good ones, and it tastes good.
SECRET INGREDIENT:  Alternatively, use a pie crust versus puff pastry, but then again, it's a puff pastry. Just saying
TIP: Cinnamon stick
Curry Chicken & Butternut Squash Pot Pie
Extra-virgin olive oil (2 Tbsp, divided)
Chicken breasts (2 lb, cut into large bite size pieces)
Salt & freshly ground pepper
Curry powder (1 Tbsp, divided)
Onion (1, chopped)
Garlic (2 cloves, minced)
Carrot (1, chopped)
Cumin (2 tsp)
Butternut Squash (2 cups, peeled, cut into 1-inch dice)
Butter (2 Tbsp)
Flour (2 Tbsp)
White wine, dry (1/3 cup)
Chicken stock (1 cup)
Coconut milk, unsweetened (13.5 oz)
Cinnamon stick (1)
Kale (2 cups, chopped)
Parsley, fresh (1/4 cup, chopped)
Puff Pastry (1 sheet)
Egg (1, lightly beaten with 1 teaspoon of water)
Season chicken with salt, pepper and 1 tablespoon of curry, toss to cover all sides.
In a large deep skillet over high heat, warm 1 tablespoon of the olive oil and then add chicken.
Cook until browned on all sides, about 3-5 minutes. Using a slotted spoon, transfer the chicken to bowl.
In same pan over medium-heat, warm 1 tablespoon of olive oil, then add onion, garlic, carrot, and season with salt and pepper. Cook for 5 minutes, stirring occasionally. Then add butternut squash, cumin, and 1 tablespoon of curry mixing to combine. Cook for 3 minutes.
Add butter and let melt, then add flour and toss to coat vegetables. Cook for 2 minutes, then add wine and cook for 2 minutes while deglazing pan.
Add stock, coconut milk, and cinnamon stick. Return chicken to pan, and mix to combine with vegetables. Bring to a simmer, and cook for 15 minutes until reduced and vegetables are tender. Season to taste, and then add stir in the kale and parsley.
Preheat oven to 400°F
Spoon curry into a buttered 8-by-11-inch baking dish.
On a flat surface, roll out the pastry to a 8-by-11-inch rectangle. Place pastry on top of curry. Brush with beaten egg.
Bake potpie in oven for 20 minutes until pastry is browned and cooked through. Let rest for 15 minutes before serving.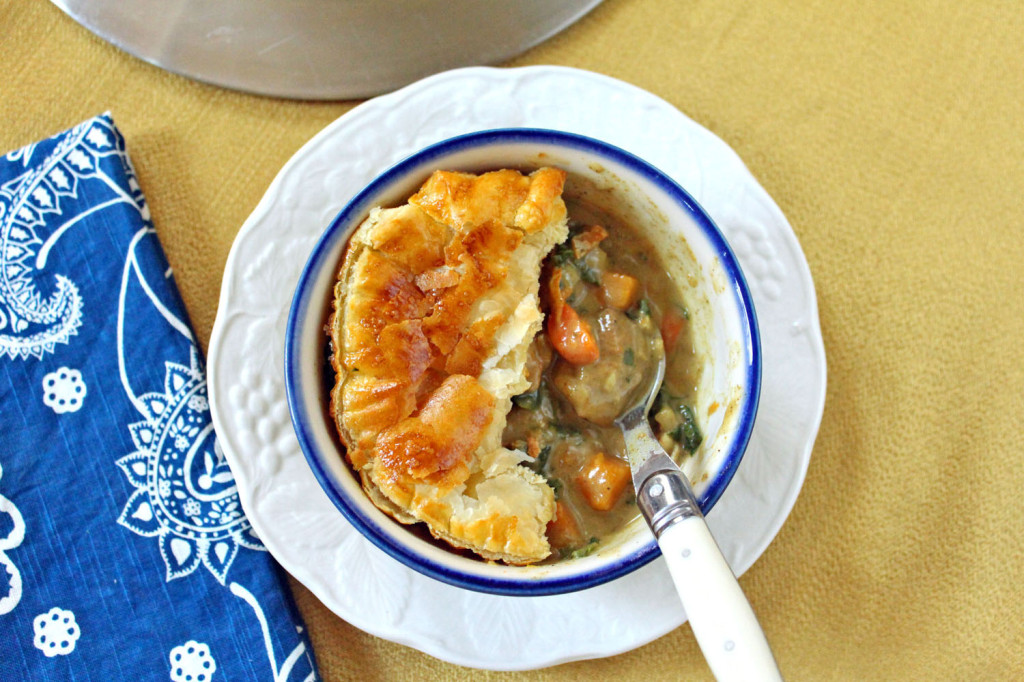 -- Weather When Posted --
Temperature: 54°F;
Humidity: 43%;
Heat Index: 54°F;
Wind Chill: 51°F;
Pressure: 30.12 in.;