Honey Glazed Grilled Swordfish with Farro & Sundried Tomato Salad:
The seething debate that continues on the plight of honey bees still vexes me. Understood that there is a lack of clear specific evidence to any one thing regarding the increasing colony collapse issue, but if it's raining outside can you really debate the possibility that you might get wet. There is clearly an issue and actions need to be taken, as pollinators are critical to feeding our food supply. In our small way, we are looking after our own honey bees in support of their existence, and equally important because it's simply fun.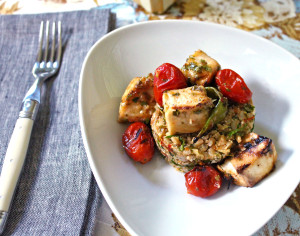 We harvested honey from the hive early this year – In part because there was simply so much of it, and in part because we simply wanted to. There is nothing quite like fresh, unadulterated honey from your backyard with delicate hints of your very own garden.  For this recipe, we chose our honey as the secret ingredient, along with subtle layers of lemon and fresh herbs. Grilled swordfish is unmatched in terms of texture and flavor, especially when just undercooked and not over seasoned. Accompanied with a light and summer inspired farro salad with sundried-tomatoes and lemon, this dish delivered. As our honey bees continue to thrive, so too does the debate. But on this evening, there is no debate that this was a great meal.
SECRET INGREDIENT:  Honey
TIP: Do not overcook the fish for a more tender and luculent result
Honey Glazed Grilled Swordfish with Farro & Sundried Tomato Salad
Lemon zest (1 Tbsp)
Lemon juice (2 lemons, 1/2 cup juice freshly squeezed)
Honey  (1/2 cup)
Chili paste (1 tsp)
Extra-virgin olive oil (1/4 cup)
Garlic (1 clove, minced)
Cilantro (1/2 cup, chopped)
Salt & fresh black pepper
Swordfish (2 lb)
Cherry Tomatoes (20)
Snow peas (20)
In a medium bowl, mix zest, lemon juice, honey, chili paste, olive oil, garlic, and cilantro.
Remove skin and any dark meat from swordfish, and cut into kabob cubes, then season with salt and pepper. Add fish to lemon mixture, toss to coat and marinade for 20 minutes.
Pre-heat grill
On metal skewers, or presoaked wooden skewers, place a piece of fish, then a cherry tomato, then repeat until skewers are filled.
Grill until just done, about 4 minutes on each side. Remove from heat and let rest.
Plate with a serving of farro salad, then top with swordfish, tomatoes, and garnish with fresh snow peas.
For Farro Salad
Farro (1 cups)
Water (3 cups)
Shallot (1, chopped)
Fennel (
Lemon juice (1/4 cup)
Lemo zest (3 Tbsp)
Fresh Parsley (1/4 chopped)
Fennel fronds (3 Tbsp, chopped)
Extra-virgin olive oil
Sundried Tomatoes (1/2 cup)
Parmesan cheese (3 Tbsp, grated)
Feta cheese (1/4 cup, crumbled)
Salt & fresh black pepper
In a medium saucepan, bring water to a boil then add farro and a pinch of salt and cook for 15 minutes. Remove from heat, drain and rinse.
In a bowl, toss the farro, and remaining ingredients.
-- Weather When Posted --
Temperature: 77°F;
Humidity: 48%;
Heat Index: 77°F;
Wind Chill: 77°F;
Pressure: 30.16 in.;