Grilled Chicken Caesar Salad Wrap with Quinoa:
On occasion, I find that the simplest ingredients are best, but the unconventional approach to tradition can be equally fulfilling. Much has changed in the culinary world since Julia Child showed us fashionable and sophisticated French cuisine. My epicurean adventures over the years have focused more on the overly complicated with "Wild  Mushroom and Aubergine Terrine with Zucchini Lattice," "Diver Scallops with Red Pepper Sabayon," "Croquembouche," and the ever so memorable "Foie Gras Stuffed Rigatoni with Black Truffle Sauce." But of recent, the simple grassroots approach of reinvention has brought about new meaning with playful tactics and embracing the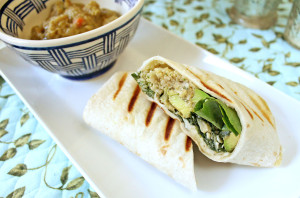 seasonality of ingredients. These warm days and cool nights of a New England spring inspire a duality of choices. For this night, keeping it simple, while interweaving the avant-garde, brought this tasty treat to our table. Quinoa is a delicate and flavorful addition to this grilled Caesar wrap, and the opulent avocado with the strong garlic and parmesan of the Caesar dressing, make this dish beam. Serve with your favorite soup, and in this case our smoky split pea soup, as we sit by the fire for a satisfying and relaxing evening.
SECRET INGREDIENT:  Quinoa
TIP:  The right level of heat is important so you crisp the wrap rather than over cooking the inside. If you don't have a grill pan, a gas grill can work also.
Grilled Chicken Caesar Salad Wrap with Quinoa
For Caesar Dressing
Garlic (2, chopped)
Salt & fresh pepper
Dijon (1 Tbsp)
Worcestershire sauce (2 tsp)
Lime juice (2 tsp)
Red wine vinegar (2 Tbsp)
Parmesan Reggiano  (1/3 cup, grated)
Olive oil (1/3 cup)
Add all ingredients except olive oil to food processor, and process until smooth. With processor on, slowly add olive oil to emulsify.
For Quinoa
Onion (1/4 cup, chopped)
Olive oil (1 Tbsp)
Quinoa (1/2 cup)
Coriander (1 tsp)
Salt & fresh pepper
Chicken stock (1 cup)
Parsley (2 Tbsp chopped)
In sauce pan, sauté onion in olive oil over medium-high heat for 3 minutes. Add quinoa, coriander, salt and pepper, and stir for 1 minute.
Stir in stock, stir, reduce to low, and simmer covered for 20 minutes.
Remove from heat and stir in parsley.
For Wrap
Tortilla wraps (large)
Romaine lettace (3 leaves, torn to bite size)
Parmesan Reggiano (3 Tbsp grated, plus 2 Tbsp thin ribbons)
Avocado (pitted, peeled, sliced)
Grilled chicken breast (pulled)
To Assemble
In mixing bowl, add romaine and grated parmesan. Add some fresh cracked black pepper. Then stir in several tablespoons of Caesar dressing.
On a flat surface, add ¼ cup of quinoa to center of tortilla wrap, spreading evenly but leaving side edges empty.
Add slices of avocado and chicken to sides of quinoa.
Add heaping handful of Caesar salad, keeping side edges empty. Then top with additional parmesan.
Fold sides into center, than fold bottom over tucking edges firmly. Slowly roll and place seam side down.
Heat grill pan on medium heat (Le Creuset Grill Pan), and place wrap seam side down. Cook for a few minutes on each side until crisp.
NOTE: The Le Creuset Grill Pan is a great addition to have on hand. We have the set that includes the Panini Press top that helps to cook more evenly.
-- Weather When Posted --
Temperature: 74°F;
Humidity: 67%;
Heat Index: 74°F;
Wind Chill: 74°F;
Pressure: 30.02 in.;