Seafood Lasagna with Mornay Sauce & Gruyere:
Somewhere, beyond insanity and utter confusion, there lies an essential need for comfort. As Boston sighs a deep relief after a week-long terrorist assault on our liberty following the Marathon bombing, we return to a subtle sense of normalcy. Adam Sandler said it best in a recent post – "Boston is probably the only major city that if you @#&! with them, they will shut down the whole city…stop everything.. and find you."

I look back over the past year and reflect on many of the dishes we have posted that pivoted from that inherent need for comfort. Whether instigated by family crises, world events, or sheer gravity, the foods we choose are deeply rooted in our mood of the moment. For this night, a delicate seafood lasagna, with layers of complexity and the pleasure of the sea's bounty, truly hit the spot. The white Mornay sauce balanced flavors with the tantalizing scallops and shrimp, and the Gruyere cheese added the punch of rich and nutty uniqueness. Lasagna is one of those dishes that emanates contentment, and on this solemn evening it delivers a much needed embrace of solace.
SECRET INGREDIENT:  Gruyere
TIP: Fresh crab is always best (Dungeness crabmeat if you can muster it)
Seafood Lasagna with Mornay Sauce & Gruyere
Ricotta (2 cups)
Egg (1)
Garlic (chopped)
Parmesan (1 cup, divided)
Spinach (1 1/2 cups, chiffonade)
Olive oil
Shallot (1, chopped)
Garlic (1, chopped)
Shrimp (1 lb, uncooked, peeled and split lengthwise)
Scallops (1 lb, halved lengthwise)
Lemon juice (1 half of a lemon)
Cayenne (pinch)
White wine (2 Tbsp)
Fresh crabmeat (1 cup, picked over)
Coriander (3 tsp)
Parsley (1/4 cup, chopped)
Butter (4 Tbsp)
Flour (4 Tbsp)
Milk (2 cups)
Salt
White pepper (pinch)
Nutmeg (1 tsp)
Gruyere cheese (1 1/2 cup, grated)
Lasagna sheets (no boil)
Panko
Cilantro (2 Tbsp, chopped)
Preheat oven to 375°F
In mixing bowl, combine ricotta, egg, garlic, ½ cup parmesan, and spinach. Season with salt and fresh black pepper.
In sauté pan on high heat, sauté shallots and garlic with olive oil for 1 minute. Add shrimp and scallops, season with salt and pepper, and cayenne, and cook for 2 minutes turning once (do not overcook as it will finish in oven). Add wine, then remove from heat and stir in crab meat, coriander and parsley.
In saucepan over medium heat, belt butter and then add flour. Cook for 2 minutes to a light blond roux, then slowly whisk in milk. Season with salt, white pepper, and nutmeg. Remove from heat, stir in ½ cup parmesan and set aside.
Butter the bottom and sides of baking dish. Spread a ladle of sauce on bottom of pan. Place layer of lasagna sheets to cover bottom of pan slightly overlapping. Add roughly a third of ricotta mixture evenly across sheets, then add a third of seafood mixture, then top with grated gruyere, and a ladle of sauce. Repeat layering until all ingredients are used, and add final layer of lasagna sheets. Top with remaining sauce, grated parmesan, and panko.
Bake at 375° for 45 minutes or until golden. Remove from oven and let rest 10 minutes. Top with cilantro.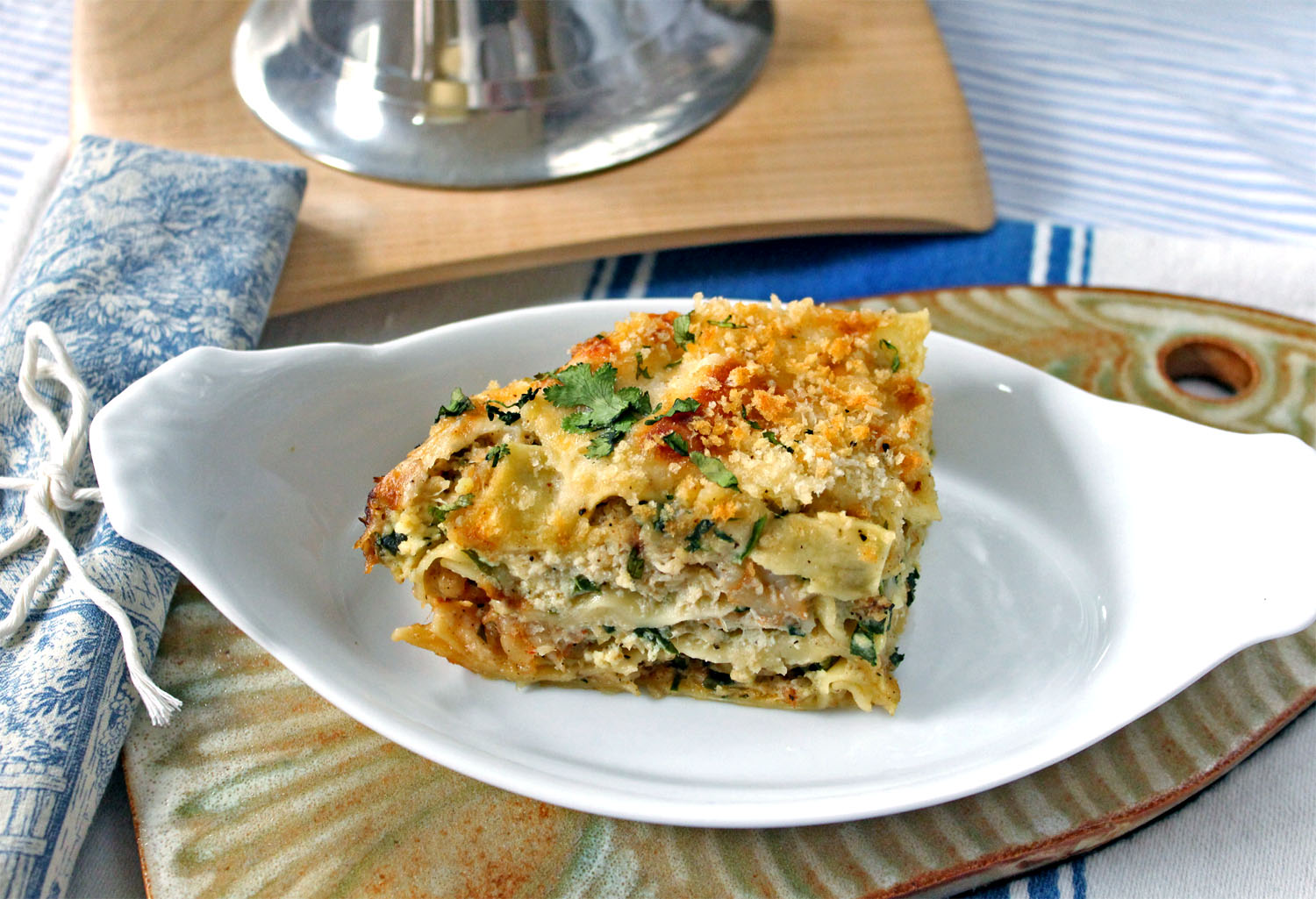 -- Weather When Posted --
Temperature: 68°F;
Humidity: 76%;
Heat Index: 68°F;
Wind Chill: 68°F;
Pressure: 30.14 in.;