General Tso's Chicken with Ginger Rice & Broccoli:
It's usually on those more busy workweeks, when you glance at the clock and realize you should have left for home hours ago, that we commonly reach for the stack of take-out menus and surrender to having someone else prepare dinner. But this time it yielded a spark of inspiration to experiment with this, in fact, very easy dish. I find it perplexing sometimes, the inherent desire to eat healthier with the paradox of craving
all things evil. Nevertheless, this recipe achieves both with a delicate balance of flavors, spicy heat, and simple ingredients. The fresh ginger definitely provided the uniqueness in the rice, and it came through in the lusciously gooey sauce as well. Pan frying, versus deep frying, is always a good alternative, but the chicken could easily be baked if desired. For me, the sinfulness of quick pan fry helped to quell the healthy demon inside me, while delivering the final result more quickly. This one will definitely be a do-over.
SECRET INGREDIENT:  Fresh ginger
TIP: Same tip as usual, always smart to double up on the sauce
General Tso's Chicken with Ginger Rice & Broccoli
Jasmine Rice (1 cup)
Fresh ginger (2 thick slices, peeled)
Scallions (1/2 cup, chopped)
Chicken breasts (cut into 1-inch pieces)
Salt & pepper
Flour (1 cup, for dredging)
Eggs (2, beaten)
Panko (1 1/2 cups)
Cayenne (2 tsp, divided)
Honey (1/4 cup)
Chili pepper paste (2 Tbsp)
Hoisin sauce (2 Tbsp)
Rice wine vinegar (2 Tbsp)
Soy sauce (3 Tbsp)
Sake (1/2 cup)
Orange juice (3 Tbsp)
Cornstarch  (2 Tbsp)
Sesame oil (2 tsp)
Broccoli (1 cup bite size pieces)
Olive oil
Garlic (1 clove, minced)
Fresh ginger (3 tsp, finely grated)
Red pepper flakes (1 tsp)
Sesame seeds (for garnish)
For Rice
Rinse rice and add to pot with 1 ½ cups water and ginger pieces, then season with salt and pepper.
Bring to boil, then reduce heat to simmer and cook covered for 15 minutes.
Remove from heat and discard ginger pieces. Add scallions and mix with fork to combine.
For Chicken & Broccoli
In a bowl, whisk together honey, chili pepper paste, hoisin sauce, rice wine vinegar, soy sauce, sake, orange juice, cornstarch and sesame oil, then set aside.
Season chicken with salt and pepper. In three separate bowls, add the flour, eggs, and panko respectfully. Season flour and panko with cayenne.
First dredge chicken in flour, then eggs, then panko, pressing panko firmly to chicken.
In large skillet, heat oil on medium high heat and sauté chicken on both sides until golden brown. Remove from pan and set aside.
In same pan, sauté garlic, ginger, and red pepper flakes in olive oil for 1 minute. Then add sauce and return chicken to pan and toss to coat chicken. Remove from heat.
Steam broccoli for 3 minutes (preferably undercooked).
Plate rice, broccoli, and chicken. Garnish with sesame seeds and additional scallions.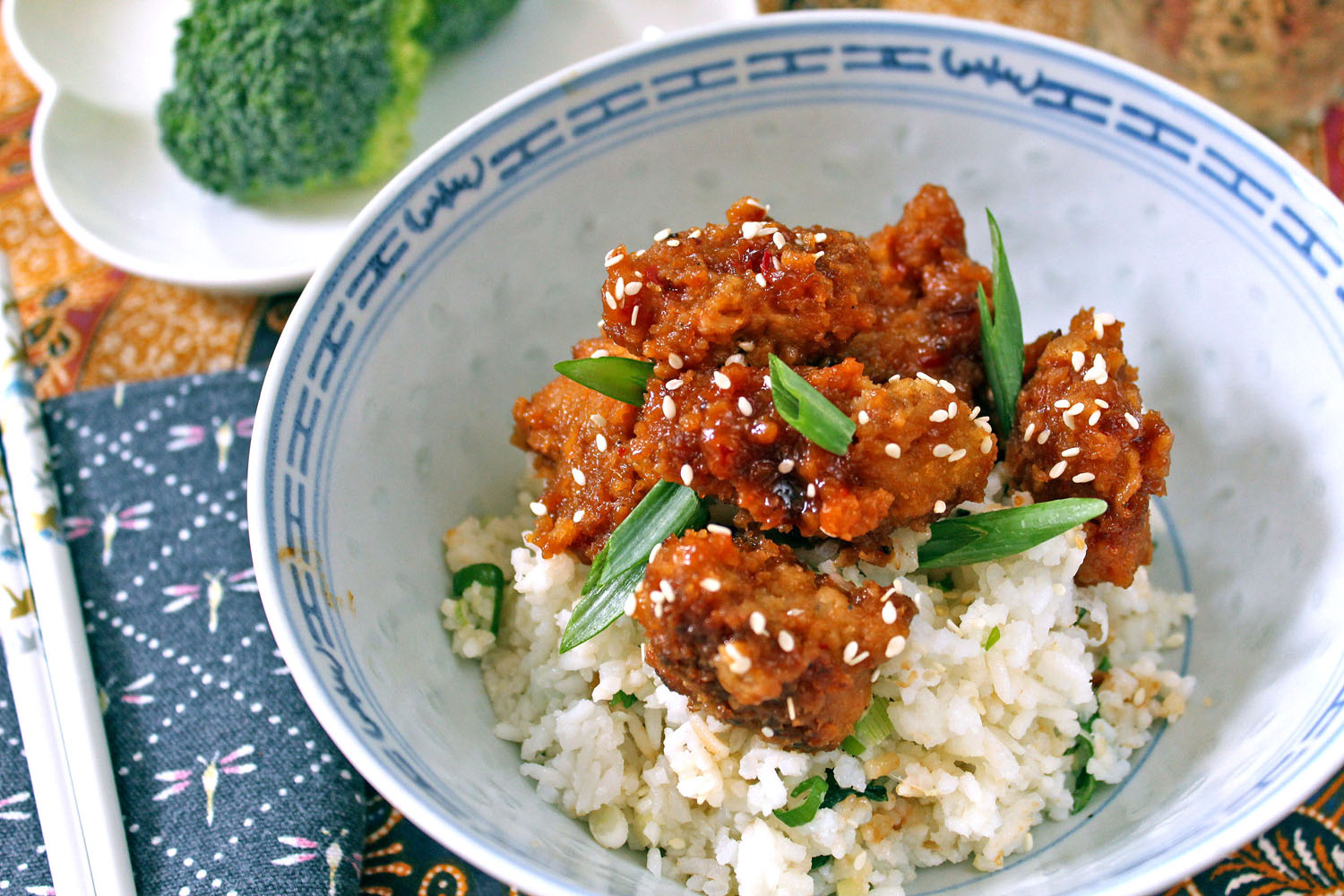 -- Weather When Posted --
Temperature: 74°F;
Humidity: 67%;
Heat Index: 74°F;
Wind Chill: 74°F;
Pressure: 30.02 in.;