Crab Cakes with Cilantro Lime Sauce:
Happiness is something only definable by the person who actually felt it firsthand at a particular moment. So too in turn is one's propensity to seek that happiness when it's missing from their own meandering experience. For me, happiness lies somewhere between the summer solstice and a fresh crab cake that has more crabmeat than a crab, and is served with an abundance of fresh lemons. My first, actually it was my second, attempt at making memorable crab cakes involved flying in fresh Dungeness crabs from Pikes Place Market in Seattle Washington, and spending an hour picking out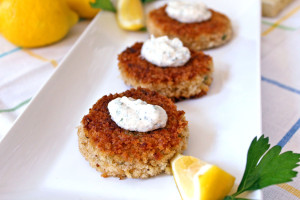 the elegant and luscious meat from every hidden nook within its shells. Albeit a worthy undertaking, and with exceptional results, the best crake cake recipes really have just one thing in common – more crab, less filler, and an unmistakable secret ingredient. This recipe achieves this, and delivers layers of distinct flavors that complement and enhance each other. However, fresh lemons are just the perfect highlight with both the zest and juice tucked nicely on the inside. The creaminess from the sour cream and parmesan also contribute to the delicate nature of these cakes, and the buttery Ritz crackers are just a fun alternative to help firm up the end result. As we sip a fine Chardonnay on this evening, I realize that happiness is simply what you make of it at any particular moment, but hopefully with lemons close by.
SECRET INGREDIENT:  Lemons
TIP: Stock up on extra lemons, just in case you feel the need
Crab Cakes with Cilantro Lime Sauce
Onion (1/2 cup, chopped)
Celery (1/4 cup, chopped)
Garlic (1 clove, chopped)
Olive oil (1 Tbsp)
Salt & fresh black pepper
Cayenne pepper (1/4 tsp)
Crabmeat (1 lb)
Lemon zest (1 Tbsp)
Lemon juice (3 Tbsp)
Dijon mustard (1 Tbsp)
Scallions (1/4 cup, chopped)
Cilantro (1/3, chopped)
Parmesan Reggiano (1/2 cup, grated)
Mayonnaise (2 Tbsp)
Sour Cream (1/3 cup)
Worcestershire sauce (1 tsp)
Hot pepper sauce (1 tsp)
Ritz crackers (1 cup, crushed)
Flour (1/4 cup for dusting)
Egg (2, beaten with 1 Tbsp milk)
Panko (1 1/4 cups)
Canola oil (2 Tbsp)
Lemon wedges
In a skillet over medium heat, sauté onion, celery, and garlic in olive oil for 5 minutes. Season with salt and cayenne. Remove from heat and let cool.
In a large bowl, combine crabmeat, lemon zest, lemon juice, mustard, scallions, and cilantro. Add vegetable mixture and combine.
Fold in mayo, sour cream, Worcestershire, hot sauce, parmesan, crushed crackers, and season with salt and pepper.
Using 1/4 cupful crab mixture for each cake, form into 1-inch thick round patties and place on sheet pan lined with parchment paper and refrigerate for 30 minutes.
In a shallow bowl, add flour and season with salt and pepper. In another shallow bowl, whisk egg with milk. In a third bowl, combine panko and season to taste.
Dredge in flour, tapping off excess. Then dredge in egg wash, letting excess drip off. Then dredge in seasoned bread crumbs, coating evenly.
In a non-stick skillet, heat oil on medium and pan fry until lightly golden, about 4 minutes on each side. Drain cakes on paper towels and season with lemon.
For Cilantro Lime Sauce
Mayonnaise (3 Tbsp)
Sour cream (1/4 cup)
Lime (1/2, juiced and zested)
Cilantro (1/4 cup, chopped)
Garlic powder (1/4 tsp)
Coriander (1 tsp)
Fresh black pepper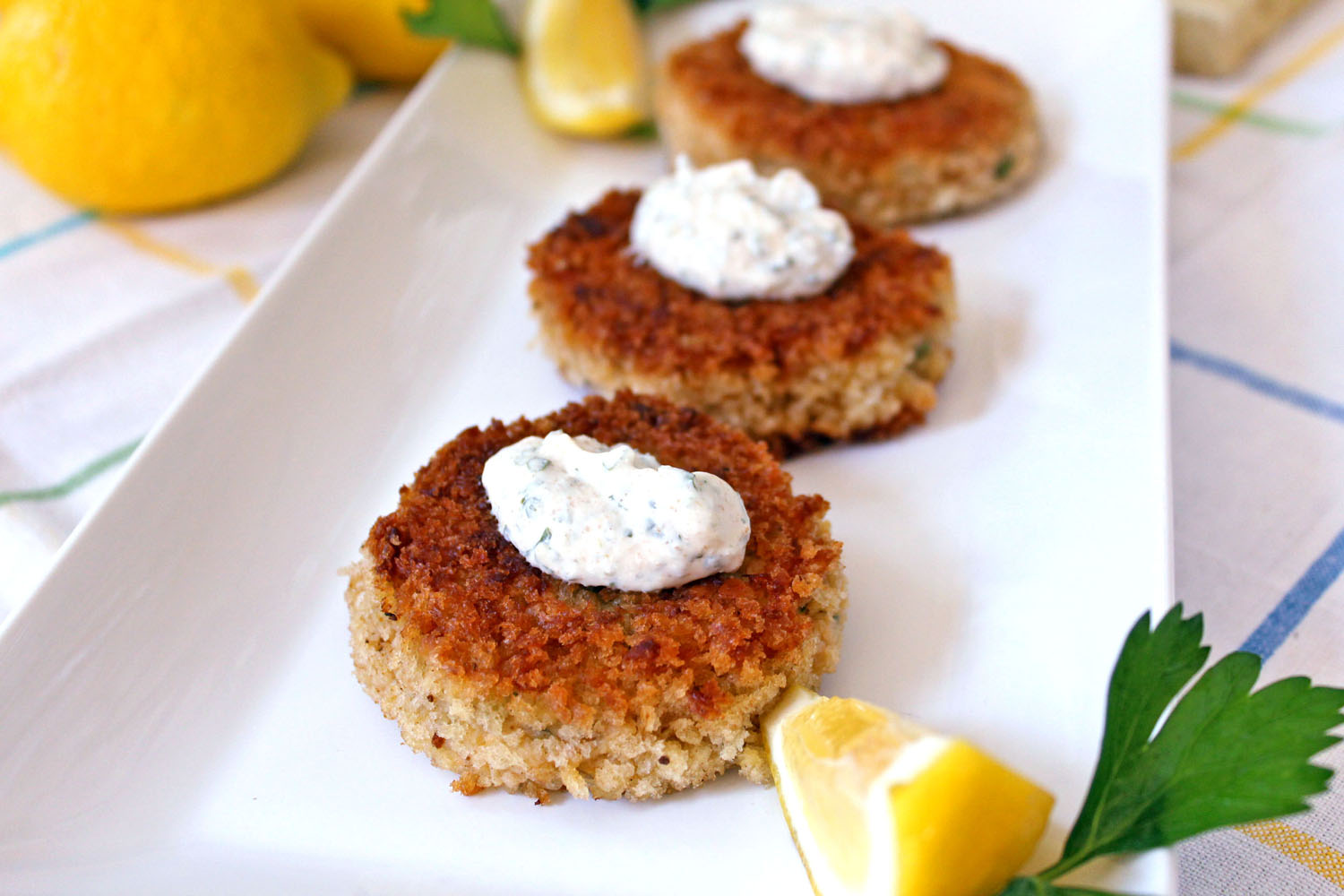 -- Weather When Posted --
Temperature: 81°F;
Humidity: 29%;
Heat Index: 80°F;
Wind Chill: 81°F;
Pressure: 30.33 in.;