Swiss Chard Gnudi with Mushroom Consommé:
Many people despise the thought of their own birthdays, or at least later in life so it seems. I for one welcome them with open arms and a toast on high to just how absurd the concept is, but equally delighted with the showering of goodwill from family and friends. This past week, Victoria and I ventured up the coast of Maine to a cottage on the shore's edge for a much needed rest. We dined at several impressively unique restaurants, each worthy of high Zagat ratings. One in particular, Primo in Rockland with James Beard winner Chef Melissa Kelly, served up a most memorable and knockout gourmet experience. As it is my birthday, I decided to treat myself by reverse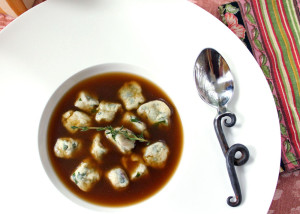 engineering parts of those profound meals, and reinvent something new with the added twist from our garden's plentiful Swiss chard harvest. Gnudi has infinite possibilities with its pillowy texture, simply awaiting a blooming accoutrement. Our garden remains filled with ongoing Swiss chard, which shares a similar taste to spinach but with a flavor that is more bitter, sharp, and slightly salty. However, it was the mushroom consommé that added the wow factor with rich earthy flavors from both the crimini and porcini mushrooms. Yes it is true, this is one of many ways in which I "treat" myself on this my birthday, a day like any other.
SECRET INGREDIENT:  Mushrooms
TIP: Taste gundi mixture and season to taste before adding egg
Swiss Chard Gnudi with Mushroom Consommé
Swiss chard (2 cups, stems removed, leaves chopped)
Ricotta (2 cups)
Parmesan (3/4 cup grated)
Egg (1, beaten)
Flour (1 cup)
Nutmeg (pinch x 2)
Salt (1/2 tsp)
Fresh black pepper
Shallot (1, minced)
Garlic (1 clove, minced)
Olive oil (1 Tbsp)
Butter (1 Tbsp)
White wine (1/4 cup)
Line sieve with cheese cloth and place over a bowl. Add ricotta and let drain for 30 minutes. (Some ricottas, especially nonfat, may not need this step while others may need longer.
In mixing bowl, stir together chard, ricotta, parmesan, flour, and season with salt, pepper and nutmeg. Taste and ensure properly seasons, then mix in egg.
To make gnudi, place 1 cup flour in a medium bowl. Coat hands generously with flour and shape tablespoon of mixture into small logs. Place gnudi on well-floured baking sheet, then refrigerate for 20 minutes.
Bring large pot of salted water to boil. Add gnudi in batches and stir gently to prevent sticking. Cook until gnudi rise and float on surface, about 5 minutes. Remove gnudi using slotted spoon and set aside. Reserve ¼ cup of cooking liquid.
In a sauté pan over medium high heat, add olive oil and sauté shallots and garlic for 5 minutes. Then add butter.
With butter melted, add gnudi to pan and sauté for 5 minutes, turning gnudi a few times. Once gnudi is crisp, add wine and cook for 2 minutes, then add reserved cooking liquid and bring to boil.
Reduce heat to medium and add four ladles of mushroom consommé to pan. Remove from heat and serve.
For Consommé
Dried Porcini mushrooms (1/2 cup broken into pieces)
Crimini mushrooms (4 cups, sliced)
Onion (1/2 cup, chopped)
Celery (1 stalk, chopped)
Olive oil (1 Tbsp)
Salt (2 tsp)
Black peppercorns (1 Tbsp)
Water (6 cups)
Fresh Thyme sprigs (4)
Parsley sprigs (4)
Bay leaf (1)
Saffron (pinch)
Egg whites (2)
In a bowl, add 3/4 cup boiling water to dried porcini mushrooms and let stand for 10 minutes.
In a large pot on medium high heat, add olive oil, onions, and celery and sauté for 5 minutes. Then add mushrooms and cook for 2 minutes.
Season with salt and peppercorns.
Add water, thyme sprigs, parsley, bay leaf, saffron and porcini mushrooms with reconstituted liquid and bring to a boil.
Reduce heat to low, cover, and simmer for 2 hours. Then remove from heat and let cool.
Strain through a fine sieve, pressing to release all liquid, then discard solids. Clean sieve for next strain.
Season stock to taste.
Place egg whites in a large heavy saucepan and whip until frothy. Pour stock again through fine sieve, straight into the pan with egg whites. Bring mixture to gentle boil and simmer for 15 minutes. The egg white will form a crust on top of stock, and any impurities will be brought to the surface sticking to the egg crust. Make an opening in the center.
Pour stock again through fine sieve into separate sauce pan, and keep warm.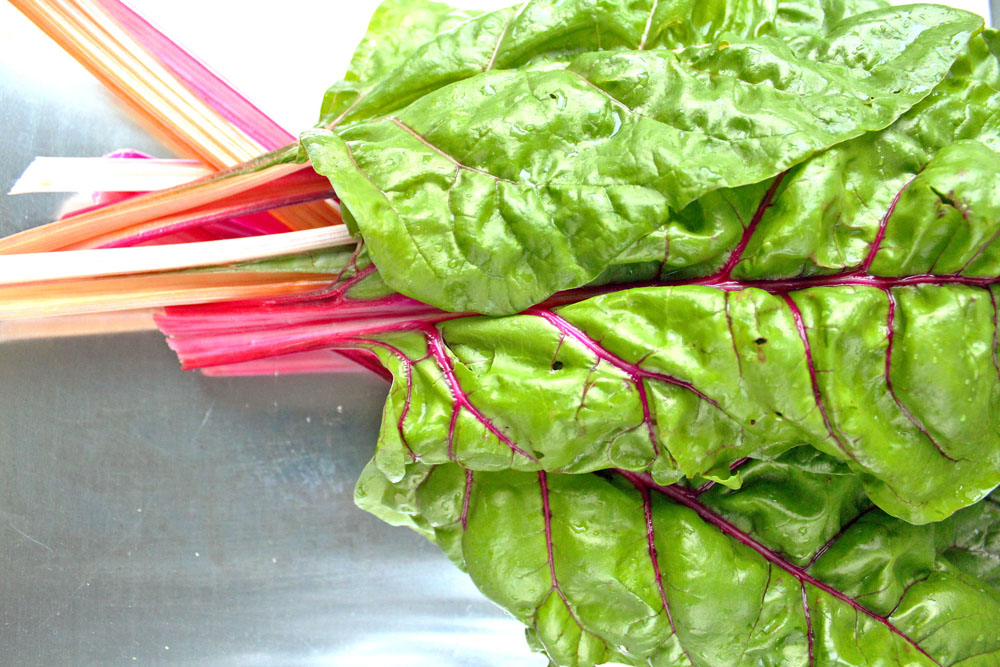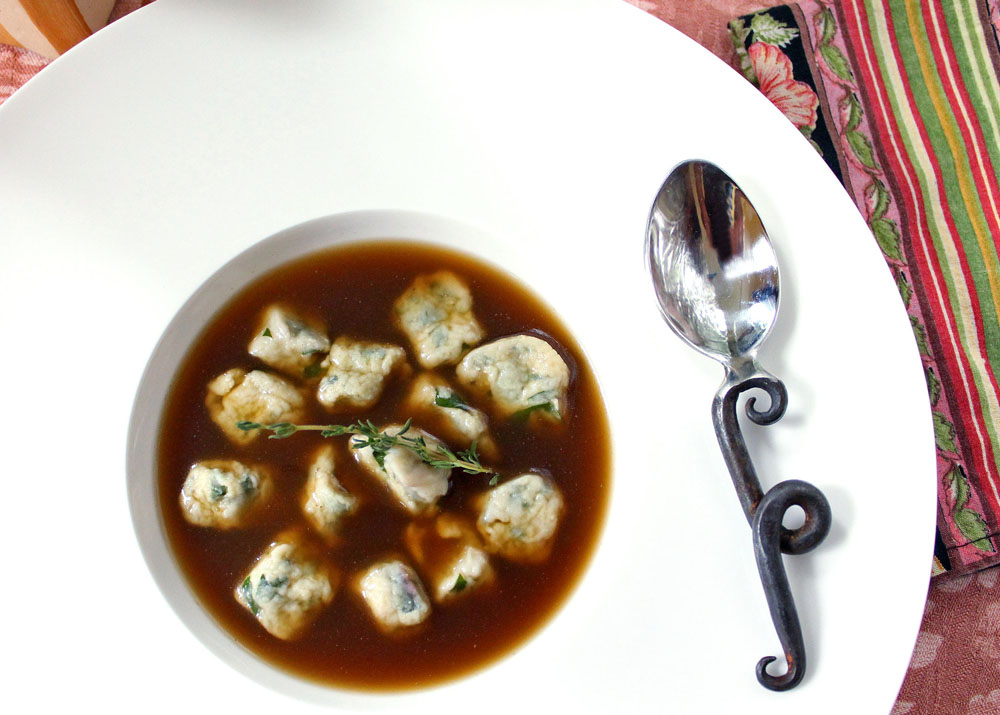 -- Weather When Posted --
Temperature: 81°F;
Humidity: 45%;
Heat Index: 81°F;
Wind Chill: 81°F;
Pressure: 30.06 in.;