Paella with Smokey Grilled Chicken & Shrimp:
My grandmother would put me on the kitchen counter when I was a child, and tell me to close my eyes and then would hover an open jar of some spice or herb under my inquisitive nose and make me guess what it was. Fond memories indeed, with culinary and life lessons as well. She would also try diligently to help me properly pronounce Spanish words like Paella. Something that evidently I never quite mastered as she would forever correct me – "no, it's payeahhhaa,"she would say and where I would reply "payeaha", and she would firmly correct me, "no, payeahhhaa." To this day, I still do not know the error of my vernacular, but so too are fond memories. Paella is as diverse and limitless as an Italian risotto or Asian noodle. I have experienced a multitude of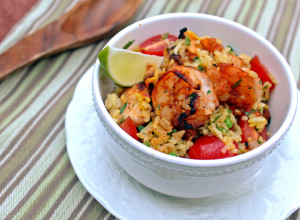 variations, each with delight and infinite admiration. For this recipe, it was the added smoked paprika and grilling the chicken and shrimp for an added zing and crispness. Cooking rice in the oven also helped to solidify the layers of flavors and bring a slow cooked silkiness to the dish. As we sit on the deck enjoying another delicious meal, in my mind I perfectly pronounce it – "Paella."
SECRET INGREDIENT:  Smoked Paprika
TIP: Remember to rinse the rice to release some of its surface starch
Paella with Smokey Grilled Chicken & Shrimp
Chicken breasts (3, cut into large pieces for skewer)
Shrimp (15 large, peeled and deveined)
Olive oil (3 Tbsp, divided)
Smoked Paprika (4 tsp, divided)
Onion (1 cut into thick slices and halved for skewers)
Garlic (2 cloves, chopped)
Jasmine Rice (1 1/4 cups, rinsed)
Butter (1 Tbsp)
Saffron (1 tsp)
Cumin (1 Tbsp)
Coriander (3 tsp)
Salt & fresh black pepper
White wine (1/2 cup)
Chicken stock (2 cups)
Tomatoes (1 cup, chopped)
Peas (1 cup)
Parsley (1/4 cup chopped)
Preheat grill
In a bowl, add chicken pieces and one tablespoon of olive oil. Season with salt, pepper, and smoked paprika. In a second bowl, toss shrimp with one tablespoon of olive oil, and season with salt, pepper, and smoked paprika. Skewer chicken alternating with chicken piece and onion slices. Skewer shrimp alternating with onion slices also.
Grill until chicken and shrimp until just done (do not overcook shrimp). Remove from heat and set aside. Place onion on cutting board and coarsely chop.
Preheat oven to 350°F
In a large oven-proof skillet over medium high heat, sauté onion and garlic in 1 tablespoon of olive oil for 5 minutes. Add rice, butter, saffron, cumin, coriander, and cook for 3 minutes. Season with salt and pepper.
Add wine and deglaze pan. Then add stock and bring to a boil. Cover pan and place in oven. Back for 20 minutes.
Remove from oven and add tomatoes, peas, and parsley. Add the grilled chicken, shrimp, and onions, cover and return to oven. Back for 10 minutes until all liquid is absorbed and chicken is warmed.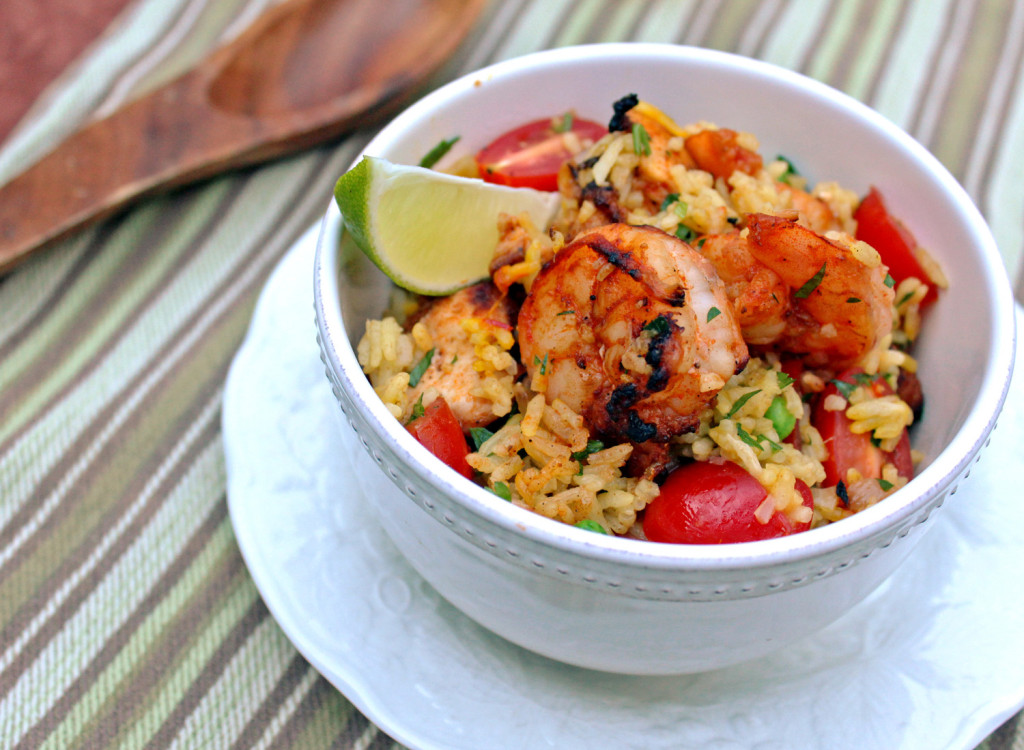 -- Weather When Posted --
Temperature: 50°F;
Humidity: 80%;
Heat Index: 50°F;
Wind Chill: 48°F;
Pressure: 30.09 in.;