Asian Meatballs with Rice & Bok Choy:
Knowing when to bunt and when to swing away is profoundly personal, even without the baseball reference, and resonates at that spiritual level. In life, work, or even cooking the same holds true when deciding a specific course of action. Simple mid-week meals can go either way, and in this busy work week, a quick bunt seemed appropriate.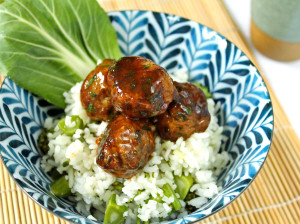 However, much to our never-ending surprise, this dish delivered a home run. The meatballs are straight forward, but with the added zing of fresh ginger, and the rice is delicate with crisp steamed vegetables. Adding a thick slice of onion to the rice as it cooks brings an additional layer of flavor. But it was the punchy sauce that made this recipe unique, and the heavy hand of hoisin brings out the complexity. Victoria laughs as I'm usually of the ilk to always swing away when it comes to life and cooking, and in this case was able to make it to center field with little effort.
SECRET INGREDIENT:  Hoisin
TIP: Removing rice from heat right at 10 minutes and adding vegetables to covered pot will keep rice moist while keeping vegetables crisp
Asian Meatballs with Rice & Bok Choy
Ground Chicken (1 lb)
Onion (1/2 cup, chopped)
Garlic (2 cloves, minced)
Cilantro (1/4 cup, chopped)
Fresh Ginger (2 tsp, minced)
Salt (1/2 tsp)
Fresh black pepper (1/4 tsp)
Coriander (1 tsp)
Sesame oil (2 tsp)
Eggs (2)
Panko (1 cup)
Olive oil (1 Tbsp)
Combine all ingredients and then fold in panko.
Form into small round balls and set on baking sheet.
In a large non-stick skillet over medium-high heat, sauté meatballs in olive oil until just crisp, turning each to cook all sides.
Add sauce and cook for 2 minutes, then remove from heat and set aside.
For Sauce
Hoisin sauce (3 Tbsp)
Rice wine vinegar (2 Tbsp)
Soy sauce (2 Tbsp)
Sake (1 Tbsp)
Sesame oil (2 tsp)
Garlic (2 clove, minced)
Ginger (2 tsp, minced)
In a small bowl, whisk all ingredients to combine.
For Rice
Jasmine Rice (1 cup)
Onion (1 thick slice)
Salt (pinch)
Broccoli Rabe (1/2 cup, chopped
Bok Choy (1/2 cup, chopped)
In sauce pan, add rice, onion slice, salt and 1 ½ cups of water. Bring to boil, then reduce to low heat, cover and simmer for 10 minutes. Then remove from heat, discard onion slice, and add broccoli and bok choy, then cover and let rest for 5 minutes.
Serve rice in bowl and top with meatballs and sauce.
-- Weather When Posted --
Temperature: 65°F;
Humidity: 56%;
Heat Index: 65°F;
Wind Chill: 65°F;
Pressure: 30.22 in.;