Cocotte of Chickpeas with Venison Summer Sausage:
The fortitude of my disposition, when it comes to challenging myself in cooking great food anyway, is directly proportionate to how much I'm willing to sacrifice. From an "eat anything" attraction with evil ingredients, to consciously leaning at healthier alternatives, there's the constant tugging that makes it all indubitably inspiring. Having cooked overzealous menus for big dinner parties, or even overly complicated dishes for two, there is always a delicate balance in keeping it simple while still delivering that "wow-factor." Small portions, few ingredients, and with a large impact is unequivocally where I find
myself as I continue to experiment. Victoria gave me a mini cocotte set as a new source of inspiration. There's something very meaningful in serving individually small portions of a deliciously enticing meal, like a giftwrapped present you've been waiting months to give your favorite person. In formulating a plan for what to dish up, I was moved to make it unique but irrefutably simple. Chickpeas are low in fat with a rich source of protein, as well as zinc, and offer a nutty flavor and grainy texture. But it was the venison summer sausage we brought back from Vermont that completed this ostensibly petit dish.
SECRET INGREDIENT: Venison Summer Sausage
TIP: Caramelize with yellow onions, not sweet Vidalia onions, and take your time with low heat to bring out the best flavor.
Cocotte of Chickpeas with Venison Summer Sausage
Olive oil
Yellow Onion (thinly sliced)
Garlic (chopped)
Brandy
Chickpeas (1 15 oz can, drained but reserve liquid)
Venison Summer Sausage (thick slices, then quartered)
Walnuts (1/4 cup, chopped)
Fresh Thyme (1 Tbl, chopped)
Parsley (1/4 cup, chopped)
Salt & pepper
Truffle oil
Parmesan (1/2 cup)
Sauté onions covered on medium low heat until just caramelized (30-40 min). Add garlic and sauté 1 minute, then deglaze with brandy. Add walnuts, thyme, sausage, chickpeas, and season with salt and pepper. Remove from heat, and add parsley, truffle oil, parmesan, and 1/2 cup of reserved liquid. Butter cocotte dishes. Season as necessary and toss mixture again, then fill each cocotte and bake covered at 375°F for 20 min.
* If you do not have cocotte dishes, try large ramekins or other bake ware covered with foil.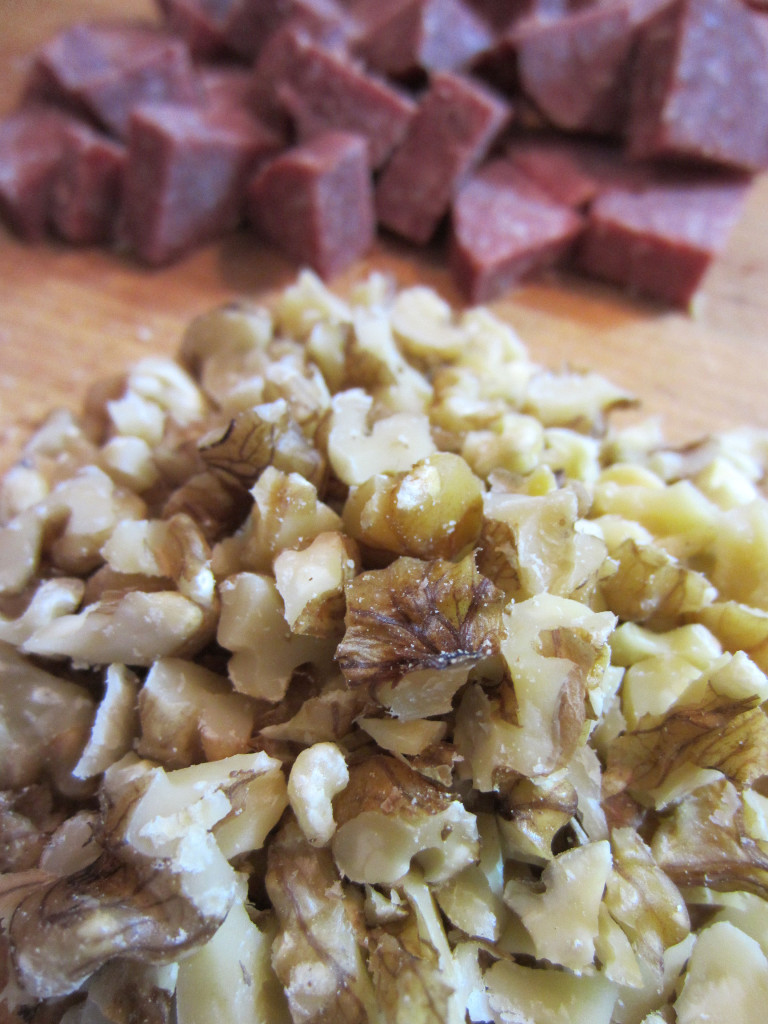 -- Weather When Posted --
Temperature: 81°F;
Humidity: 58%;
Heat Index: 83°F;
Wind Chill: 81°F;
Pressure: 29.99 in.;