Curry Butter Icelandic Cod with Brandied Currants & Balsamic Infused Lentils:
So first off – this was an "oh my god" dish that brought the best out of every ingredient. I have been enjoying sous vide as a technique for a while now, with wide varying ingredients from pork belly to salmon to beef to ostrich to peaches. A friend recently asked me – "why do I need a sous vide circulator" – in which, through colorful discussion and then their own realization – quite simply because it can deliver such transcendent results. In the end, sous vide is just another cooking method, like the difference between braising in a Dutch oven versus pan roasting versus smoking, it's about the final result. The complimenting textures and flavors of this dish made every bite a wow moment. The earthy lentils that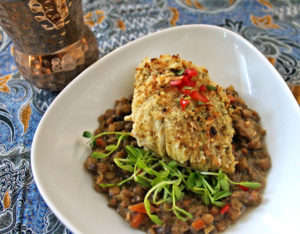 carried the distinctive brandied currants offered a strong base. But the Icelandic cod was the star of the show with subtle hints of curry topped with the contrasting delicate crunch of toasted panko and the unmistakable delicate creamy texture, as a result of the sous vide. I say all too often – this will be a do again dish, and by god I will endeavor to make more next time to share with friends.
SECRET INGREDIENT: Curry Butter, but really the Sous Vide was the secret
TIP: Seek out a thick captains cut of Icelandic Cod (worth the hunt)
Curry Butter Icelandic Cod with Brandied Currants & Balsamic Infused Lentils
For Lentils
Lentils (2/3 cups)
Currants (1/3 cup)
Brandy (1/4 cup)
Extra-virgin Olive oil (1 Tbl)
Shallot (1, finely chopped)
Carrot (1 small, peeled and cut brunoise diced)
Celery (1 rib, cut brunoise diced)
Chicken stock (2 ½ cups)
White Balsamic Vinegar (1 Tbl)
Butter (3 Tbl)
Coriander, ground (1 tsp)
Tarragon (1 Tbl, chopped)
Parmesan Reggiano (1/4 cup, grated)
Salt and fresh ground pepper (to taste)
Soak currents in brandy and a half cup of warm water for 30 minutes.
In a medium sauce pan over medium-high heat, sweat shallot, carrot, and celery with a little olive oil for 3 minutes. Add lentils and cook for 1 minute, stirring to combine.
Stir in stock and bring to a boil. Reduce heat and simmer covered for 30 minutes until lentils are tender.
Add currants with brandy liquid and balsamic vinegar. Increase heat to medium-high and mix in butter one tablespoon at a time to thicken mixture. (add more stock as necessary)
Remove from heat, and stir in tarragon, parmesan and season to taste with salt and pepper.
For Curry Butter Cod
Butter (3 Tbl, room temperature)
Curry Powder (2 tsp)
Lime zest (1 lime)
Lime juice (1 lime)
Salt and fresh ground pepper (to taste)
Icelandic Cod, captains cut (1b)
Panko (2 Tbl)
Micro greens (for garnish)
Blend butter, curry, and lime juice and zest.
Season fish with salt and pepper. On a long piece of plastic wrap, spread half of curry butter to one side of wrap and place fish on top of butter, Spread remaining curry butter on other side so when folded over will cover fish, then wrap tightly.
Place wrapped fish into vacuum bag and seal. Cook in a sous vide water bath at 107°F for 20 minutes.
Preheat broiler.
Remove fish from pouch, discard plastic wrap, and place on foil lined backing sheet.
Sprinkle top of fish with panko and broil in oven until golden on top.
Plate fish gently on a bed of lentils and micro greens.