Banh Xeo:
Occasionally I find myself on a mission, usually in a mad scientist kind of fashion. A mission to perfect or otherwise alter traditional norms in cooking, and find new textures and flavors for the same dish making slight variations in each recipe. Rice flour is the traditional ingredient for Banh Xeo, however, I've been experimenting with several varying flours including coconut or garbanzo flour. Finally I found solace with a completely non-regional ingredient in this classic Vietnamese dish – ultra fine '00 Italian flour. The texture of '00 flour is unlike any other in that it's silky smooth without the sometimes gritty texture of some flours. But it was the addition of baking soda that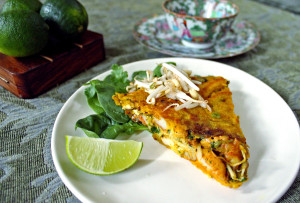 helped bind the batter tightly while creating a thicker, crispier finish. I opted for bay scallops as the companion to the shrimp, both layered with a little heat from cayenne pepper. The seasonal fiddleheads provided additional texture, but one of my personal reasons for making this dish (aside from the science experiment of perfecting the batter) is the happy helping of fresh crunchy bean sprouts. Like many comfort dishes, I could eat Banh Xeo every day. On this night, I will simply go back for a second helping, along with a wide grin.
SECRET INGREDIENT:  Baking Soda
TIP: Be patient after mixing batter and let rest for 30 minutes
Banh Xeo
For Batter
'00 flour (1/2 cup)
Cornstarch (1/4 cup)
Coconut Milk Powder (1/4 cup)
Baking Soda (1 tsp)
Turmeric (1 tsp)
Salt (1/4 tsp)
Scallion (4, chopped)
Milk (1 cup)
Mix batter ingredients, and let rest 30 minutes.
For Filling
Shrimp (1/2 lb, peeled and split lengthwise)
Scallops (1/4 lb, split lengthwise)
Salt & fresh ground pepper
Cayenne (to taste)
Ground Coriander (1 tsp)
Olive oil (1 Tbl)
Sesame oil (2 tsp)
Garlic (1 clove, minced)
Onion (1/4 cup, thinly sliced)
Fiddleheads (1/cup, coarsely chopped)
Cilantro (1/4 cup)
Bean sprouts (1/2 cup)
Lime juice (1/2 lime)
In a bowl, toss shrimp and scallops, with salt, pepper, cayenne, and coriander.
In a large non-stick skillet over medium-high heat, warm both oils. Add garlic, onion, and fiddleheads and cook for three minutes.
Increase heat to high and add shrimp and scallops. Cook for 2 minutes stirring once or twice.
Pour in batter and swirl pan to spread batter evenly. Reduce heat to medium and cook for 4 minutes.
Add cilantro and bean sprouts. Then lift one half side and carefully flip over other half to make pancake. Cook for 3 more minutes until cooked through.
Remove heat and squeeze fresh lime juice on top evenly.
Serve warm on bed of greens and additional sprouts.
-- Weather When Posted --
Temperature: 55°F;
Humidity: 74%;
Heat Index: 55°F;
Wind Chill: 52°F;
Pressure: 29.6 in.;