Quinoa Lasagna:
There has been a constant evolution in how we think about cooking. Whether seasonal experimentation or sheer deconstructing of history, it's an entertaining journey bringing new definition to how our desired choices have evolved. Someone said to me recently – "the world has changed so much in just the past decade." An understatement and true, and the online world has brought culinary inspiration-seekers even closer with instant knowledge sharing and endless creativeness that resembles crowd-scientists collaborating in a virtual petri dish while inventing the cure for ordinary. When I set out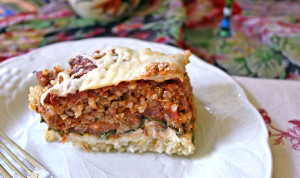 to write this recipe, the ingredients were easy with a variant on such a classic dish, but with the added twist of quinoa, the new gluten-free superfood. The real challenge was devising the layering effect that both balanced flavors while providing the solid structure of textures. I remain constantly surprised with the final results that we concoct, no matter how overly complicated or infinitely simple. This dish delivers lush flavors with the classic homemade marinara, but the texture of the quinoa, both crispy and light, provided the enlightened moment. The ricotta and cottage cheese mixture also added a fluffy texture, and with the fresh vegetables at the center kept them fresh and crisp. This was a real treat at the end of a long work week, and the temptation of having a second helping was hard to resist.
PS. Helen Nichols, Editor in Chief at Well-Being Secrets offers a comprehensive article on the history and health benefits of quinoa – "27 Science-backed Health Benefits of Quinoa." Additional quinoa recipes at Bembu.com
SECRET INGREDIENT:  Quinoa
TIP: It's a delicate mixture when layering. Slowly press small sections using rubber spatula when adding cheese mixture on top of quinoa.
Quinoa Lasagna
Quinoa (1 cup, cooked)
Salt & fresh pepper
Coriander (1 tsp)
Olive oil (1 Tbsp)
Ground turkey (1 lb)
Oregano (2 tsp)
Garlic powder (1 tsp)
Cayenne (1/4 tsp)
Cottage cheese (1 cup)
Ricotta (1 cup)
Mozzarella cheese (1 cup, grated, divided)
Parmesan Reggiano (1/4 cup, grated)
Fresh Basil (2 Tbsp, chopped)
Fresh Marinara sauce (see below)
Spinach leaves (1 1/2 cups, stems removed)
Roma Tomatoes (2, quartered and sliced)
In sauce pan, bring quinoa and 2 cups of water to boil, season with pinch of salt, and simmer for 15 minutes. Remove from heat, season with coriander, and fluff with fork.
In a large skillet on medium high heat, sauté ground turkey with olive oil, oregano and garlic powder for 10 minutes until browned, stirring occasionally. Then stir in two-thirds of marinara sauce. Remove from heat, and season with cayenne, salt and pepper.
In medium bowl, mix together cottage cheese, ricotta, parmesan cheese, 1/4 cup of the mozzarella, and season with salt, pepper, and fresh basil.
Preheat oven to 350°F. Lightly grease 13×9 inch baking dish with butter.
Add half of quinoa to bottom of dish using back of spoon to press gently. Then add the cottage cheese mixture and delicately press evenly across quinoa. Add spinach leaves and tomatoes. Then add turkey mixture and press firmly across entire dish. Add remaining quinoa and firmly across entire dish. Top with remaining marinara sauce and cheese.
Bake for 30 minutes, then remove and let rest for 10 minutes.
Serve with parmesan toasts
For Marinara Sauce
Onion (1/4 cup, chopped)
Garlic (2 cloves, chopped)
Oregano (1 tsp)
Dried Basil (1/2 tsp)
Red Pepper flakes
Salt and fresh pepper
Red wine (1/2 cup)
Thyme sprigs (2-3)
Crushed Tomatoes (28 oz, Tuttorosso)
In a sauce pan on medium high heat, sauté onion, garlic, and spices for 3 minutes until softened, then add wine and bring to boil.
Stir in crushed tomatoes and thyme sprigs, and simmer for 1 hour stirring occasionally. Remove thyme sprigs and season with salt and pepper.
-- Weather When Posted --
Temperature: 82°F;
Humidity: 55%;
Heat Index: 83°F;
Wind Chill: 82°F;
Pressure: 29.97 in.;