Sundried Tomato Chicken with Spinach Rice:
Foodgawker is a magical wonderland of foodie inspiration. If nothing else, the simple scrolling through mountains of imaginative and well photographed dishes from all around the globe is a pleasure in itself, even if you're not a gourmet. The cooking
channels have officially lost market share with the dawn of social collaboration and the seemingly infinite food bloggers that bring a new level of creativity to cooking. I remember watching inquisitively the solo chef-in-the-kitchen programs like Julia Child or Emeril Laggasse that were fascinating as they effortlessly prepared oh so traditional of dishes. But even in the new age of speed cooking competition shows, many home gourmets of the world could easily beat a famous Iron Chef in preparing flavorful dishes (except Masaharu Morimoto of course). With a dizzying sense of indecision from a multitude of options, I decided to combine several approaches for this most wonderful mid-week meal. Blanching spinach and chard, and then blending with an egg made the fried rice unique with a hearty texture. The Chinese Five Spice added the "wonder powder", encompassing sweet, sour, bitter, salty and pungent, and that blended nicely with the silky sun dried tomato sauce.
SECRET INGREDIENT: Chinese Five spice
Sundried Tomato Chicken with Spinach Rice
Chicken tenderloins
Olive oil
Onion (chopped)
Garlic (chopped)
Sun dried tomatoes, chopped
Butter
Flour
Chicken stock
White wine
Chinese Five spice
Salt & pepper
Fresh basil (chopped)
(Season and sauté chicken, then set aside. In same pan sauté onion and garlic, then tomatoes. Add butter and flour for roux. Whisk in wine and stock to thicken, and then add back chicken.)
Spinach Rice
Cooked rice
Spinach
Swish chard
Egg
Onion (chopped)
Garlic (chopped)
Carrot (finely chopped)
Soy sauce
(Blanch spinach and chard, then in blender with egg. Mix spinach mixture with rice. Sauté onion, garlic, and carrot, then add rice and soy)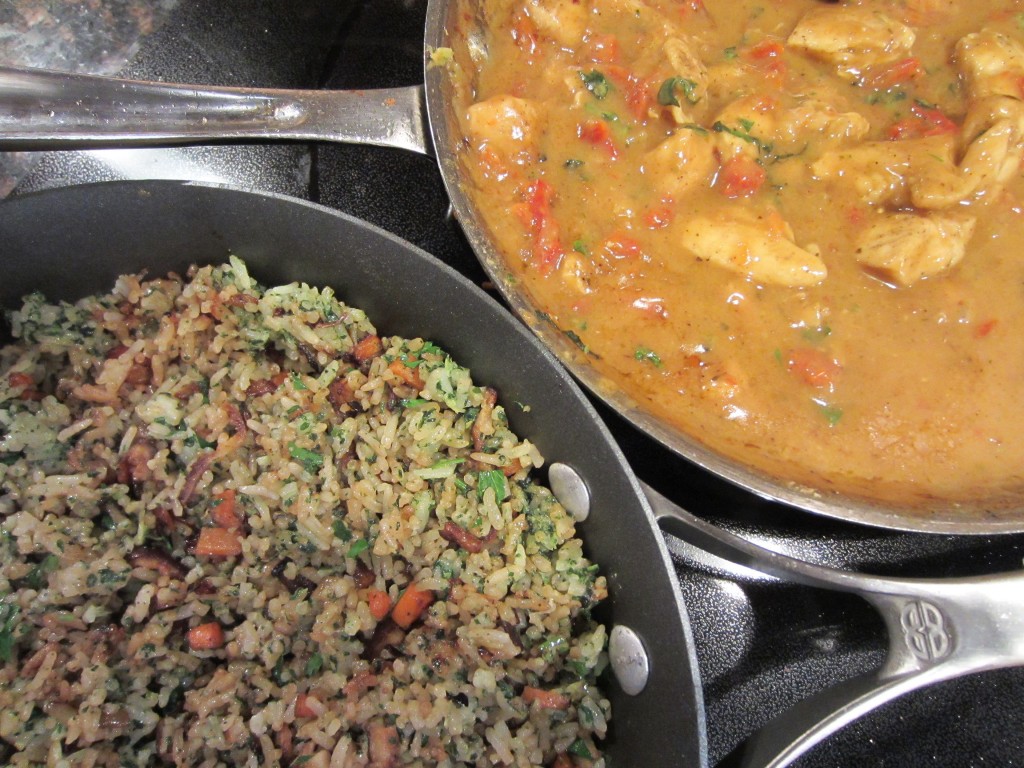 -- Weather When Posted --
Temperature: 32°F;
Humidity: 61%;
Heat Index: 32°F;
Wind Chill: 23°F;
Pressure: 29.81 in.;