Smokey Split Pea Soup with Poached Egg:
I wish every day was Sunday. It's a crisp New England morning and the thought of something roasting, braising, or stewing for hours while we slumber all day is quite
comforting. I often make Sunday the "cook something big" day, both because it's entertaining and it offers the leftover option for the forthcoming busy work week. On this day, we opt for a pot of split pea soup. The aroma of smoked ham and simmering legumes fills the house even with the lid firmly covering the pot. It's the kind of dish that is both energizing and somnolent at the same time. For this version, the addition of caraway seeds offered a strong aroma and hint of licorice that complimented the hickory smoked ham. The addition of the poached egg is oddly evil, but added a sweet silky companion to the purposefully spicy hot soup.
SECRET INGREDIENT: Caraway seeds
Smokey Split Pea Soup with Poached Egg
Split peas (2 cups)
Garlic (2, finely chopped)
Onion (1 large, chopped)
Carrot (2, finely chopped)
Celery (2, finely chopped)
Dried Thyme
Caraway seeds
Red pepper flakes
Hickory smoked ham steak
Smokey salt (Salish Alderwood Smoked Salt)
Fresh pepper
Worcester
Parsley sprigs & fresh Thyme (bouquet)
Bay leaf
Fresh stock (6-7 cups)
Egg (poached for garnish)
Parley (garnish)
(Sauté vegetables, add spices and remaining ingredients, simmer covered for 2-2 ½ hrs. Add more stock to thin if desired. Serve topped with poached egg and parsley)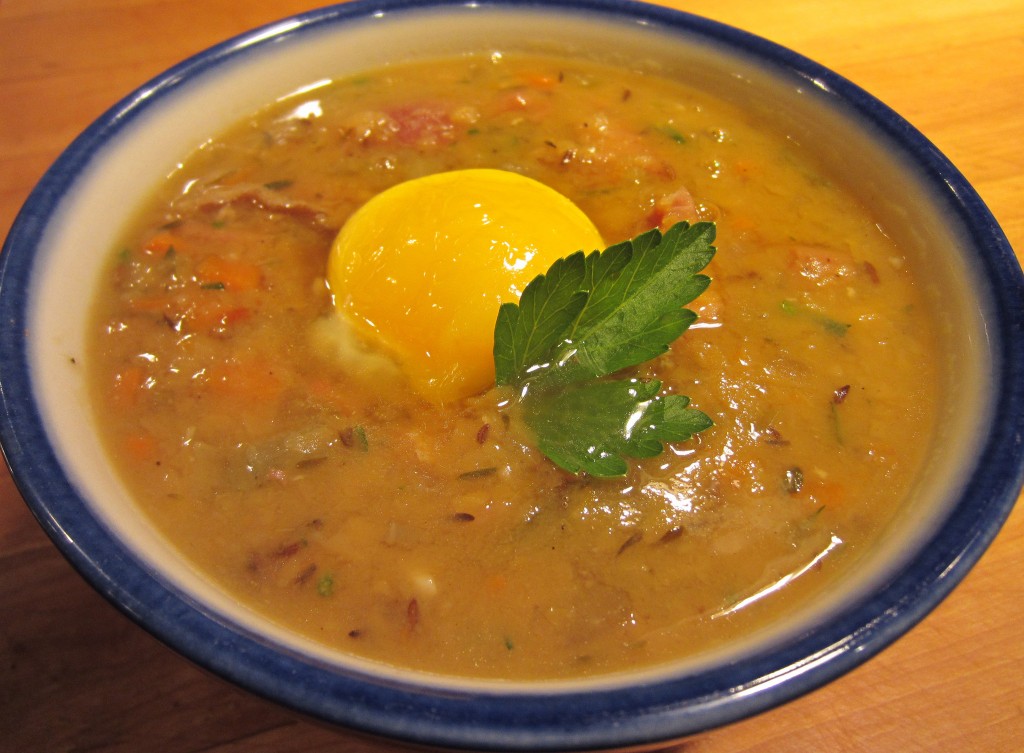 -- Weather When Posted --
Temperature: 86°F;
Humidity: 57%;
Heat Index: 90°F;
Wind Chill: 86°F;
Pressure: 29.89 in.;