Glazed Sesame Salmon with Acorn Squash & Saffron Rice:
The sun is slowly rising on this cold December morning with a snap of light blasting through the tall pines. I look back at all the dishes we've created this year with a sense of wonder and enlightenment. It brings to mind a science-fiction laden view of a mad scientist out to breathe life into inanimate objects. I had a clear idea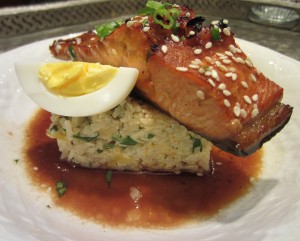 of what this dish would be at the beginning, but it changed considerably in route as I stitched together new meaning along the way.  The ingredients here are simple enough, but as always it's the combinations threaded together that make it unique. The crème fraiche whisked with sake and coriander in the fried rice added a creamy uniqueness and texture, and the basting juices from the broiled salmon offered a sweet rich compliment. Cooking has become a constant experiment of creativity for me, like a child gazing into the stars contemplating the vastness of possibilities. So too is the burden of trying to make more surprising combinations, while balancing both healthy and evil. In the immortal words of Obi-Wan – "that's no moon; it's a space station."
SECRET INGREDIENT: Crème fraiche adds silky texture to rice
Glazed Sesame Salmon with Acorn Squash & Saffron Rice
Salmon
Fresh pepper
Sesame oil
Soy sauce
Honey
Rice vinegar
Ginger
Garlic
Sesame seeds
(Whisk ingredients and marinate salmon for 30 min. Broil 10-12 minutes until crispy. Remove and baste with pan juices, and then top with sesame seeds.)
Saffron Rice
Acorn squash (quartered, seasoned and roasted @400 for 50 minute, then peel and cube)
Sesame oil
Garlic
Cooked rice
Scallion
Parsley
Eggs (hard-boiled, peeled and cut into wedges for garnish)
Crème fraiche
Sake
Saffron
Coriander
(Whisk crème fraiche, sake, saffron, coriander in bowl)
(Sauté garlic and rice to taste, then add squash and remaining ingredients, and toss to mix)
(Serve with remaining pan juices after plating)
TIP: For perfect hardboiled eggs, fill pot with water to cover eggs and add pinch of salt (which makes easier to peal). Bring to boil, then immediately turn off heat and cover, but keep pot on the warm stove. Let rest for 10 minutes, and then run under cold water until cool.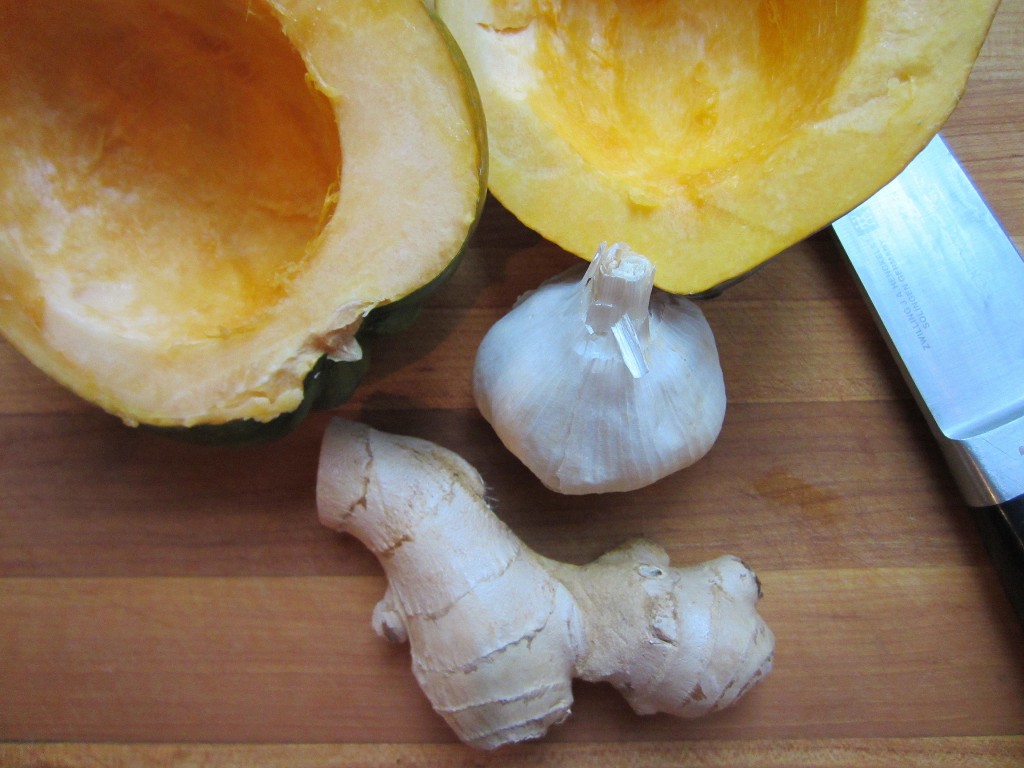 -- Weather When Posted --
Temperature: 32°F;
Humidity: 61%;
Heat Index: 32°F;
Wind Chill: 23°F;
Pressure: 29.81 in.;