Braised Pork with Roasted Squash, Quinoa & Wild Rice:
Deciding what's for dinner, while in the thick of an inconsequentially busy week, sometimes requires deep inspiration and sometimes is just based on those favorites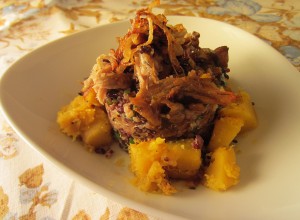 that you consistently go back to. Yes, this year we have probably made braised pork shoulder a dozen times, from late winter and now through fall. Even though this tugs at the essential purpose of The Seasonalist journey, braising remains my eternal boulder that I push up and down a hill in order to find meaning in it. And we just happened to have some extra pork shoulder from our recent Oktoberfest. Freshly braised meats that simply pull apart like liquid comfort are most gratifying at any time of the year. For this version, the addition of seasonal spices like nutmeg, cinnamon, and rosemary brought new meaning to this beloved delight.
SECRET INGREDIENT: Lots of fresh rosemary sprigs in braise adds a deep autumn flavor
Braised Pork with Roasted Squash, Quinoa & Wild Rice
Braised Pork
Pork shoulder
Salt & pepper
Thyme
Olive oil
Onion
Garlic
Carrots
Celery
Rosemary sprigs (several)
Beer
Chicken stock
Braise at 250 degrees for 3-4 hrs depending on size of pork shoulder. Let pork rest in braising liquid after removing from oven; then sieve liquid and simmer to reduce.
Quinoa & Wild Rice
Black rice
Quinoa
Salt & pepper
Bay leaf
Olive oil
Garlic
Onion
Cumin seeds
Parmesan
Parsley
Cook wild rice and quinoa separately (bay leaf with quinoa), and then mix in with sautéed garlic and onions and remaining ingredients. Use mold or cup to form tower for serving.
Squash & Onion Sauce
Acorn squash
Olive oil
Salt & pepper
Shallot (thinly sliced)
Garlic (thinly sliced)
Butter
Onions (thinly sliced)
Nutmeg
Cinnamon
Cardamom
Cloves
Turmeric
(reduced braising stock)
Parsley
Roast squash at 350 degrees until tender but firm. Crisp the shallots and garlic until golden and set aside (this will be garnish), then caramelize onions slowly (45-50 min) on med-low heat. After pulling pork and cubing squash, return to oven and broil to crisp.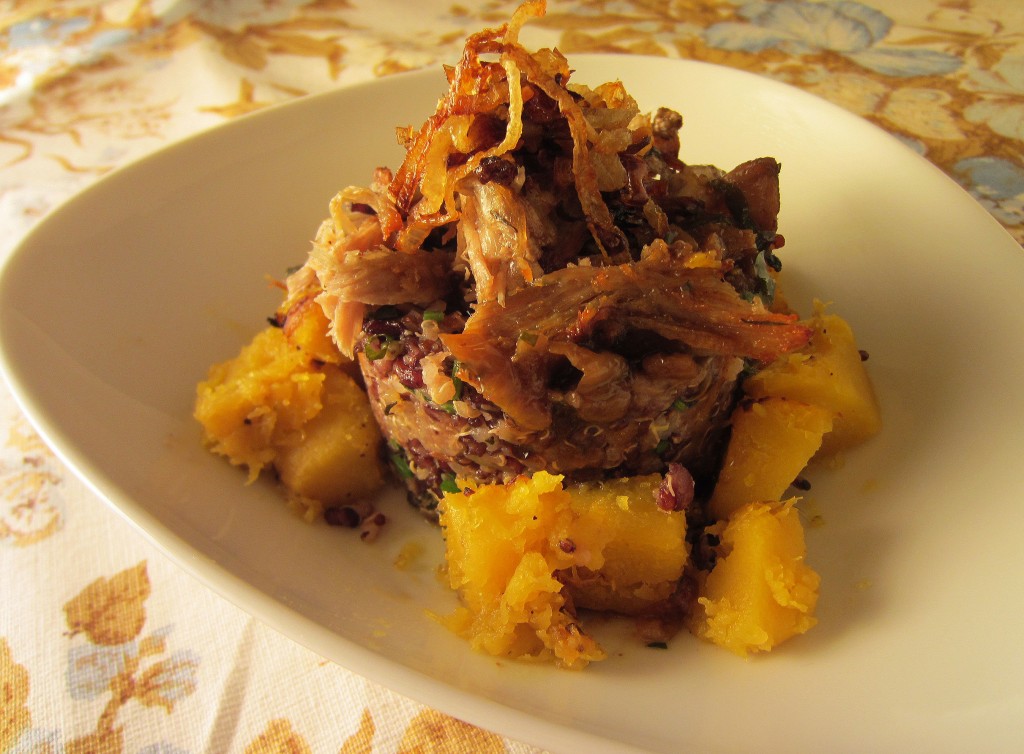 -- Weather When Posted --
Temperature: 42°F;
Humidity: 36%;
Heat Index: 42°F;
Wind Chill: 34°F;
Pressure: 29.65 in.;