Apple & Fig Stuffed Chicken Breasts with Mushroom Sauce:
One of the most difficult things I find is "not cooking" what seems to be a normal quantity of food for just two people. From the one pot simmering dishes, to creative pasta nights, to the infamous risottos, we always end up with leftovers that carry us an entire week. Don't get me wrong – some of my favorite ingredients are those enticing remains from the week prior's epicure experiments. In an effort to fight the absurd
quantity issue, and leverage a few leftover concoctions, we dished up simple stuffed chicken breasts with freshly toasted sourdough, apples and figs. While the challenge appeared straightforward enough, the battle I blame on the grocery choices that seem to purposely and maniacally derail the common person's math skills. "Really, 10 hotdogs to 8 hotdog buns?" And of course, the 3 chicken breast packaging, which in this case, created leftovers for at least one of us. Oh well, as my grandmother would say – "always make enough, because you just don't know who might stop by."
SECRET INGREDIENT: Celery seeds in stuffing; and leftover braising liquid from earlier Braised Pork
TIP: Make more sauce than you think you need (because it's really good)
Apple & Fig Stuffed Chicken Breasts with Mushroom Sauce
Sourdough bread (cubed, toasted)
Chicken breasts (butterflied, lightly pounded)
Truffle salt & fresh pepper
Olive oil
Onion
Garlic
Celery
Rosemary
Celery seed
Egg (beaten)
Chicken stock
Apple
Dried Figs
Parmesan
Parsley
(toothpicks)
Mushroom Sauce
Olive oil
Shallot
Garlic
Mushrooms
Porcini salt & pepper
Butter
White wine
(reduced braising liquid, or simple chicken stock)
Toast cubed bread. Sauté onion, garlic, and celery, then cool and mix in bowl with other ingredients. Sear stuffed chicken, then back at 375 degrees and broil to finish. Sauté mushrooms and shallots in same pan. Reduce sauce to thicken.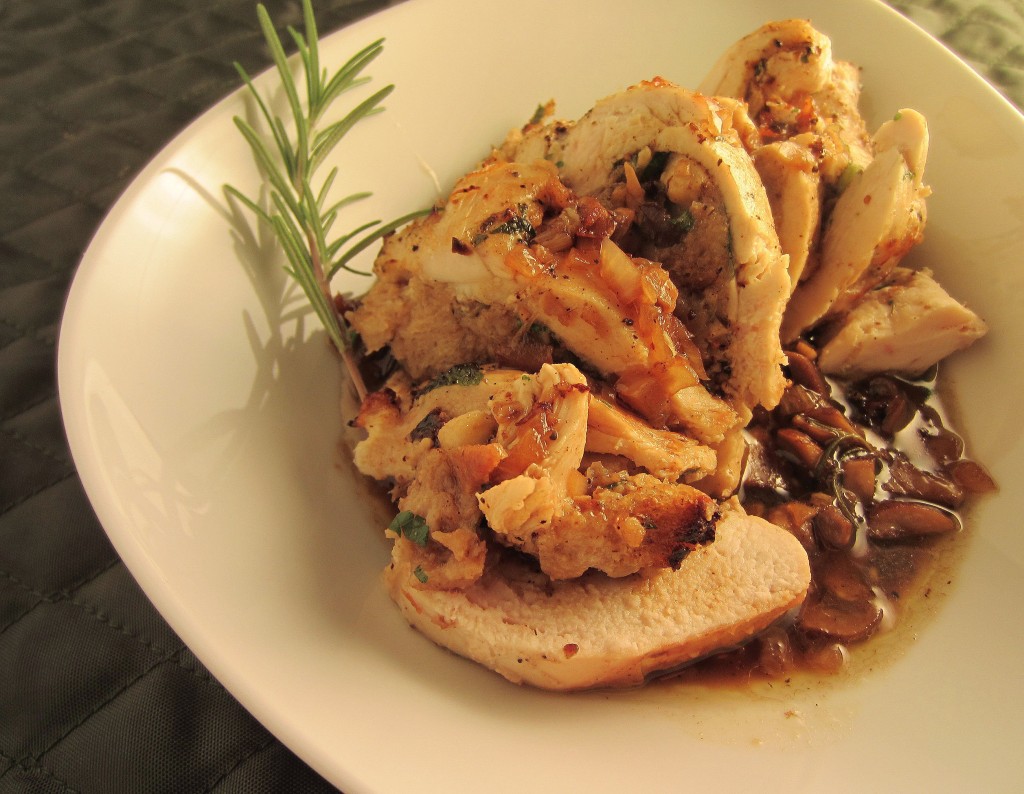 -- Weather When Posted --
Temperature: 42°F;
Humidity: 36%;
Heat Index: 42°F;
Wind Chill: 34°F;
Pressure: 29.65 in.;